Image via
Blog Tour
This post is long overdo but I am super excited to be participating in a blog tour.  Madeline of Style Me Thrifty tagged me to share a little bit about my writing process.
1. What am I working on?
Right now I am working on a lot of things.  I recently quit my day job to take on blogging full-time.  I worked really hard day and night and poured myself into something that, quite frankly, wasn't all that fulfilling to me.  So when I left behind the less fulfilling to take on something I am so passionate about, I hit the ground running and saw a lot of growth right away.  I am still trying to get more organized.  I have way more time to blog now, but I still have good weeks and bad weeks.
While I continue building Mae Amor, I am also working on branching out a little.  One of my new year's resolutions this year was to starting filming videos/tutorials and posting more beauty posts.  I've shared more beauty posts for sure, but I've neglected sharing videos all together.  There's something terrifying about putting yourself out there in a new way.  I felt similarly when I started blogging.  It was 90% terrible but you have to start somewhere and not many people read it anyway.  I have taken some videos and hope to share some in the relatively near future.
Now that I've put that out into the universe, I feel a responsibility to follow through.
2. How does my work differ from others of its type/genre?
Allow me to preface this with the fact that I am fully aware that there is nothing new under the sun.  Like Madeline said, there is no shortage of fashion blogs.  So there is obviously a huge variety, but there is naturally a significant amount of overlap too.  Right now, everybody is posting blanket scarves, booties, ponchos, and statement coats.  I'm right on board.  I like to stay on trend and I like to be considered on par with my peers.
That being said, I have boundaries.  I understand that bloggers are to be taste makers, not taste testers.  Yes, we can partake in all things trendy, but we also have a responsibility to present a unique voice and try new things.  Just the other day I told Nick (he's my sounding board for every "blog thing" imaginable) that I really didn't like a particular trend and that I didn't want to just go with what everyone else was doing.  He quickly reminded me of my mantra "maker…not taster."
So how do I stand apart?  I jut try to be myself.  I am a nerd and I'm really quirky.  I try to let that show through in my photos and writing.  It's tempting to me to try to be like my favorite bloggers.  "I want for my photos to be editorial" (said in a terrible posh british accent and probably followed with "daahling") is, I cannot lie, something that has come out of my mouth.  But I am goofy and I feel fairly certain that I would be doing myself a disservice if I entirely ignored that.  So I do happy dances before shoots and make terrible jokes when I write posts.  It's just me.  If you knew me in person, you'd see the same thing.
Another Mae Amor characteristic is that I really like mixing price points in my outfit posts.  I don't have any super luxury designer pieces (not for lack of want), but I like to mix higher(er) end pieces (like a nice handbag) with super budget pieces (like $2 tees or thrifted hats).
3. Why do I write what I do?
Simple. To make myself and others happy.  It's my desire that Mae Amor can be a place where people come when they just want to smile.  I've spent a lot of time complaining about my life.  Eventually I realized that my friends and family must be sick of talking to me.  I still complain sometimes, but I've realized that my happiness is in my hands and I want to share that with others.
Why do I write about style specifically?  I have always loved fashion.  As a little girl, I was a total tomboy, but I was serious about my Chucks, overalls, and striped tees.  I really cared about style.  But I was also the third-born of four girls and wore mostly hand-me-downs.  Because of this, I resorted to drawing the looks I wished I could wear.  I experimented with style some in high school but mostly felt frustrated that I couldn't figure out how to dress the way I wanted to.  It wasn't until college that I started to get noticed for my outfits.  My freshman year, I had a strict personal uniform of jeans, flats, v-neck, and cardigan.  Then I started to come into my own and people would stop me and ask me where I got my clothes from.  I started Mae Amor as a way to showcase my favorite looks and help others find similar styles.
4. How does your writing process work?
I carry a little notebook around and jot down ideas for future posts.  I draw sketches of looks I want to shoot and include frames that might work and outlines for the write up itself.  Before we do a shoot, Nick and I talk about the key pieces of the outfit.  When I go to write a post, I always have a finished shoot and come armed with my notebook and notes from my discussion with Nick and try to highlight these things.  I also leave room to share silly things that happen during a shoot.  I try to keep it personal.  As disorganized as this sounds, it still sounds way more organized that what really happens.  I mean, I almost always end up writing late at night, on the couch, during commercial breaks, and under the influence of a few too many diet cokes (I know it's really bad).
I take my blog seriously, but I also don't take myself too seriously.  In college I was a tutor and was a stickler for grammar, spelling, and content.  Then in my first big kid job, I wrote and audited for a living.  Everything had to be perfect, of course, so I decided my blog didn't have to be.  Don't hold it against me.
——–
Thank you, Madeline, for tagging me to share this post.  It was a lot of fun to think these things through!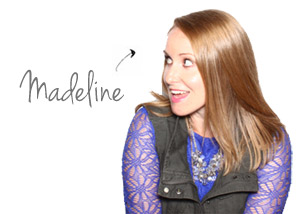 Madeline and I met at SBS Con in July over brunch.  Madeline is just adorable and so is her blog.  She has a multitude of style advice posts and helps her readers stay fashionable on a budget.  But beyond having an amazingly great blog, she's a super sweety.  I so enjoyed getting to know her IRL.  You can get to know her here and check out her latest post here.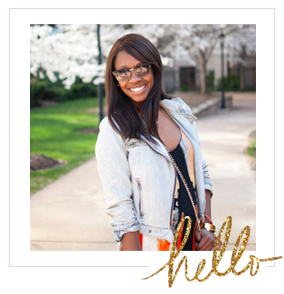 Next up is Alicia of Alicia Tenise.  Alicia and I became friends over the same brunch during SBS Con and I have so enjoyed following her blog.  This girl has style for days and is also a super sweet lady.  You'll want to check out her outfit posts on her fab life + style blog!