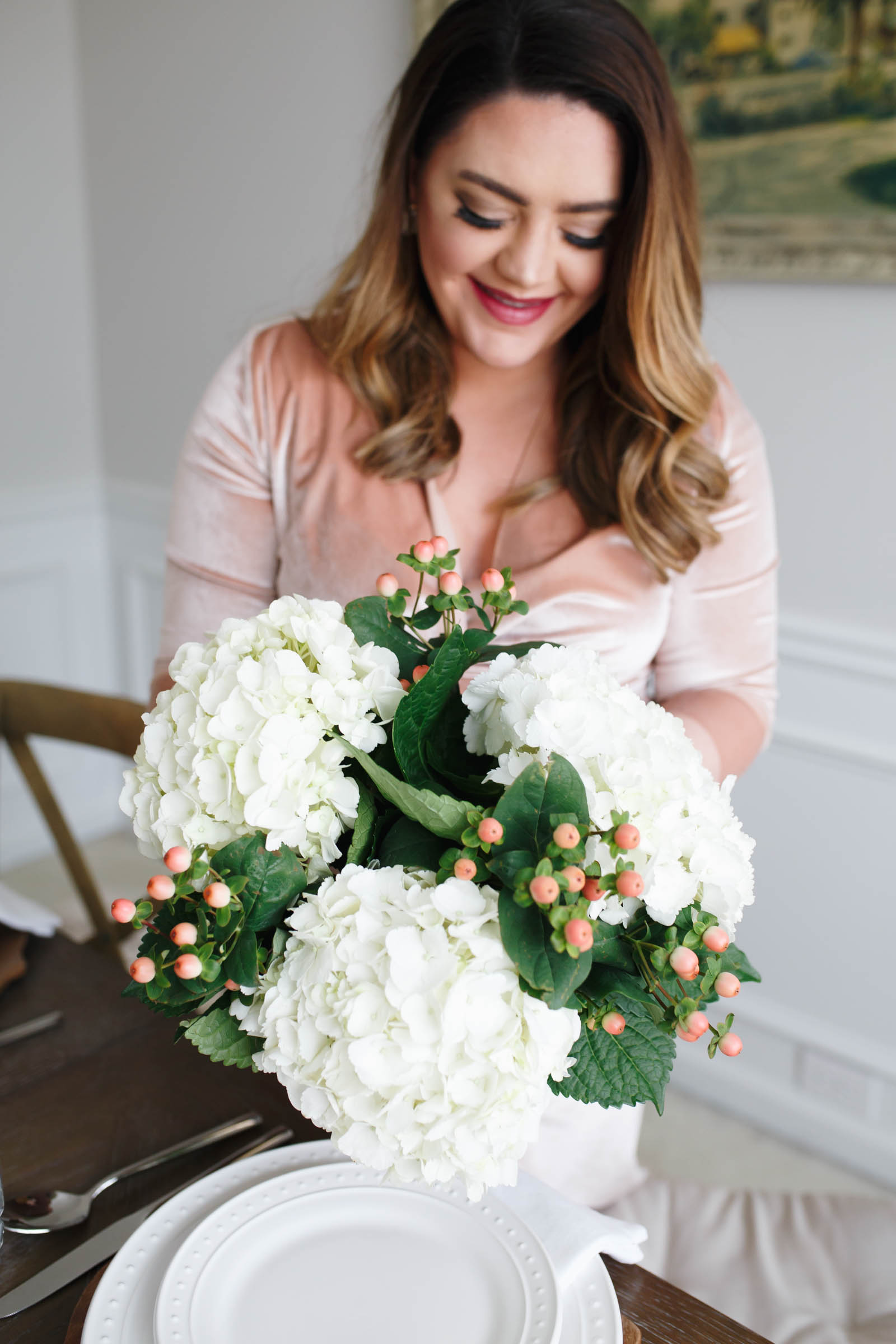 Nick and I won't be traveling for the holidays this year, given where I am in my pregnancy, and I honestly have sort of mixed feelings about it. We originally hadn't planned to decorate for the holidays because I find it a little exhausting at the moment. However, we'll be hosting Nick's fam for a few days after Christmas so it just didn't feel right to do nothing. I LOVE hosting people at our place, but I'm just so tired. To get myself in the holiday spirit a little bit, though, we decided to add a *touch* of holiday decor. We decided to start with the dining room because that's simple enough. We did a fun little holiday tablescape for dinners when family arrives. I started with last year's winter tablescape and made a few updates and I just love the way it turned out. Thankfully, I didn't have to do much other than just tell Nick what I wanted and he made it happen. You won't believe which part of the decor that he did completely on his own, with no input from me at all.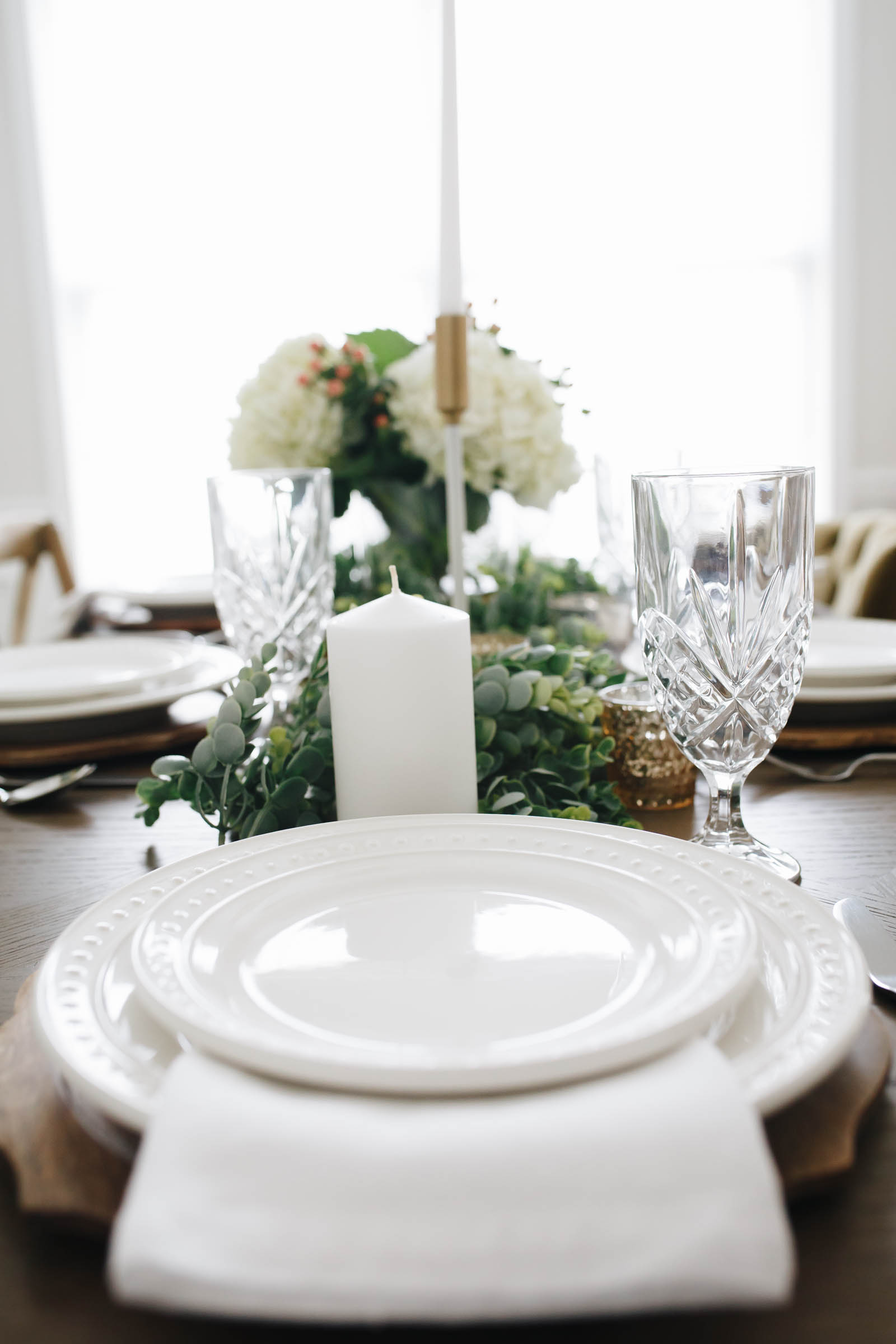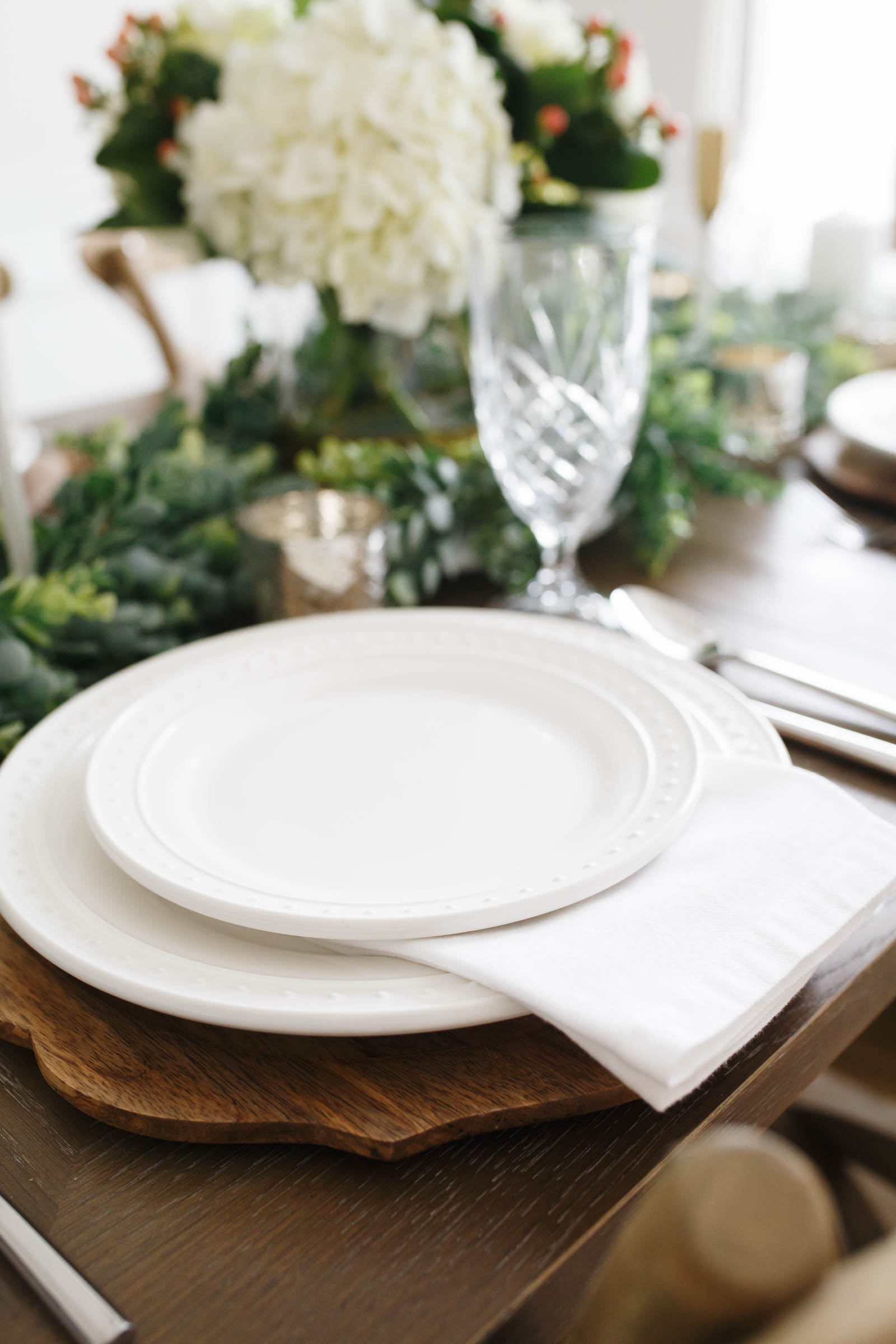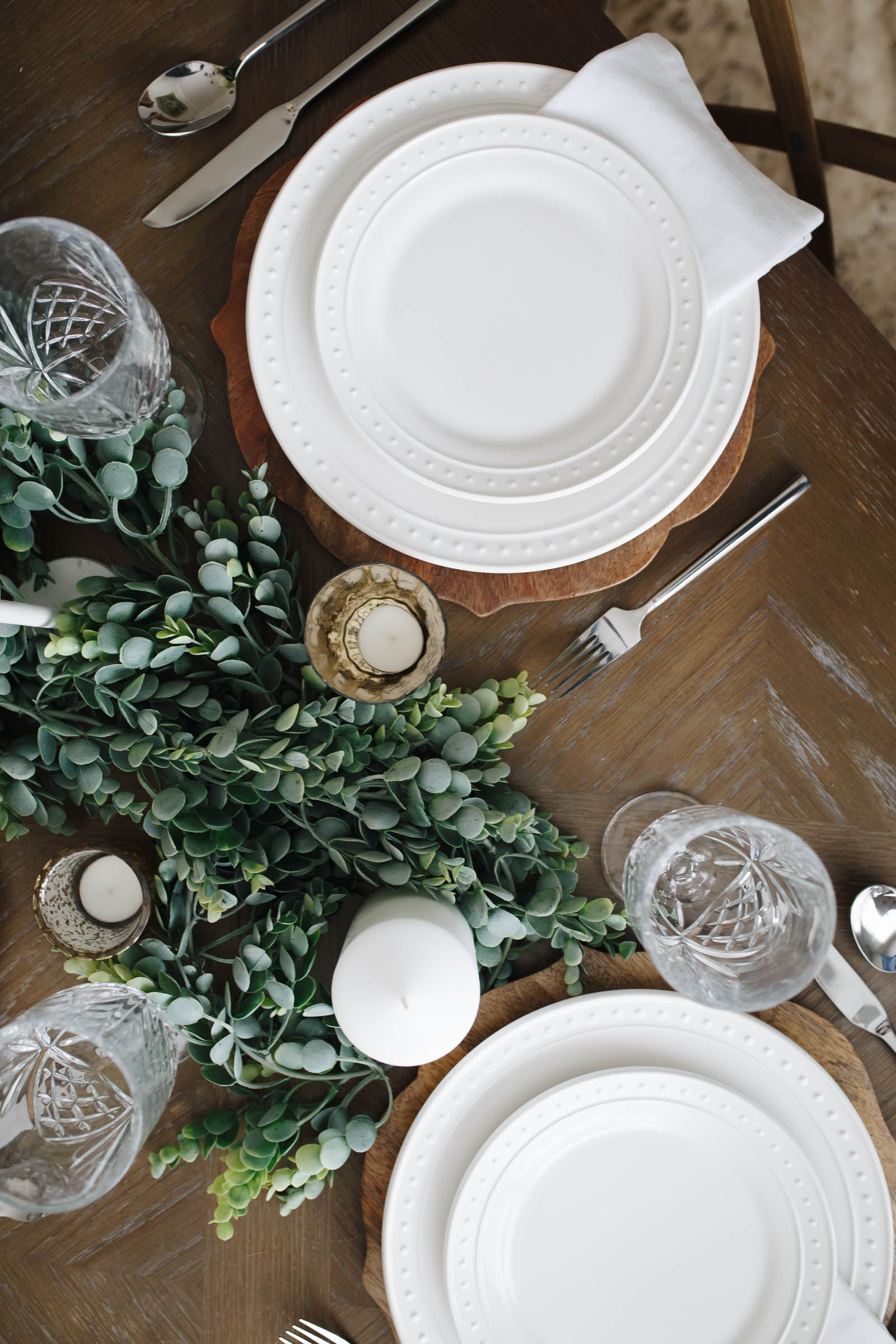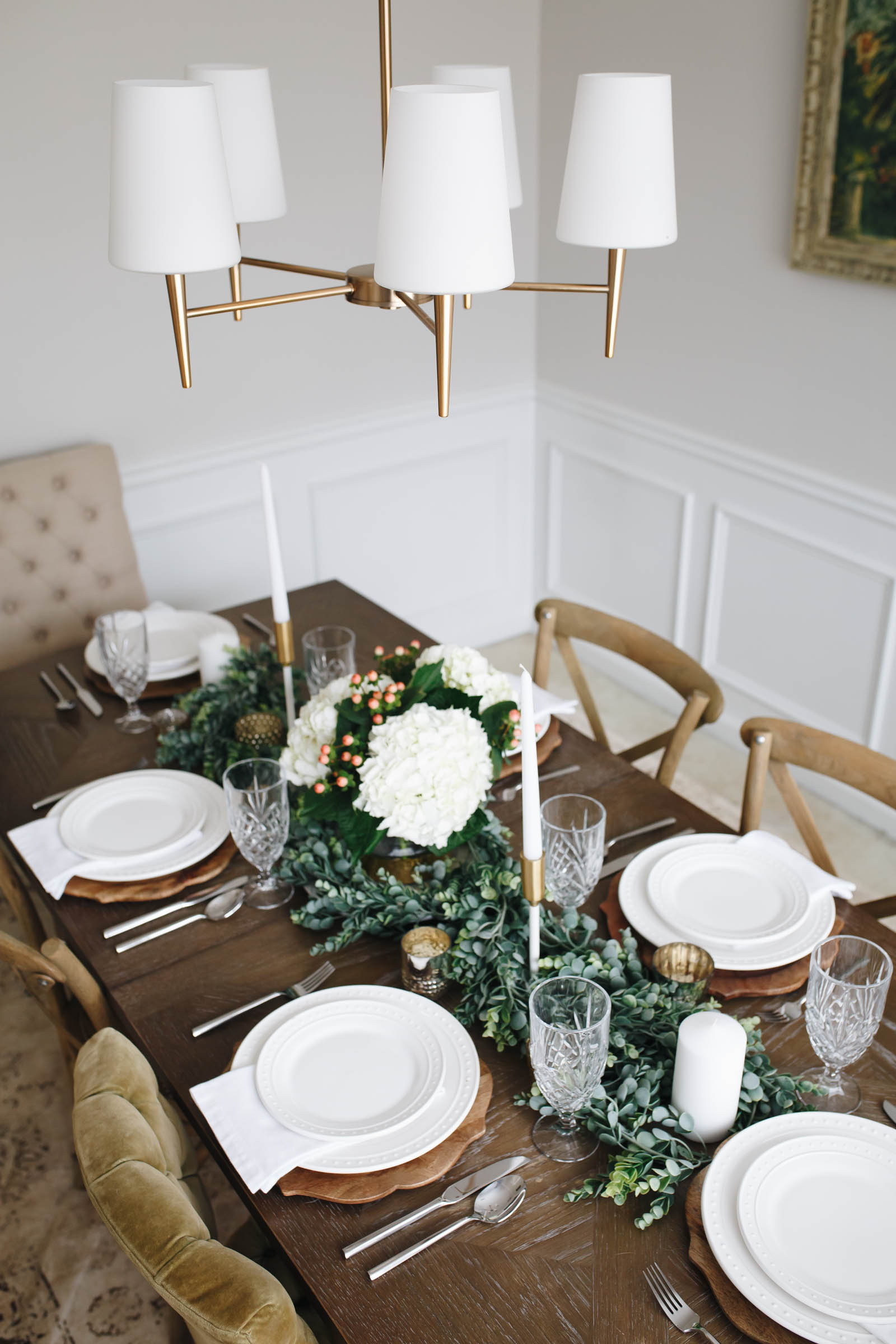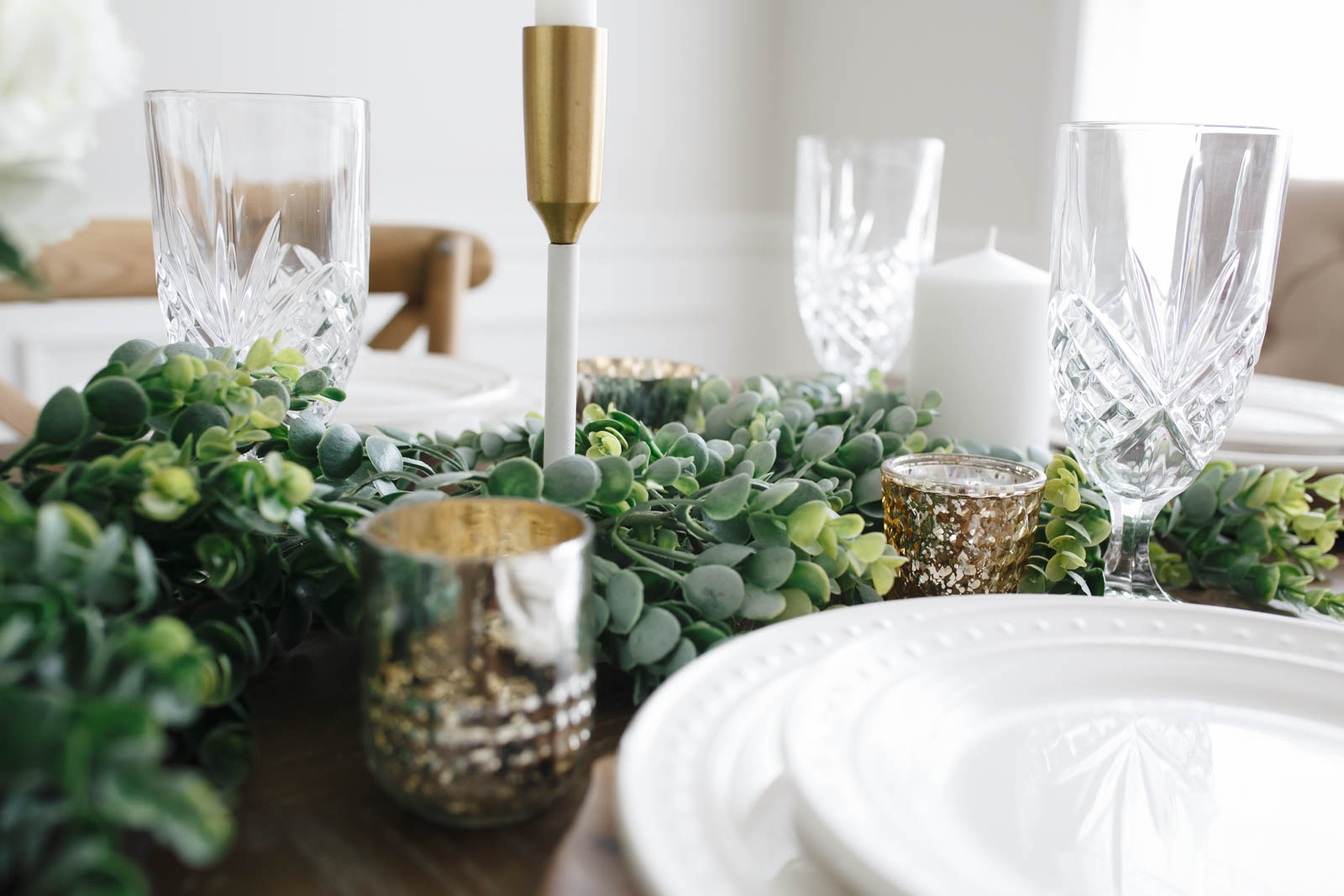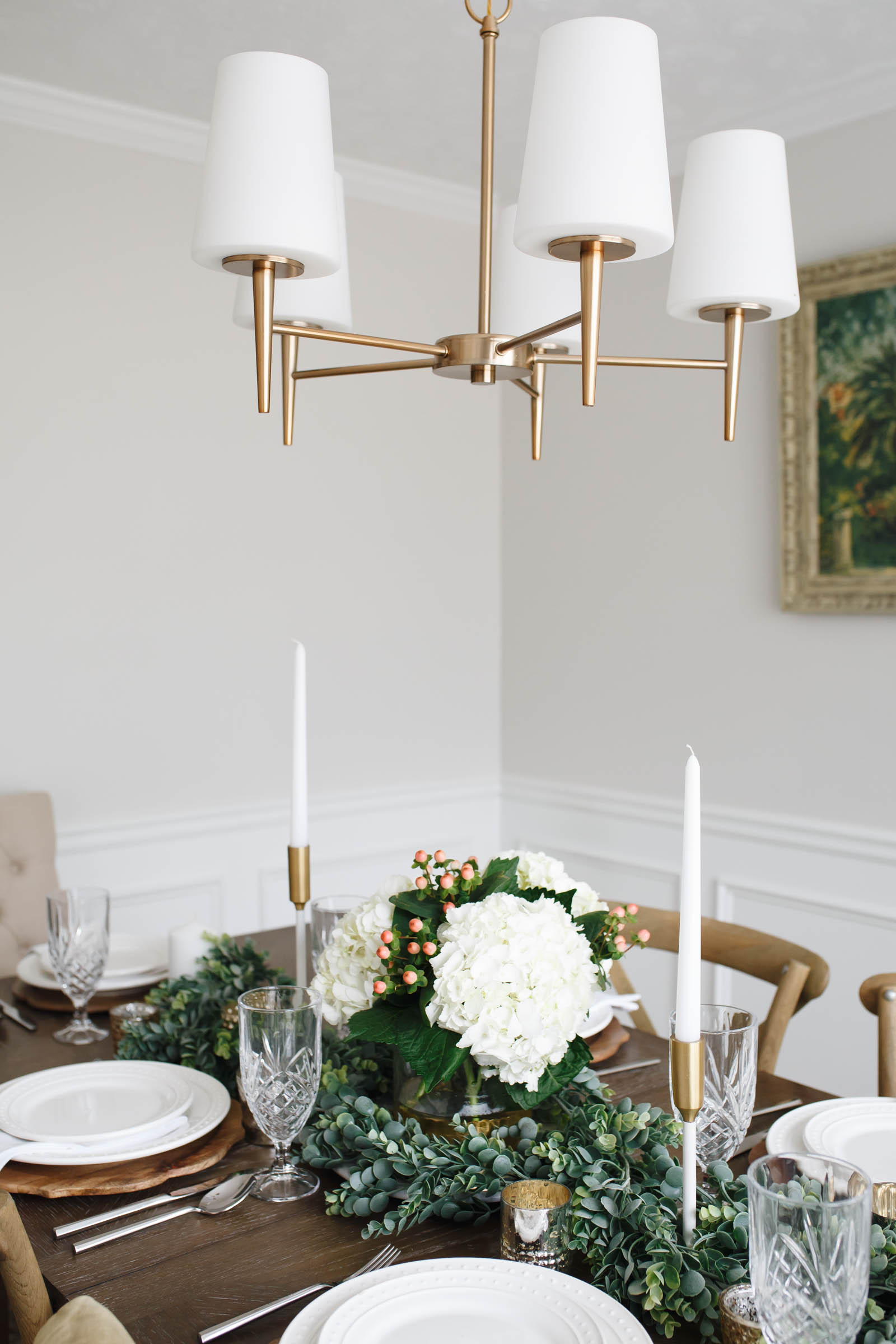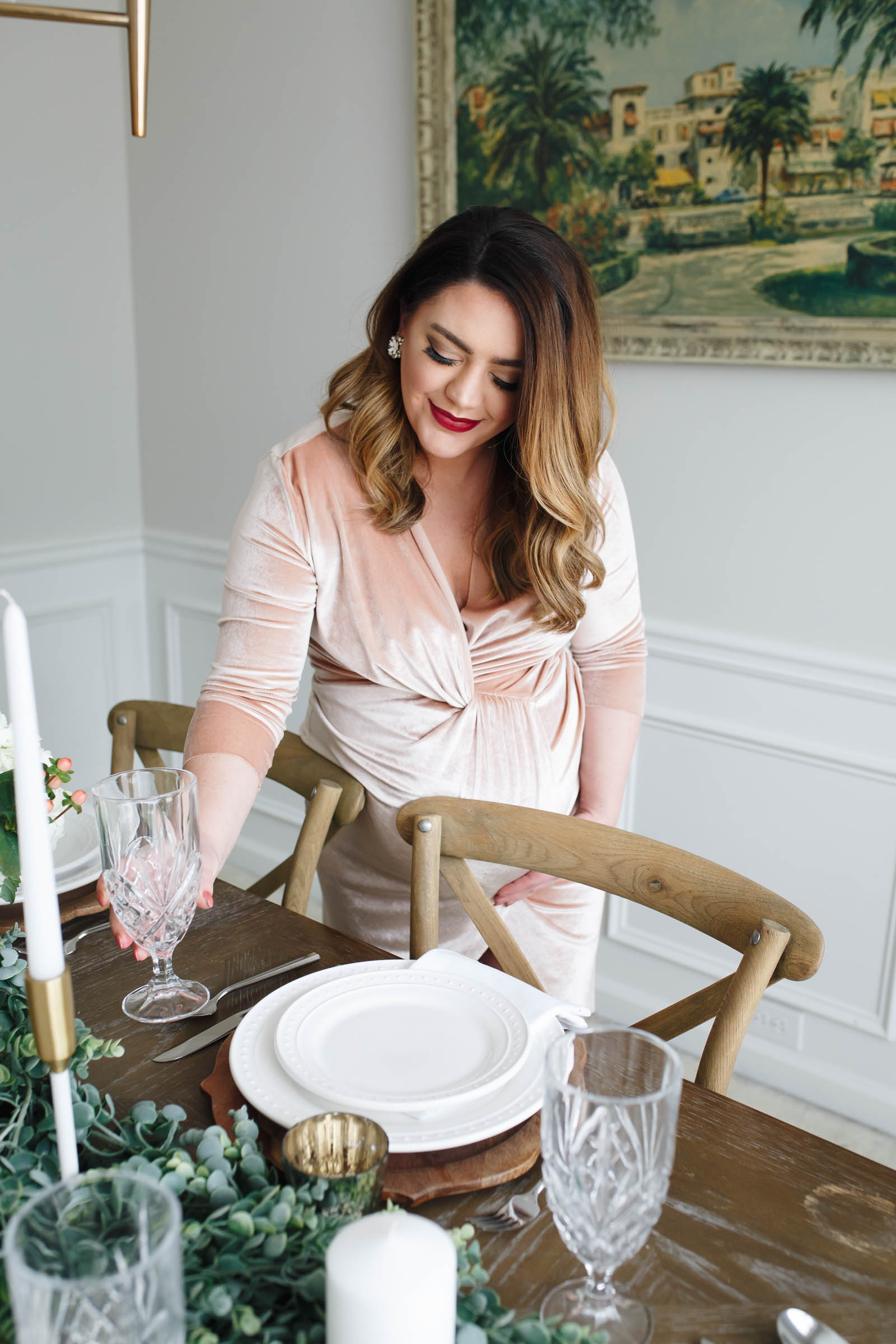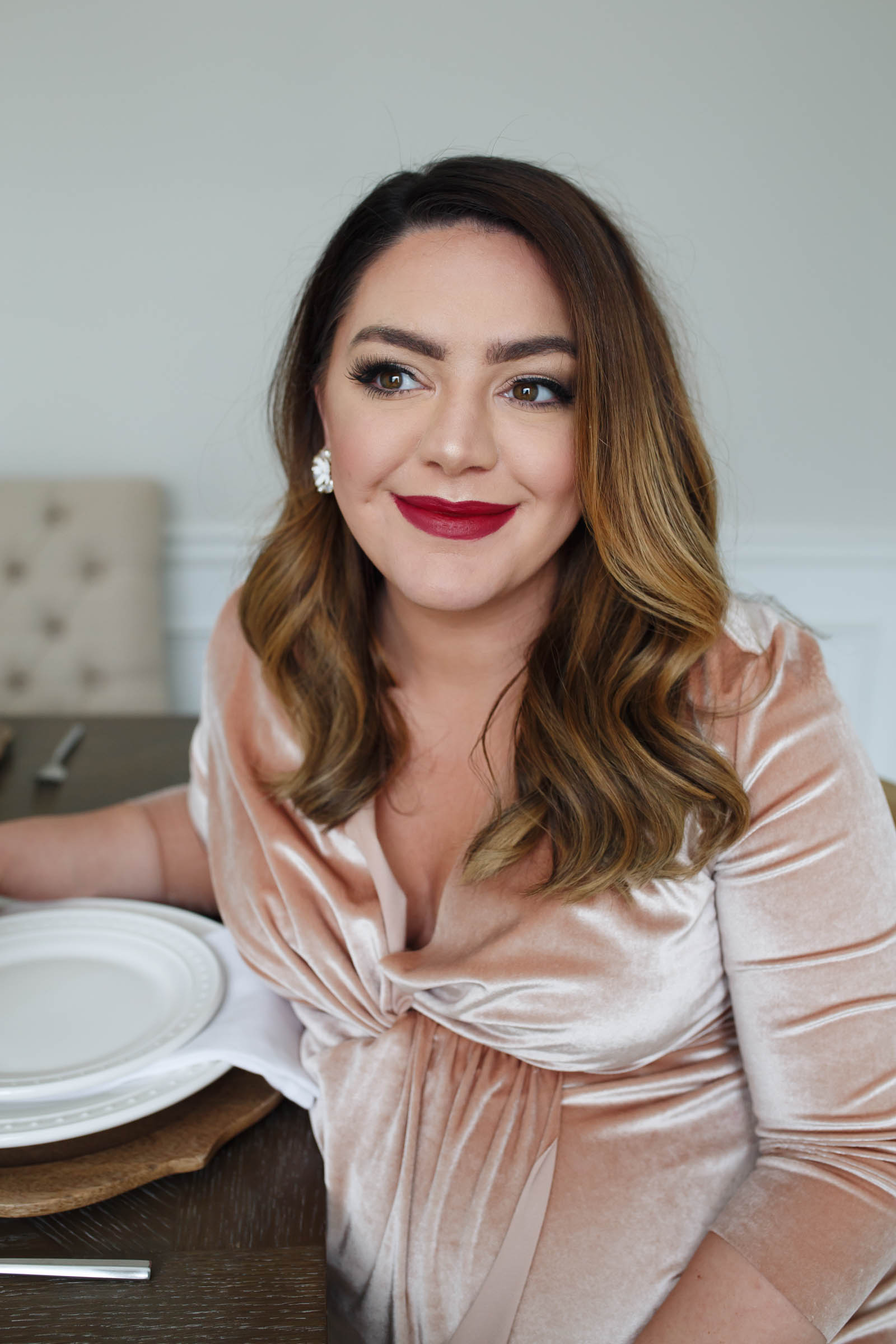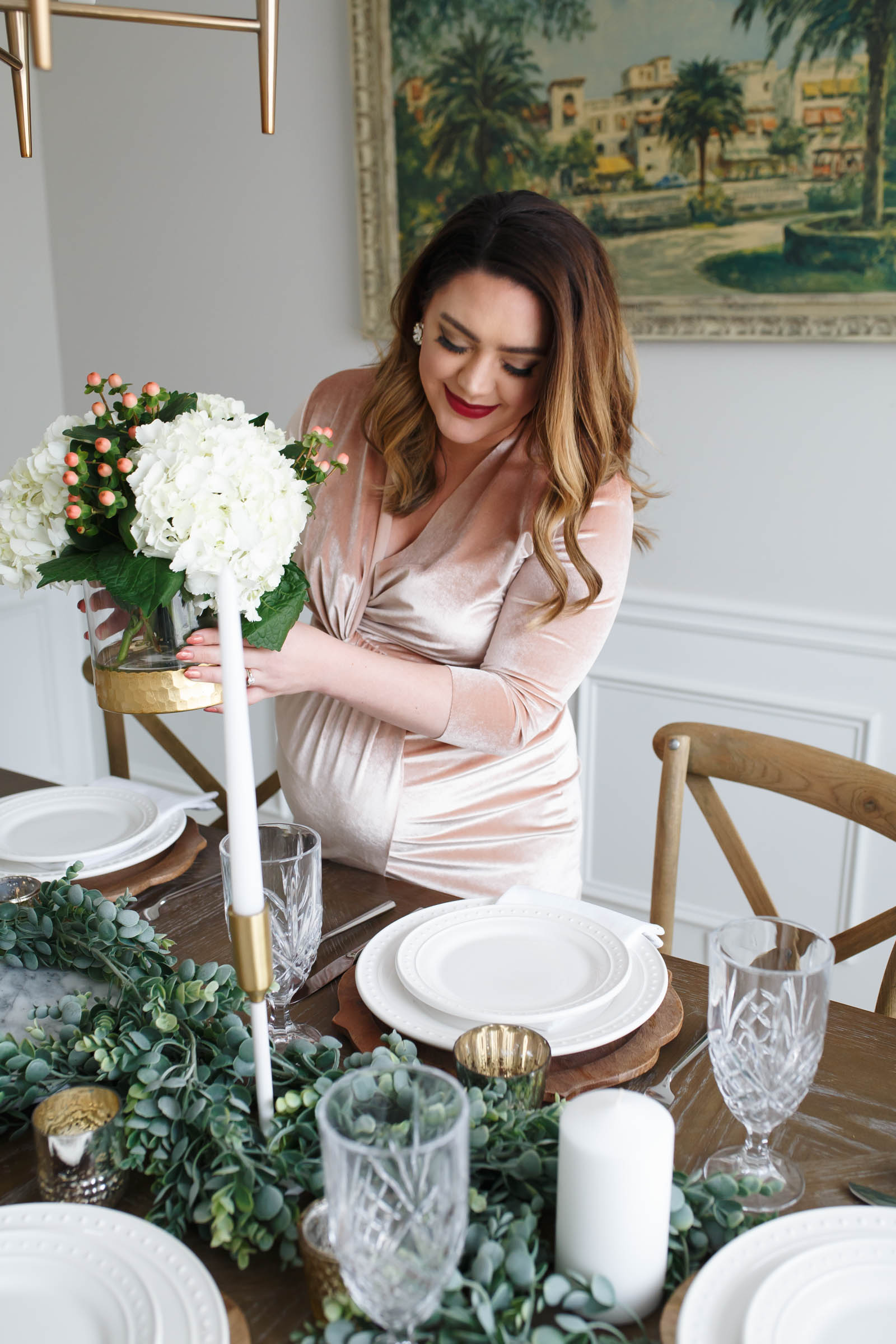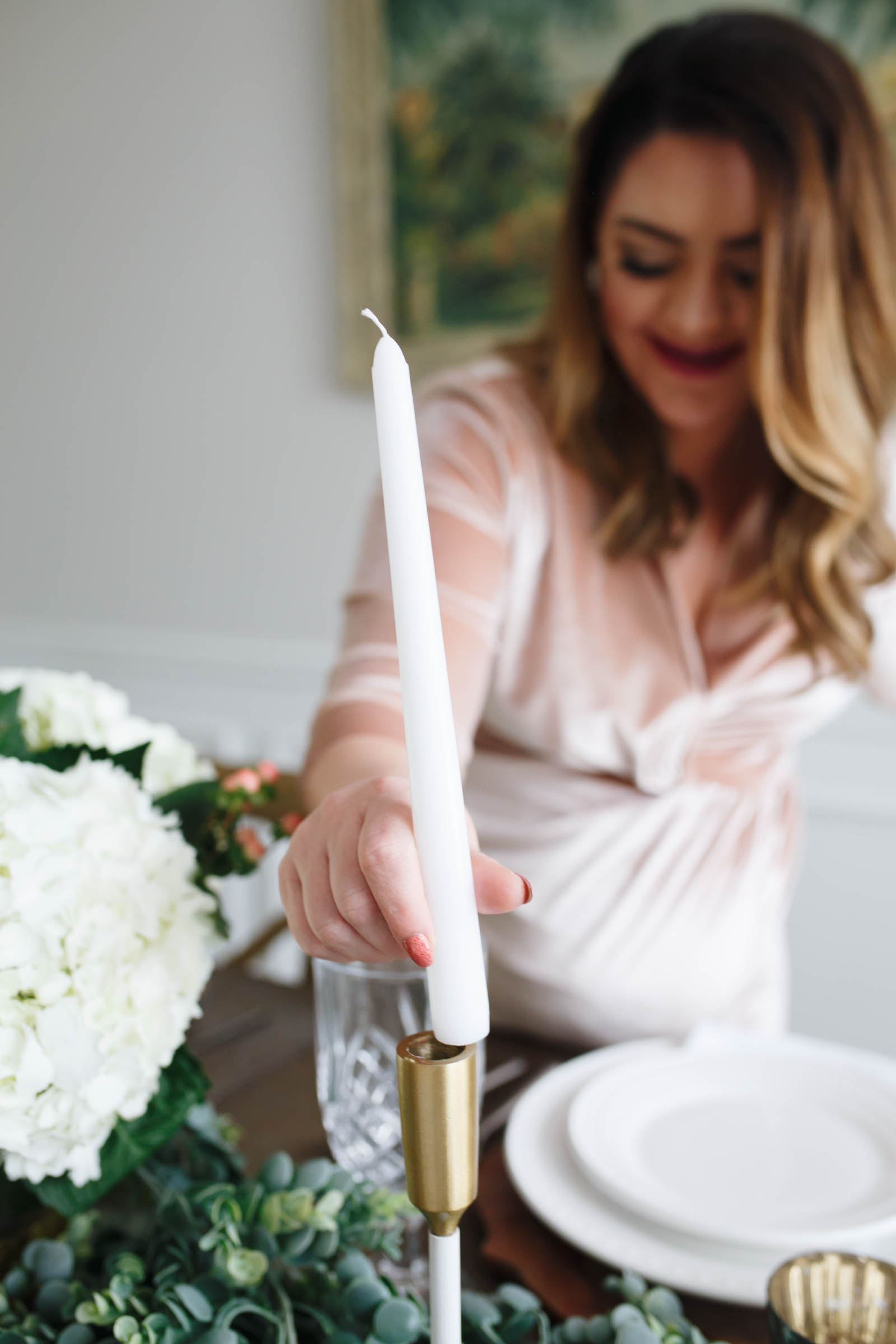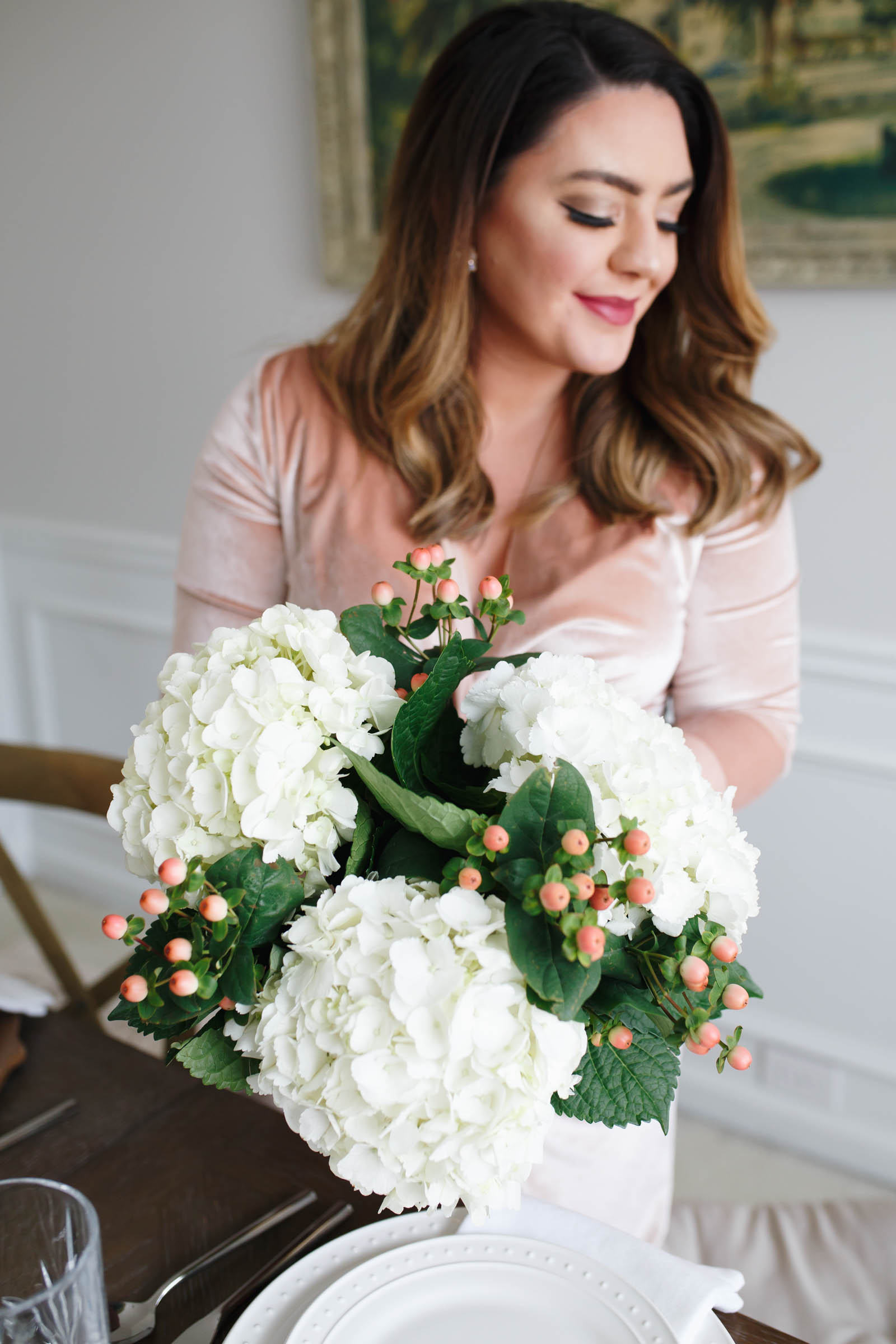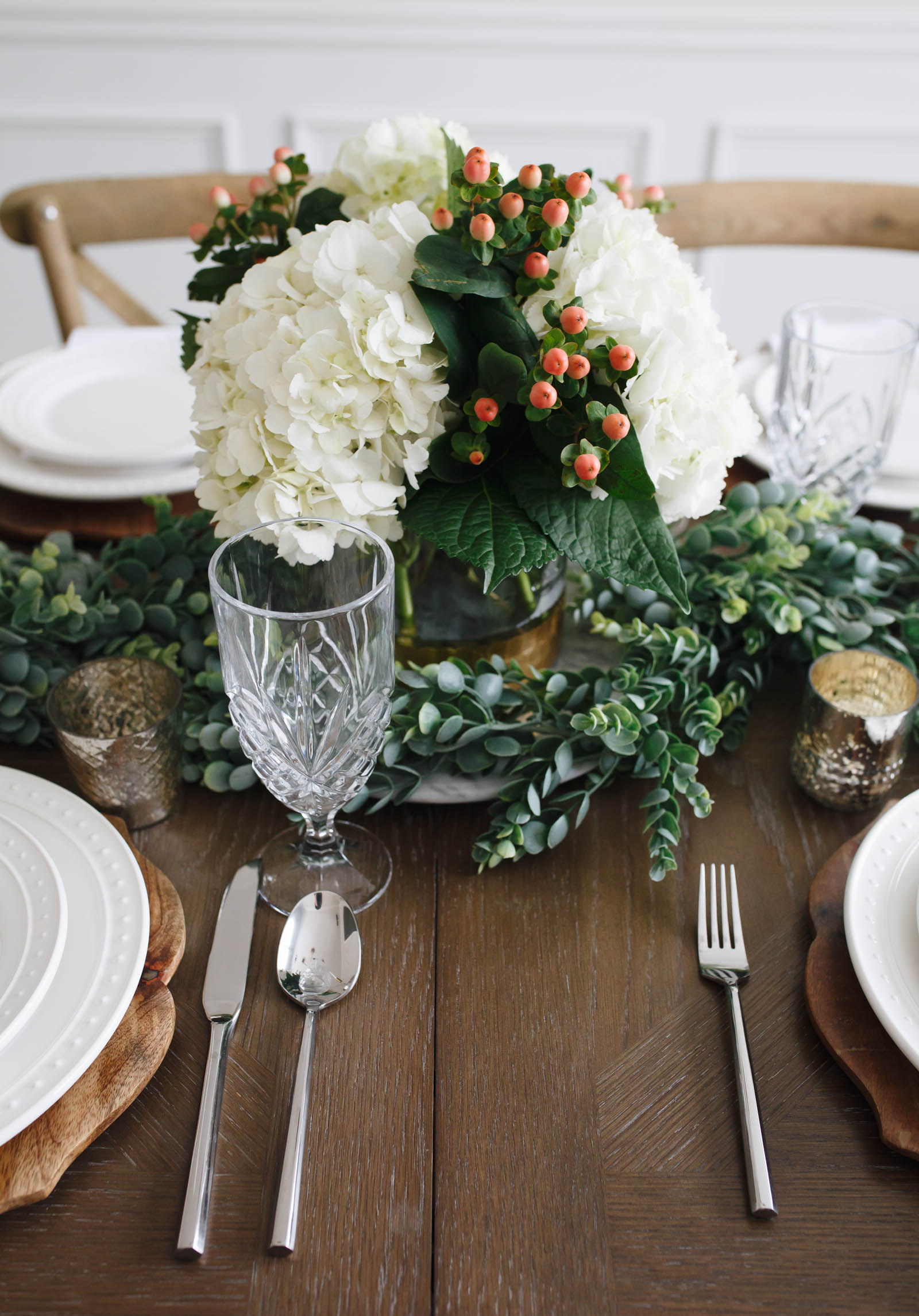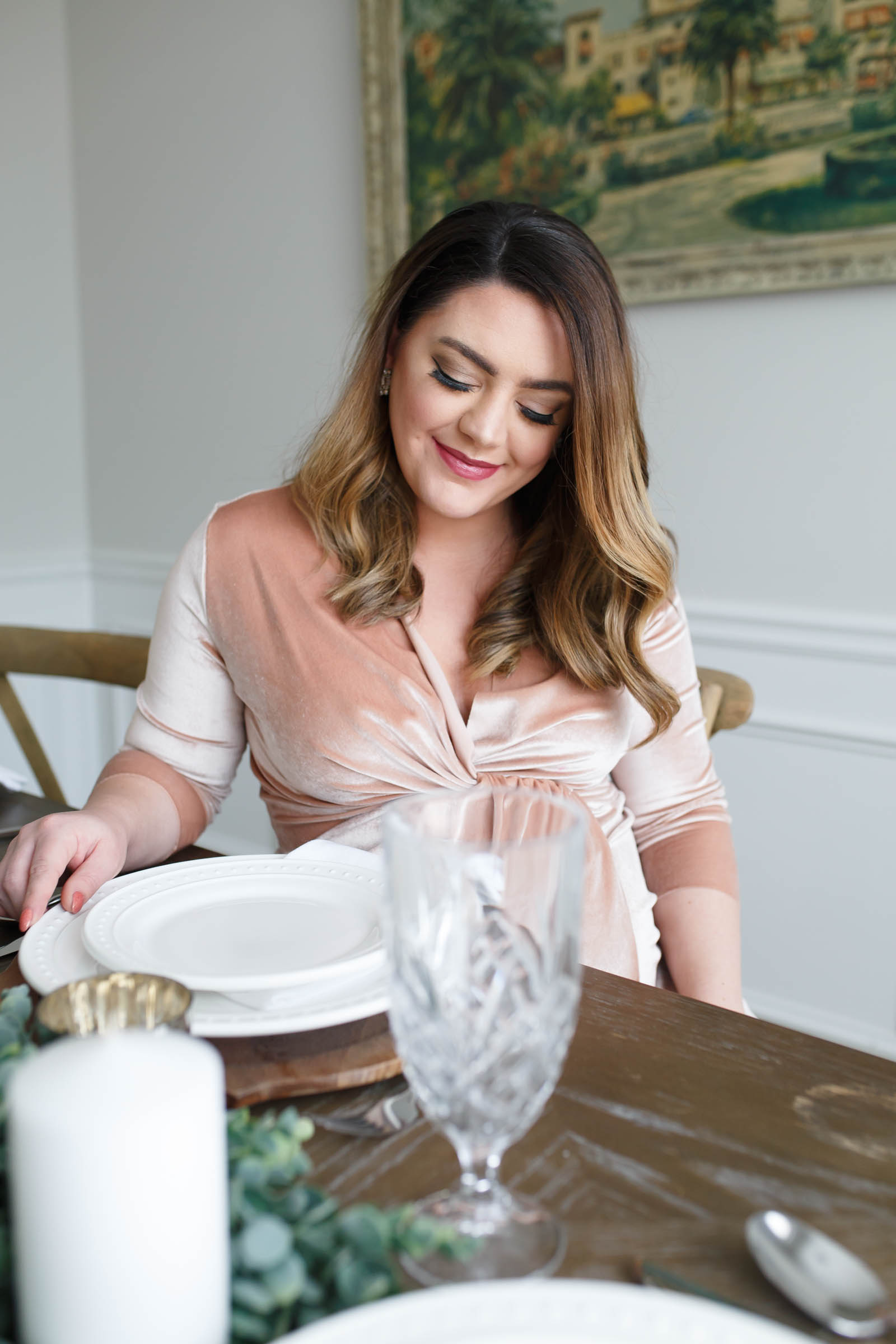 Holiday Tablescape + Christmas Plans
Because Nick and I won't be traveling fro Christmas this year (we travel for pretty much every holiday), we decided we should decorate at least a tiny bit to give our home just a little bit of holiday cheer. I'm sort of bummed to be staying home. We're having to miss my family's cabin getaway this weekend. In my family, we alternate holidays between my mom's side and my dad's side. Even though my sisters and I have SOs and kids, we've still been able to make this work for the most part. On the even years (my mom's side), we usually go to Colorado. On odd years (my dad's side), my dad and his siblings rotate being "Cruise Director" and planning all the holiday festivities for the fam. Usually that means some sort of a "getaway." Two years ago it was Disney. This year is my dad's year and he rented cabins for the entire family and he has fun events planned (like hikes, cookouts, and gift exchanges). I was SO looking forward to it until my doc said "um…no." As bummed as I am to be missing the festivities, I really don't feel up to traveling anyway. I'm swollen and tired and riding out a 2 week sinus infection, so a 10 hour car ride is probably not a great idea.
At my last doctor's appointment, my doctor gave me all the updates for where I am in pregnancy and asked if I had any questions. I started to say "well, I'm just so swollen…I mean, like look at my hands" and she quickly told me "Oh, I know, my dear. I can see. I can see it on you everywhere. I can see it in your face." HA! I wanted to laugh so bad but I held it together. I seriously love my doctor. I also love being pregnant, but I'm kind of over sausage fingers and chubby cheeks (at least on me).
To keep from getting down about missing out on all the fun, Nick and I decided it'd be a good idea to decorate a little. A little greenery and some fresh flowers go a long way in lifting the spirit! We've only had Christmas alone at our place once before and we actually really enjoyed it. So we decided to make the most of this year. So far, we've only gotten to the dining room.
When it comes to home decor, I'm pretty much always drawn to natural wood, white, gold, and greenery. My style hasn't changed so much in the last year, so I pulled out all my favorite pieces from last year and updated a few things. I exchanged last year's mirrored candle holders for the gorgeous white and gold candle holders (linked others from same line below – more options in store). And I traded last year's cedar garland for two frosted eucalyptus garland (I like using two to intertwine around the candle holders and centerpiece). I used the same chargers, plates, flatware, and glasses as last year because I still LOVE them all. We also added a hydrangea and winterberry centerpiece. The centerpiece was entirely Nick's creation. He made me almost the exact same arrangement for the living room a couple weeks ago and I asked him to recreate it for the dining room. I LOVE how it turned out. I also added some more mercury glass votives to the set I had last year. Our table and mismatched chairs are the same as last year. We STILL haven't bought a fourth of the wood chair. No idea why.
My dress is from Zara last year. I bought it for a NYE post last year, but I bought it up a size and it was too big and just didn't look right on me. This year, it barely fits! I almost missed the window for being able to wear it, but I'm glad I got at least one use out of it.
---
Shop Dining Room & Holiday Tablescape
Dining Table | Wooden Chairs | Tufted Chairs | Frosted Eucalyptus Garland (I used 2) | Crystal Water Goblets | Chargers | Dinner Plates | Salad Plates | Flatware | Mercury Glass Votives (mixed with old votives from Target) | White and Gold Candleholders (more styles and colors in store) | Marble Lazy Susan | Gold and Glass Vase | White Napkins
Hydrangeas and Winter Berries are from Kroger
On Me
Pink Velvet Wrap Dress (last year from Zara, linked VERY similar) | Earrings | Waves (used 1.25″ barrel)
---
What are your holiday plans? Do you travel or stay home?
Thanks for visiting!
xo,
Mae