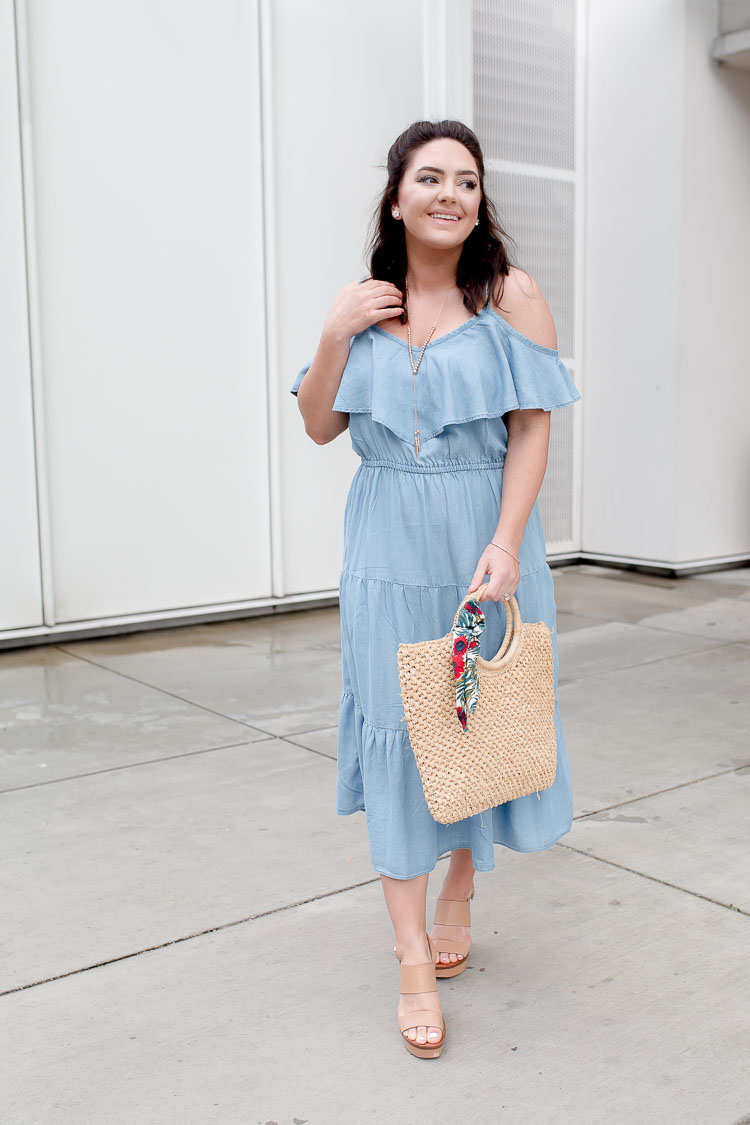 Happy Thursday, loves! I can't believe it's already the end of July. I don't even know where the time has gone. N and I have been busy busy visiting family, enjoying company, and going to all the concerts. We have either been out of town or had company at our house all but two weekends since May! Such is summer, I guess.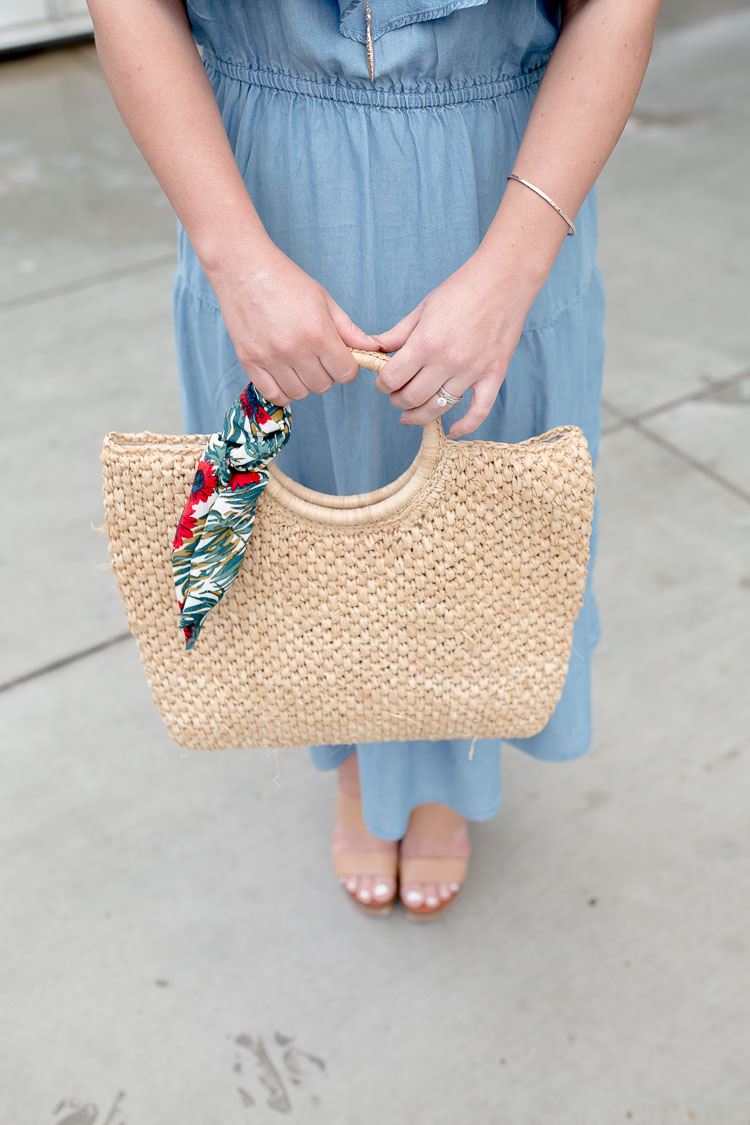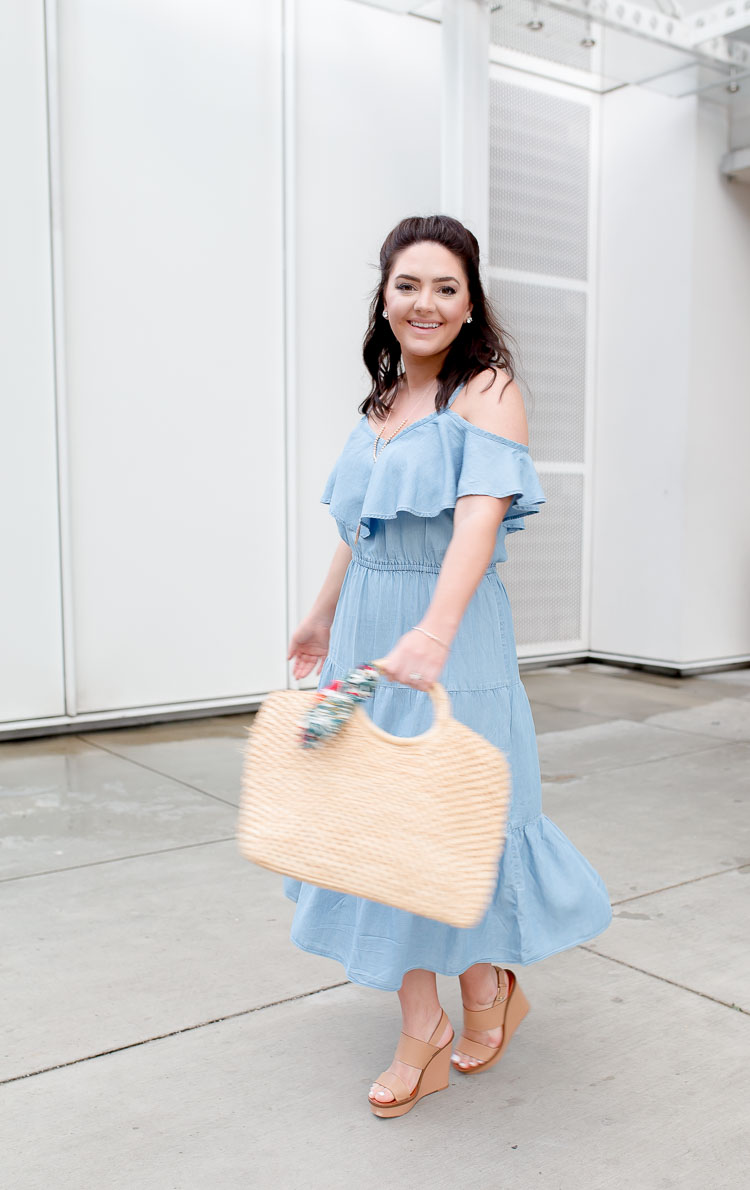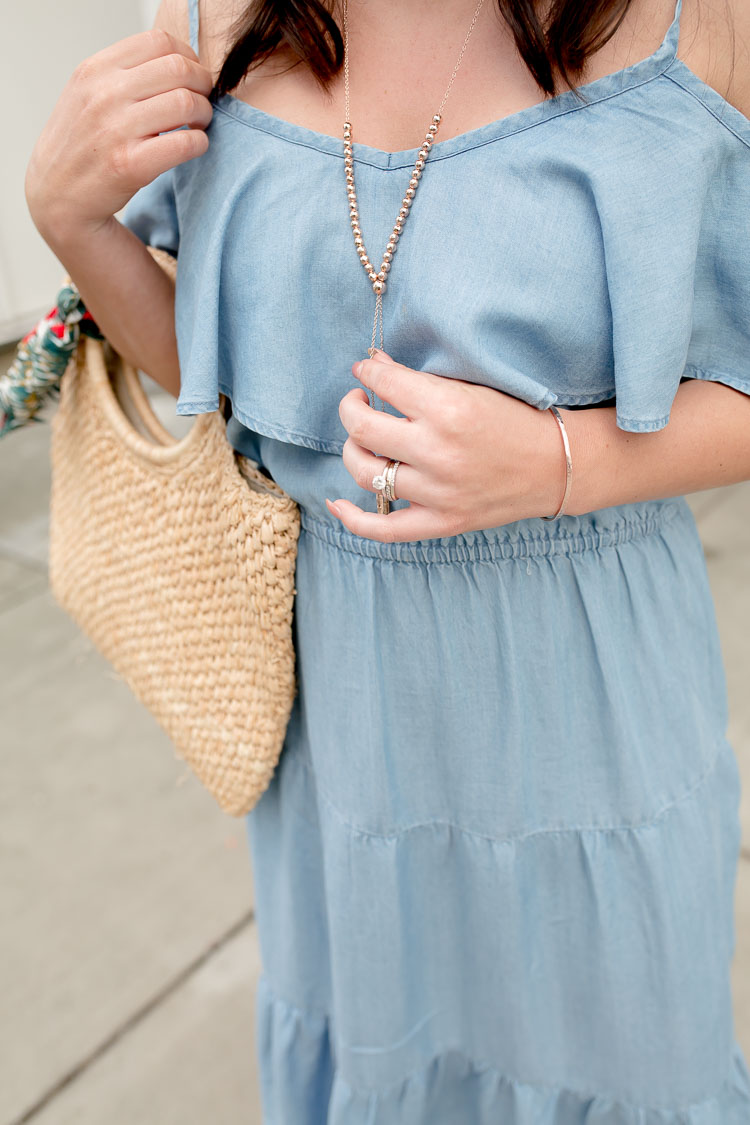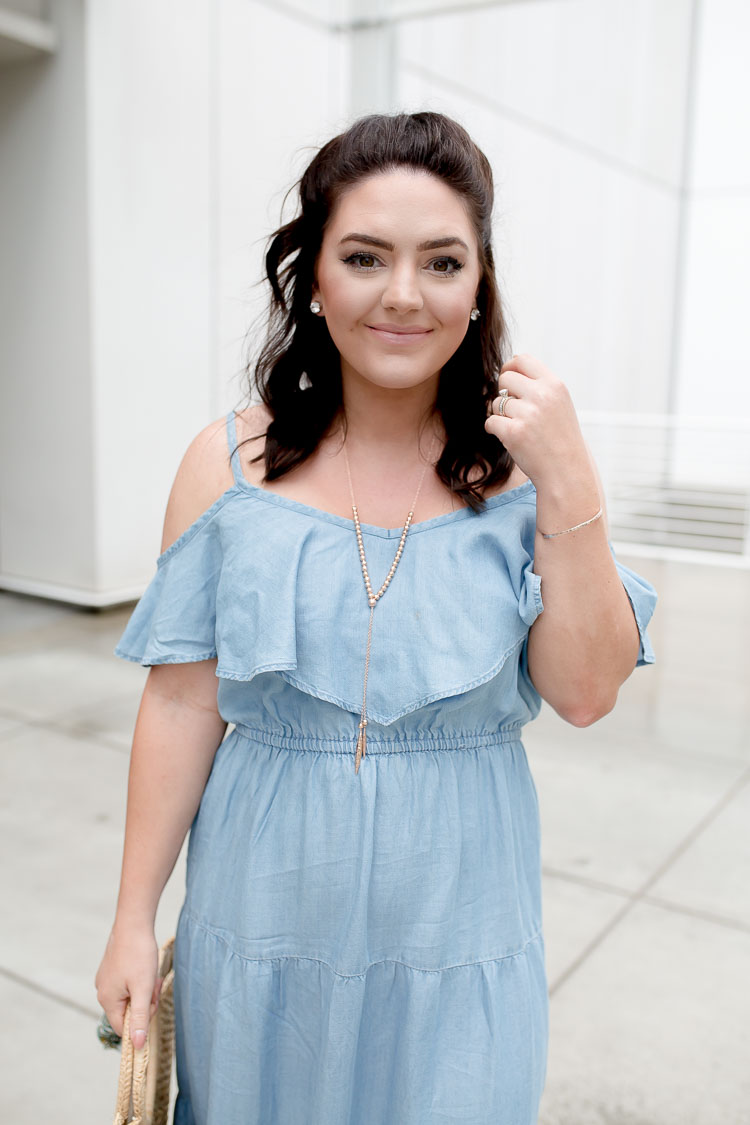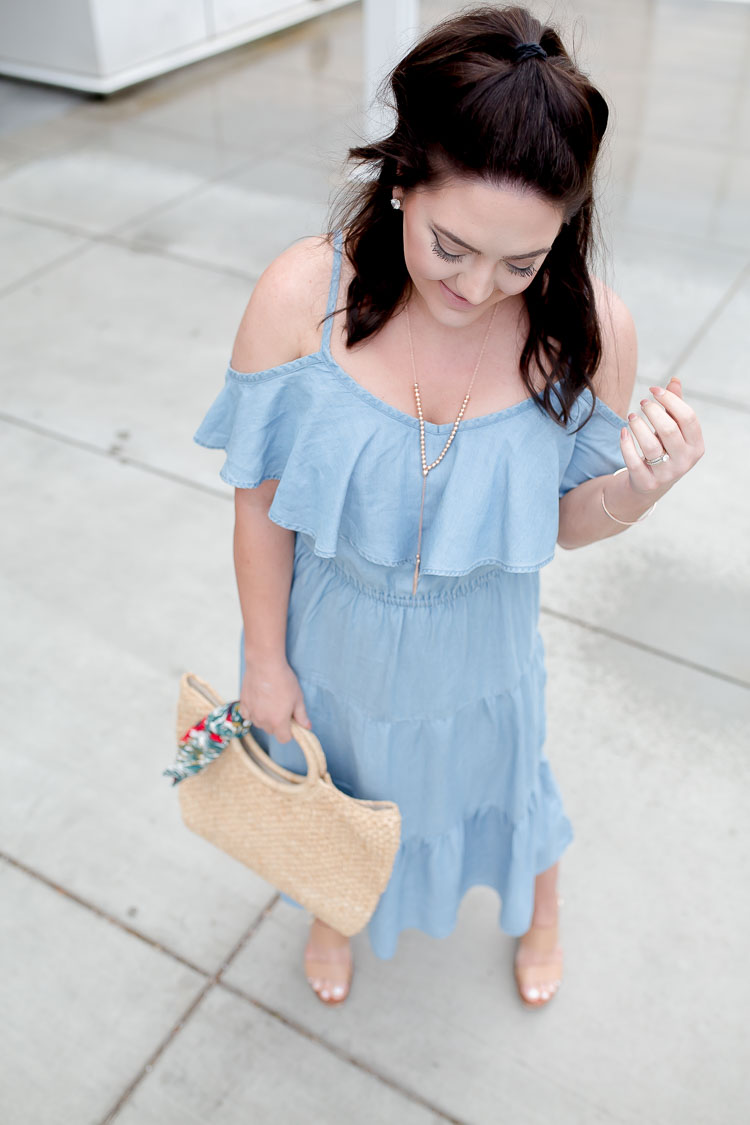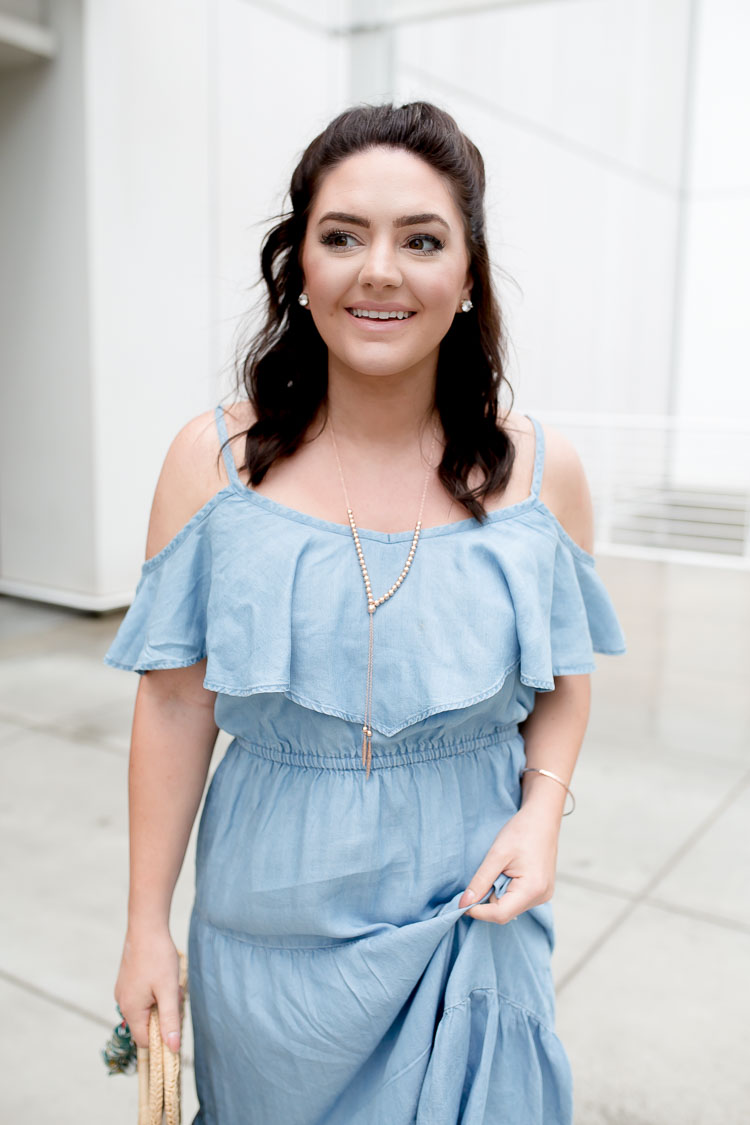 Chambray Cold Shoulder Dress
While we've been having a blast this summer, it seems like the weather has exactly two modes: 1) hotter than hot and 2) thunderstorms. Love thunderstorms as long as I'm not outside in them (more on this later) but super hot days can make dressing comfortably a challenge. On those super hot days, I often find myself reaching for lightweight dresses and what is more summer than chambray? I absolutely love this (super affordable) cold shoulder chambray dress. I usually like to be as covered as possible while still remaining cool and this dress gives me just that. It's loose and breezy and the flouncy cold shoulder detail is perfect. I'm a huge fan of everything off-the-shoulder, but I think the cold shoulder might be my new favorite. With the addition of straps on the shoulder, there's not need for that pesky elastic that always seems to want to pop up when you try to do pretty much anything (eat, fix your hair….walk…).
Story time
Back to the thunderstorms thing for a minute. I have this huge obsession with thunderstorms. I LOVE rain and get actually giddy whenever I hear the slightest bit of rain in the chimney. That being said, I hate it when I have to be outside in the rain. Worse – when I have to shoot in the rain (this is becoming way too common for my liking).
The other day, N and I had a shoot scheduled. There was no rain in the forecast for over 6 hours and even then the chance of precipitation was only 15%. However, as SOON as we get ready to walk out the door (I'm talking, like, as I'm buckling my shoe and grabbing my bag), we hear thunder. And the skies immediately darkened and the rain began. Intense rain. We set out anyway hoping it would just be a short storm that would pass quickly. We went to our first location. No light, too much rain. On to the the second location. Same deal.
We finally headed to a third option and I remembered there was a glass awning where we might be protected from he rain. Sure enough, we were mostly shielded. That being said, I was horrified that we were going to get struck by lightening. I kept telling Nick we had to leave because I refused to be the headline of one of those stories about people dying trying to take photos. thankfully, all was well. We got the photos and they turned out better than I could have hoped. But if you look closely, you'll see the terror in my eyes. At least I had this pretty dress to make me feel like a kwane.
---
Shop the Post
Cold Shoulder Dress (under $30) | Straw Tote (back in stock) | Tan Wedges (out of stock, love these espadrille wedges) | Necklace
---
Chambray 5 Ways
Today I'm teaming up with 4 other lovely ladies with amazing blogs and incredible style to style chambray 5 different ways. I absolutely love it that we all chose dresses. I mean, obviously we're onto something. But I think it's cool that the dresses are all different. Which is your favorite look? I'd wear them all!
Make sure you check out everyone else's blogs and follow them on socials (if you don't already) to keep up with all their fun looks!