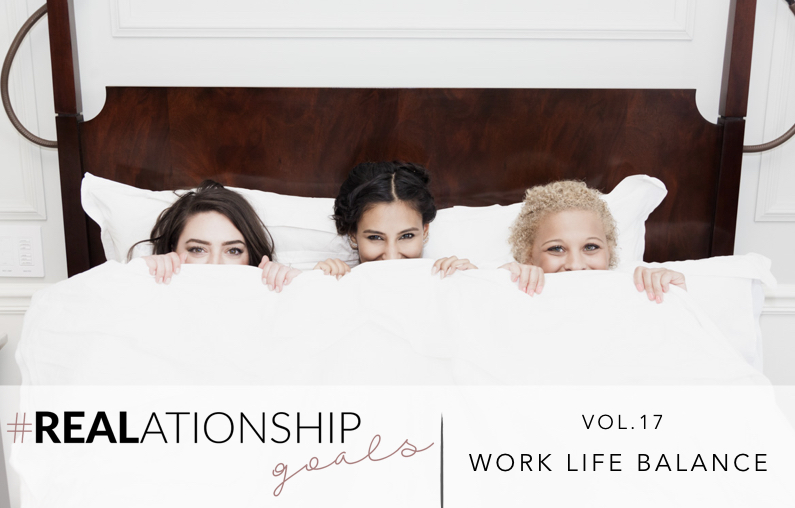 Happy Friday, babes! Welcome back to another round of #REALationshipGoals. It's hard to believe we're already 17 volumes in! Thanks for coming back each week to check out what we have to say.
This week we're taking on the subject of finding balance, particularly work/life balance. Not only are Sabrina, Lauren, and I all in rewarding relationships, but we also have rewarding (and time consuming) careers. In any relationship, both members are a part of a team, but we also have lives outside of our relationship. For most of us, we spend most of our waking time working, so our careers are obviously a huge part of our lives. As such, it's essential that each party supports the other and that both feel fulfilled outside of the relationship as well. However, this is sometimes easier said than done.
So you're up for a promotion and that's going to mean long hours at the office. Or maybe your guy has a work trip that means being away from one another for a week. How do you and your partner support one another to make sure you can achieve goals without sacrificing your relationship?
We're all sharing all our tips for how we maintain a healthy work/life balance and make sure we get plenty of time with our SOs, too.
Feel free to answer about your own relationship in the comments section below or shoot us an email.
---
#REALationshipGoals | Work Life Balance
How do you and your SO help one another balance work life and home life? What do you do to help one another achieve your work/life goals and ideals?
Me:
If you've been keeping up with Mae Amor for a while, you might know that prior to taking it (and freelance work) full-time, I worked as a research analyst. I LOVED my job, my coworkers, and my responsibilities (and the consistent paycheck and affordable health coverage…just sayin'). However, a typical workweek for me consisted of 80 hours and I almost never worked fewer than 60 hours. I worked on the blog every spare moment that I had and Nick and I were newly married, so there really was no such thing as "balance." I was go go go pretty much all the time and, while Nick was incredibly supportive of every decision I made, we both knew that lifestyle was not sustainable.
Now that I work for myself, I have more freedom than ever before. That being said, I still work a lot of hours. Weekends and evenings are fair game for events and I've been known to be gone for several days at a time for press events and conferences. Nick has his own career and works pretty regular hours, though, so when I have extra to do during "off" hours, he sometimes helps me with it or works on his own work projects. Mae Amor started as a sort of hobby for both of us and it was a fun way for us to spend time together. Even though it's now work, we still sometimes treat it as a shared hobby that we are building together.
I'm someone who has difficulty relaxing and Nick is incredibly good about helping me unwind. For us, we are able to achieve balance by supporting and encouraging one another. We have little nightly and weekly rituals that help us feel centered and ready to tackle the daily grind. We try to spend time in nature together often. I've talked about it before, but our nightly (that's the goal anyway) walks are my favorite. We have long conversations and work everything out on the trail. Had a fight earlier? Let's walk it out. Need to discuss a next big career move? Better take it to the trail. Not sure what to do with that bonus check? Time to get movin'. The trail where we walk is our peaceful, neutral territory, so it serves as a sort of reset button for each day. Finally, it may seem small, but we also do all the grocery shopping together and try to go on a date once a week. (isn't every night a date night, though?)
Since leaving Corporate America in January, this whole idea of working from home + running my own businesses (yes, there are more than one!) has completely taken over my life. But in a good way. I now have way more flexibility to set the hours that I want to work in order to get #allthethings done…which means I have a little more flexibility when it comes to my personal/home life. Now don't get me wrong, there are days (and nights) where I literally don't leave my phone/computer and Brandon has been pretty awesome with helping me find some balance. For example, last night I went to help him find a suit for a gala we're going to and then we got some dinner after. He had to pretty much force the phone from my hands. I had a lot going on yesterday and just couldn't look away from my inbox. But, like he usually does, Brandon reminded me that not everyone is checking their emails after 8pm so I could take a little break to enjoy some bae time. And I'm so glad I did. He also is my biggest cheerleader (well outside of my mom). If I'm feeling discouraged, he somehow always knows the right thing to say. How do guys do that??
We both work really hard and have so many different passion projects. B is an architect and is also a part of several organizations and groups to further his own personal and professional growth so he can get just as overwhelmed as me at times. I like to make it my job to keep him encouraged but also remind him that he is pretty freakin' awesome and can take a break every now and then. He struggles with staying organized so I bought him a dry erase calendar to keep all of his meetings/appts on track and also push him just a bit every now and then to go after what he wants.
And most importantly, we make it a priority to at least spend 1-2 nights or days out of the week having fun or just relaxing and being lazy. Gotta have that balance!
Ooh! I love this topic because it is so relevant in my life and I know in so many of yours. I've always maintained that my priorities are my family, my faith, and my career – in that order. However, each of these things give me a sense of pleasure and accomplishment in my life and therefore are all essential to an overall fulfilled lifestyle. When my career takes precedent, I try to let Sahir (and my other family members) know what to expect from me on a regular basis. I just got out of a crazy work season with lots of nights and weekends, so spending time apart became routine. My husband knows how important a clean house is to me and he really picked up the slack to make sure that I wasn't worried about the household during the few times that I was actually home. In terms of spending time together, when date nights don't seem feasible, we tried to do little things to make sure that the other felt special. If I was working nights, I'd try to leave him dinner made before I left or at a minimum – a sweet note. Similarly, he would hang out with friends and I remember one night a few weeks ago they all went out for bubble tea (my favorite!) and when I got home 2 hours later, he had picked me up my favorite one –from the place down the street from where they actually went– just so I would come home to my favorite treat. Side note: Not the best thing to consume at midnight… but it was a sweet gesture. I think that setting expectations about what you can and cannot do goes a long way, but don't forget the occasional surprise so that your partner feels prioritized!