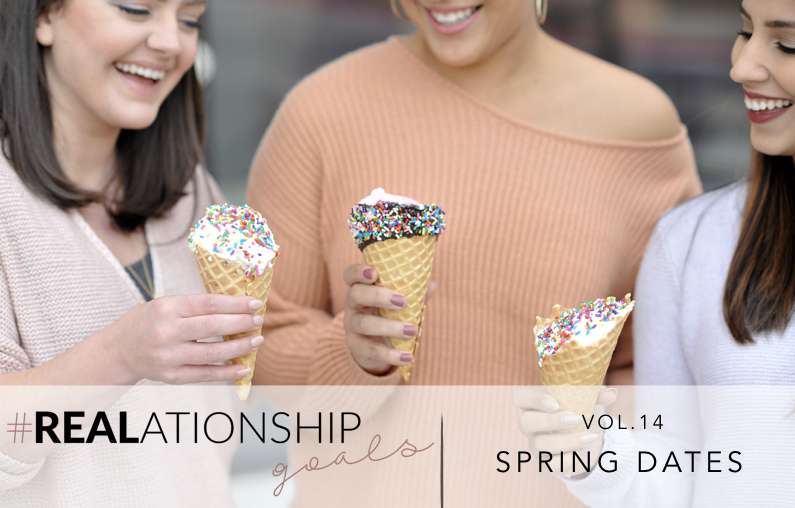 Spring has arrived and while the flowers are blooming and grass is greening, we're feeling all kinds of sentimental about our boos. Spring is such a romantic and hopeful time of year and it can be the perfect time to get out and have an adventure with your guy. Whether it's hiking a mountain, heading to the beach, or shopping at an outdoor mall (that counts as an outdoor activity, right?), the warmer weather and longer days of spring mean endless possibilities for the perfect date – day or night. We're dishing on our favorite ways to spend time with our guys this time of year.
We want to hear from you, too, so don't forget to answer this question in the comments section below. It by no means has to be an "active" date, so share whatever comes to mind!
Spring Date Night Ideas
What are your favorite springtime activities for spending time with your SO?
Springtime is my absolute favorite. Nick and I always have so much fun this time of year because we've been cooped up all winter and suddenly there's an endless stream of fun things to do (often free or cheap fun things to do!). We live outside of Atlanta and our town has lots of fun events like food truck Fridays, among other fun things. We love checking out the events at the smaller towns outside of Atlanta, but we frequent Atlanta events, too. We also enjoy eating dinner in our backyard and sometimes even watching a movie on our lawn in the evenings. We also go on evening walks several times a week. While not actually a "date" per se, we find our walks to be an incredible way to spend time together. It's a nice neutral place to talk things out if we have issues to discuss, but it's also just incredibly refreshing. Another thing we love to do this time of year is venture out and explore a bit. We like taking day trips or weekend trips to get away for a bit.
Finally, spring is the perfect time to plan for summer. We always start filling up our summer schedule around this time and it's another great way to spend time together. We've been putting together our summer concert lineup over the past couple weeks and we are SO excited. (If you keep up with #REALationshipGoals, you know that Nick and I go to A LOT of concerts together)
By far one of my favorite things to do with #FashionablyBae this time of year is grabbing dinner or cocktails al fresco. I live for a rooftop patio situation. I mean – is there anything better than a romantic #datenight on the rooftop of Ponce City Market by a fire pit at 9 Mile Station? We also love heading to breweries with our friends. A lot of the ones in Atlanta have an outdoor area with cornhole, outdoor bars and it's such a great way to spend the weekend. And lastly, I don't know what is it about spring, but we tend to go on a lot more mini road trips this time of year! Nothing super far, but we love visiting our favorite closer cities like Savannah, Charleston and Athens and going on adventures.
Now if we could both figure out the perfect allergy meds cocktail to ward off the nonstop sneezing this season! We both apparently suffer from the worst allergy symptoms this time of year which makes date night pretty interesting. If you have any tips or recs for the best stuff, please comment below!
I live for this weather – As Cheryl said in Miss Congeniality the perfect date is "April 25th, because it's not too hot and not too cold, all you need is a light jacket." (I love that movie!) But because I am chronically cold the other half of the year I try to spend as much time outdoors as possible. For me & Sahir that means bike riding at Piedmont Park & getting Jeni's Icecream at Krog Street. I think this will be the year that we actually splurge and buy our own bikes instead of renting every weekend. Since we starting doing yoga I hope to do some of the outdoor yoga sessions this season, just need some SPF & light bug spray and we're good to go!
---
Thank you so much for visiting! Don't forget to drop a line below in the comments section and tell us YOUR favorite spring date ideas. You can also submit ideas for future posts – we love answering your questions!
Happy Friday and have a fabulous weekend!
xo, Mae