Light and springy cutwork lace shift dress with a denim jacket.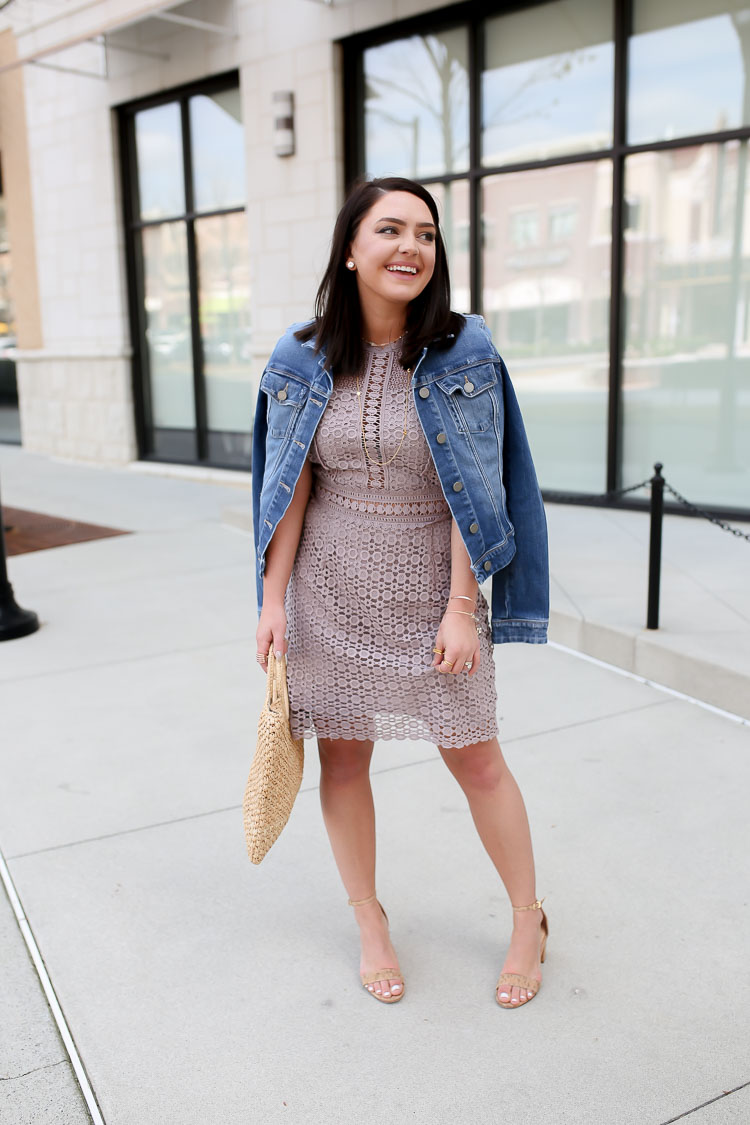 Happy Good Friday! I'm so happy for the weekend. N and I have lots of stuff planned but I'd honestly be happy to just hangout with him and the pups. This week has been absolutely beautiful though, so I'm grateful that we'll be spending lots of time outside (weather permitting, of course). Easter is Sunday and I wish I had a different dress in this color to wear.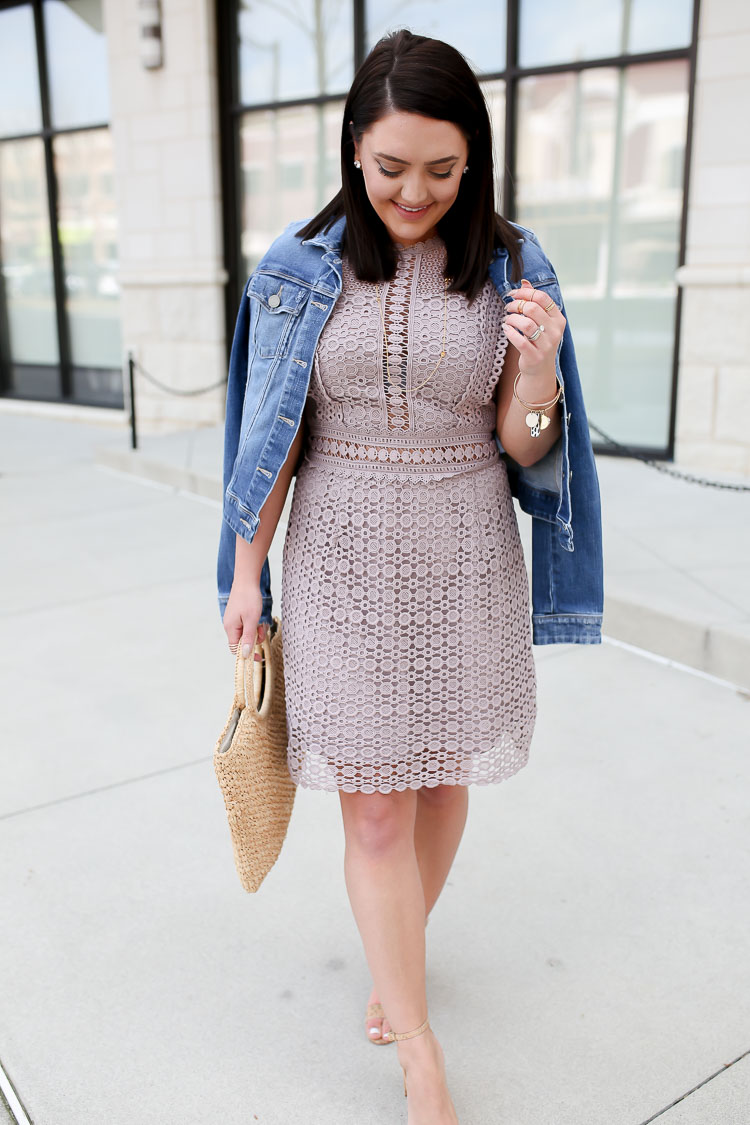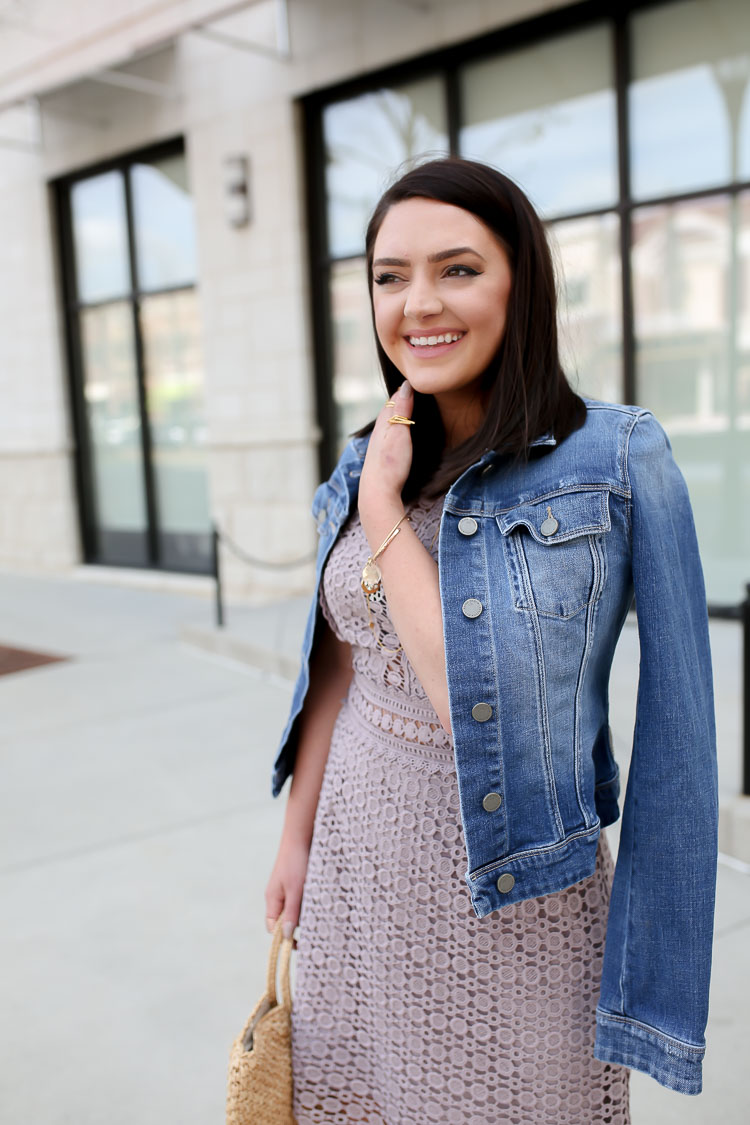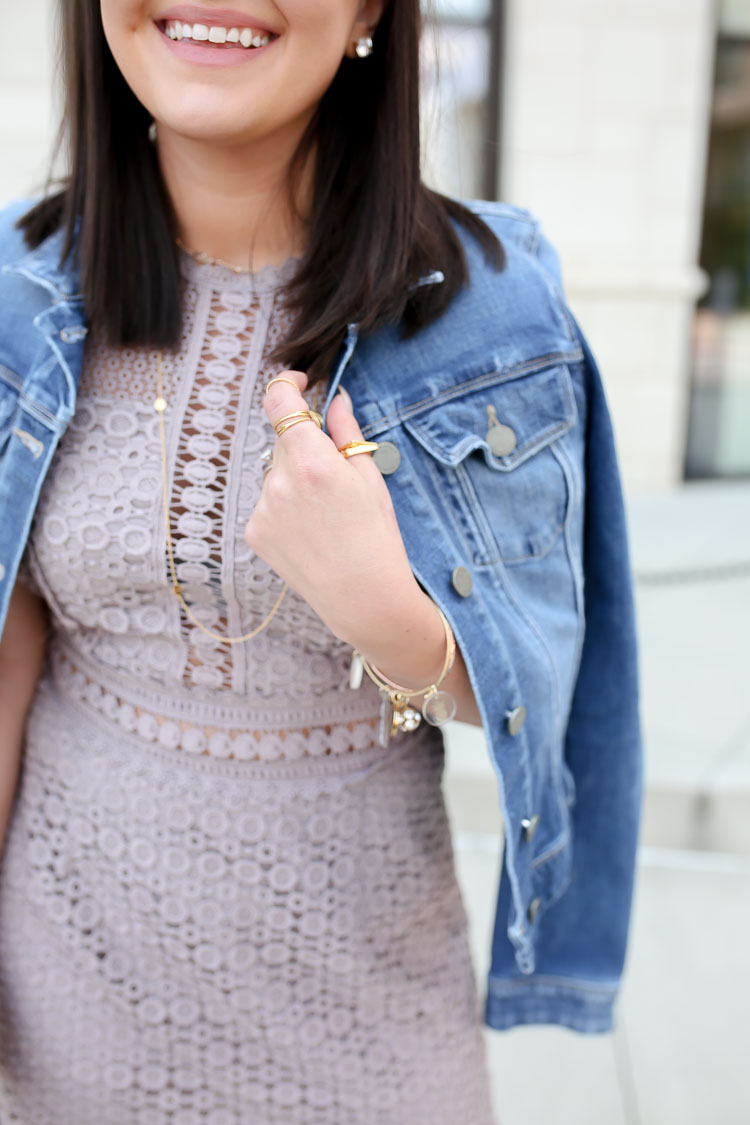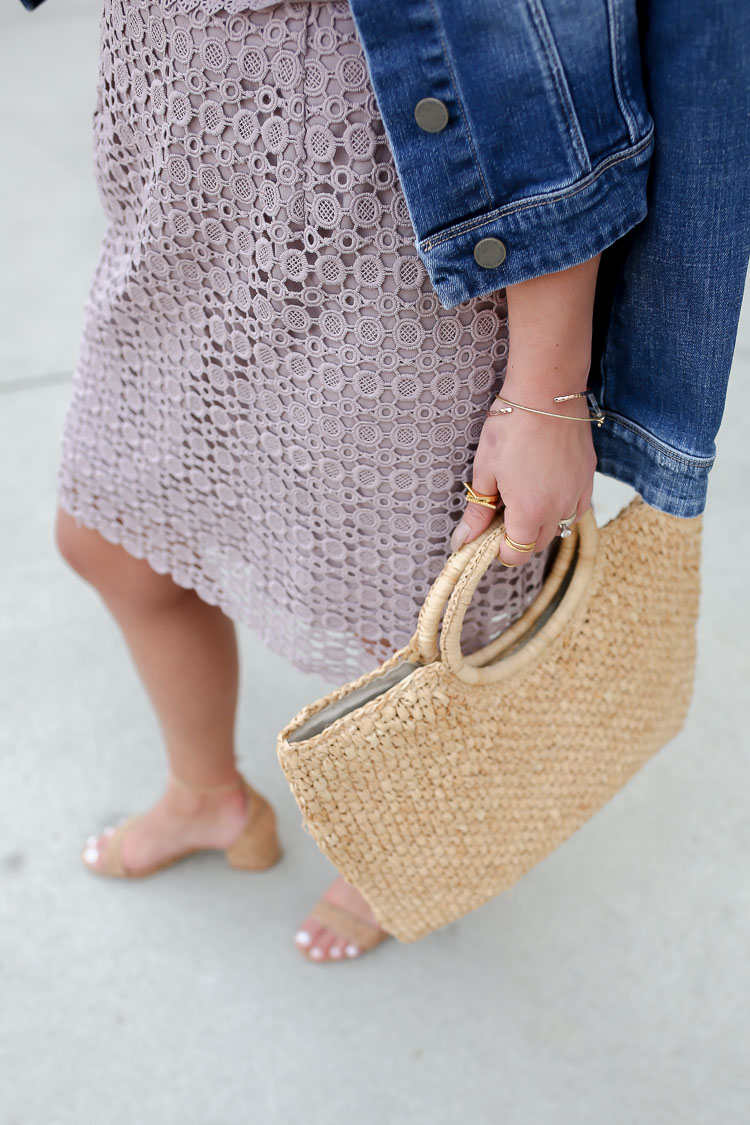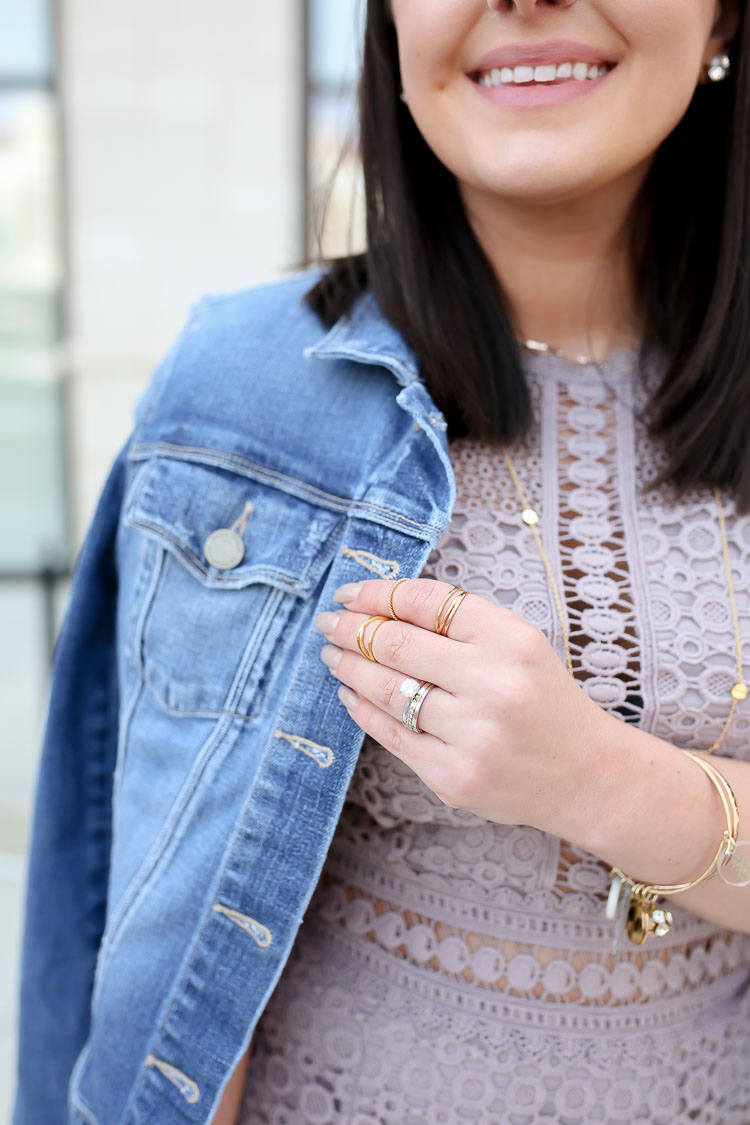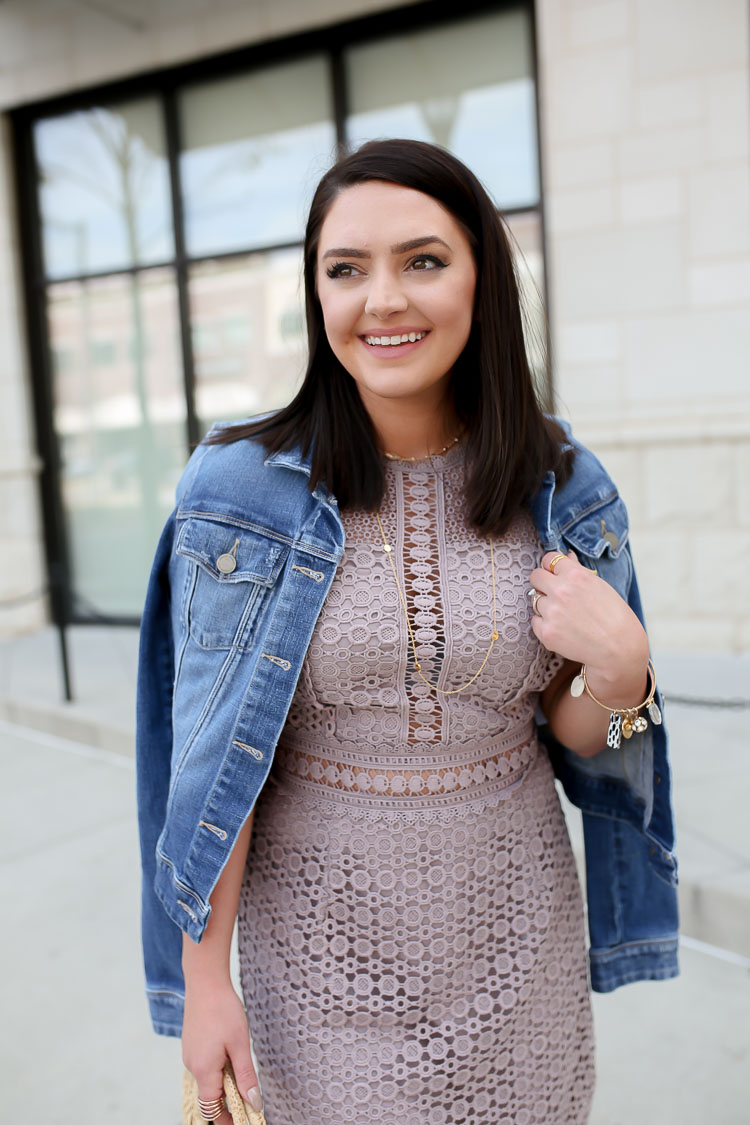 Purple Cutwork Lace Dress
I am absolutely in love with this cutwork lace dress right now (only $60). The color and the fit are perfect. I've been all about cutwork lace dresses lately, too. In fact I ordered this dress and a BUNCH of other cutwork lace dresses in different colors and styles as options for a wedding I went to last month. I was so certain that I wanted to wear something like that and spent weeks trying to find the perfect dress. Then I ended up wearing a black midi dress that I found for $15. It was actually perfect and I got lots of compliments. I'll shoot it soon.
I'm so glad I felt comfortable at the wedding. BUT now I have all these beautiful cutwork lace dresses that I couldn't bring myself to return. This dress is one of them and it is so gorgeous. I adore it for spring and absolutely love the way it looks with my favorite Paige denim jacket. The only thing to note about this dress is that there are a few parts that are unlined (under the ribcage, down the center of the chest, and on either side of the, well, boobs). I covered mine with the denim jacket and wore a bra in a corresponding color to help offset the unlined parts. On anyone else, I'd be like "wow! super cute! The unlined parts just make the girly lace a little bit sexy!" On me though, I take pause and think "is that really a thing I can wear?" Jury's out on that one.
---
Shop the Post
Cutwork Lace Shift Dress | Denim Jacket | Cork Sandals | Straw tote
[note the sandals and bag. Yes, they're back. I told you I'm obsssesed!]
---
Thanks so much for reading!
xo, Mae
PS – Don't forget to head to Sabrina's blog today to see today's #REALationshpGoals post. We're talking about the "80/20" rule and what role it plays in our relationships. It's a good one, y'all!