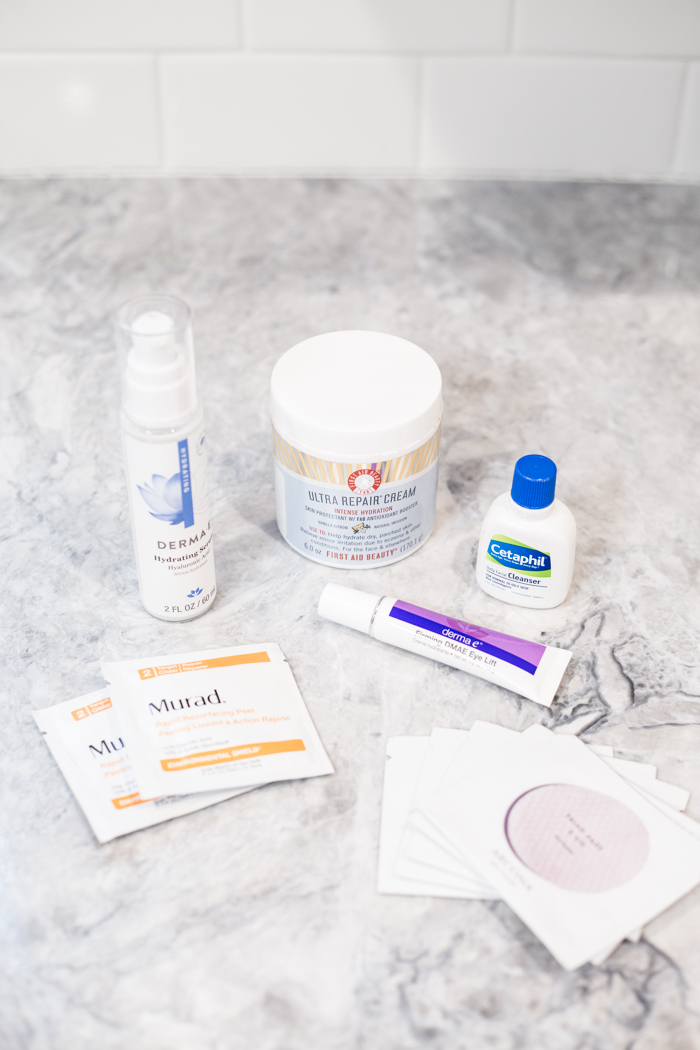 Once the holidays are over, sometimes it seems like we're just in a waiting game for spring. I personally love winter, but I know that the shorter days can be a drag. A sure way to find some relief from the winter blues, though, is to plan a quick little getaway. I don't mean a tropical vacation, though that's a wonderful option. I'm just talking about taking a few days to unwind – whether you go somewhere or not.
Nick and I went to Colorado at the end of December to visit family, and even though it was right around the holidays, it still helped us unwind, recharge, and get in a good frame of mind to start the year. While we were there, I kept my skincare minimal. Knowing that my skin gets dry in the winter as it is, I took extra precautions to make sure my skin stayed hydrated in the cool, dry Colorado air. These six products were all I brought for skincare (besides a facial oil and a lip scrub) and they kept my skin in tippy top shape.
Winter Travel Skincare Routine + Products
I've been using Cetaphil off and on for years and I love it as an everyday cleanser. To me, it's nothing super fancy, but it gets the job done. Plus, you can buy a travel bottle for a couple bucks at Target.
I was introduced to Derma E last year when I started receiving PR for them and, guys, I have fallen in love with the brand. I use their entire charcoal line and LOVE it. But this little hydrating serum is one of my favorite products of all time. I've bought seconds and thirds of this because it's sooo good. Like any serum, I apply a couple drops to my fingertips after I clean my face and gently dab it into my skin. It's like it gives my skin a drink of water.
I'm the first to admit that I'm very terrible at remembering to use an eye cream or serum. It just never crosses my mind. But I've been trying to be a little more proactive and I've been using this to lift, firm, and tighten my under eye and orbital eye area. I'm not 100% that I can tell a difference, but I feel better knowing I'm using it.
This moisturizer has changed the game in terms of my skincare routine. First of all, it smells amazing. Second, it super hydrating without being too heavy. I love the way my skin looks the moment I apply it.
When I travel, I like to keep my skincare routine simple. I don't cart around a bunch of anti-aging products and I don't even bring a zit zapper usually (questioning this decision based on my current state of mild breakouts). That being said, lately I've been traveling with a couple of these resurfacing peels. They come in the form of a wipe. I use it immediately after cleansing. Just wipe it on, let it dry, then follow with the rest of your skincare. I've been a longtime fan of Murad and incorporate their products into my routine on a regular basis. Right now, this one is at the op of my list. It smooths skin's texture, helps with tone issues, and adds an instant glow. I usually bring 1 or 2 of these with my on a trip, depending on how long I'll be gone.
If I could only use one skincare product for the rest of my life, it'd be the triad pads. These guys are just incredibly good. They cleanse, tone, and hydrate and do each very well. So if I'm having one of those nights and just can't bring myself to wash my face, I'll use one of these to just take care of it all at once. Honestly, it's not even a huge compromise because my skin still feels great using only this product. Those nights are rare, though, and I usually use these first thing in the morning to just freshen my face rather than rid it of the day's makeup. I also usually follow with my normal skincare routine. This product comes in a tub, but I love that you can also buy them in packs of ten individually wrapped pads.
---
Shop the Post
---
Do you have any last-minute winter getaways planned? I'm seriously looking forward to spring, but it's just far enough away to warrant maybe one little trip.
Thanks for visiting!
xo,
Mae