This post is sponsored by BabbleBoxx.com on behalf of Single Edition Media. All opinions are my own.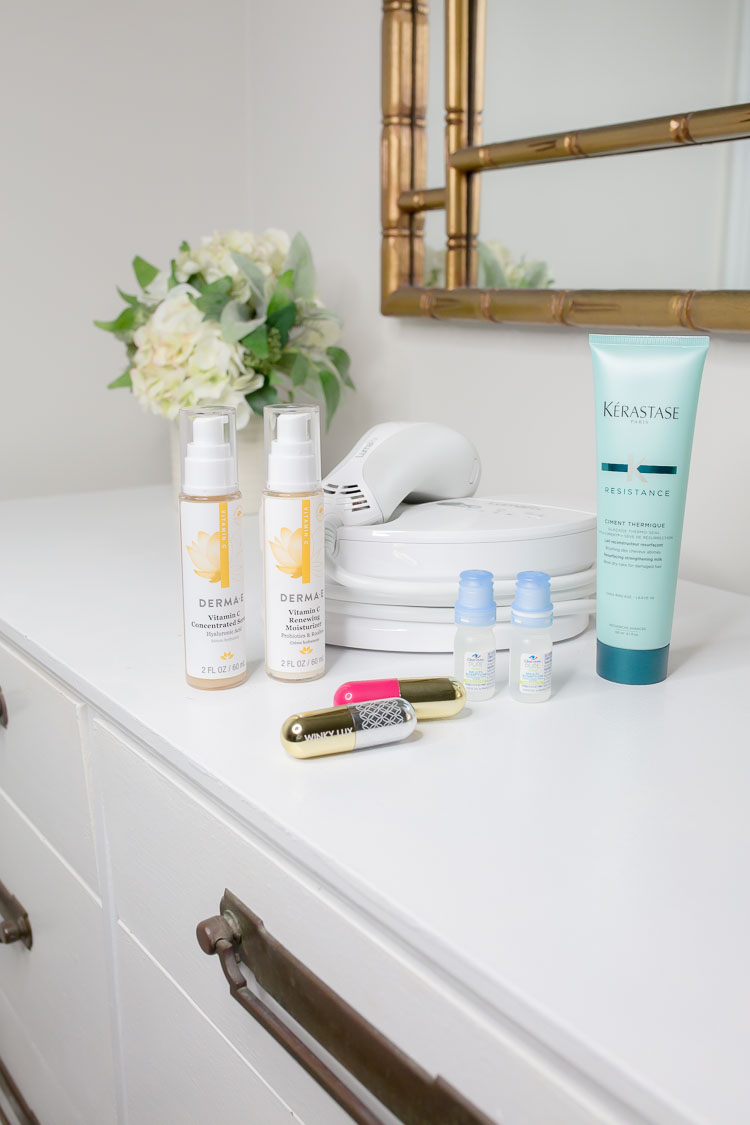 Happy weekend, friends! Hope you had a terrific week! Award show season is upon us and, if you're like me, then you're all about that award show glam. I love to follow what the stars wear on the red carpet, but I'm super into the get ready process as well and want to know all about the red carpet prep routines. If you know me or follow Mae Amor much, you know I love testing out all things beauty. Hair products, makeup, skincare – I love it all. So when I got the opportunity to try some amazing brands and products for my very own red carpet ready moment, I jumped. I mean, a girl can pretend, right? I may not be headed to any award shows, but that doesn't mean I can't get a little dolled up. I WILL be headed on first cruise in a little over week, so I can't wait to use these products on and to prep for me trip.
---
Get Red Carpet Ready at Home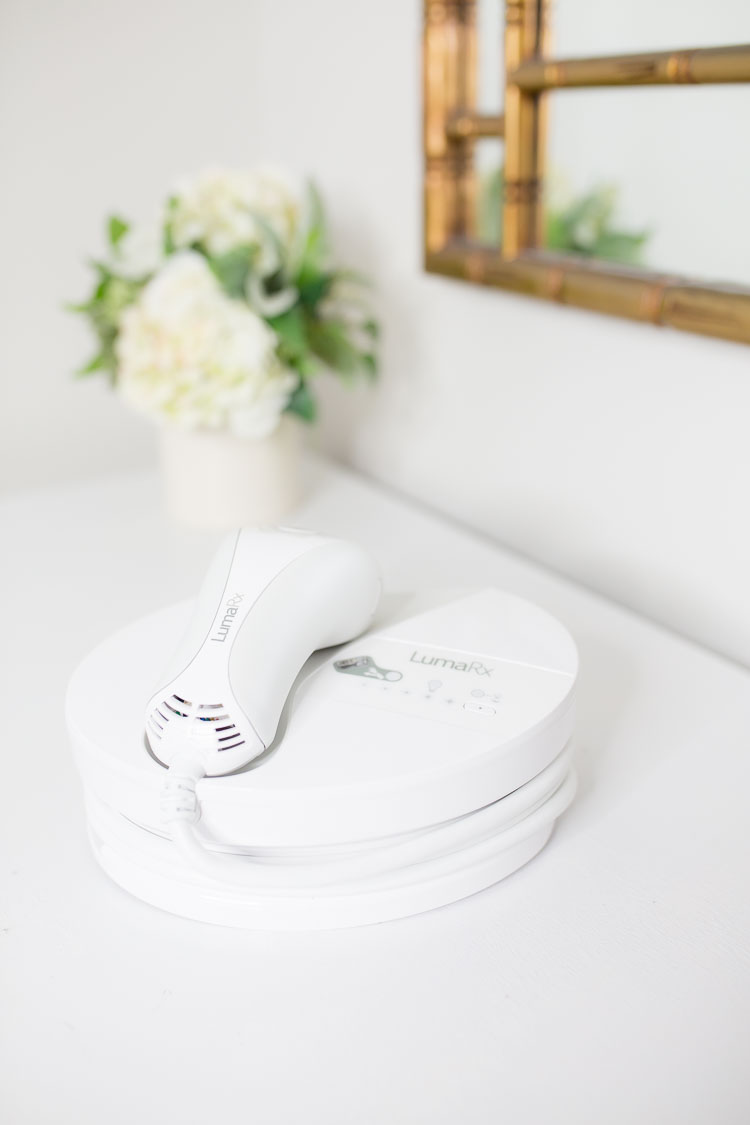 1. LumaRX Full Body Device
Girrrrl. This product literally made me squeal when I received it. I'm a hairy person. It's a nightmare. And I say that in the kindest, most self-loving way. But facts are facts. I blame genetics. It's fine. I'm fine. I've made peace. Buuut, hair reduction is an actual dream of mine. I have dreams that all my unwanted hair just magically falls out, leaving behind beautiful, soft, hair-free, smooth skin. Enter LumaRX.
LumaRX's IPL hair removal devices are based on IPL technology with results similar to professional treatments, at home! The LumaRX Fully Body device is the brand's most powerful, feature-rich, and highly intuitive hair removal system. (Squeal again). It features the largest window size, making it ideal for large areas of use. It also comes with a second cap that is tailored for the face (AKA, my dream come true). LumaRx® technology emits light energy that penetrates deep into the skin to reach the hair root. The heat stuns the active hair follicles, which disrupts the hair growth cycle and helps prevent future hair growth, allowing hair to fall out, typically within 7-10 days (again, the literal, actual stuff of my dreams come true). Users experience a permanent reduction in the amount of unwanted hair, with up to 94 percent hair reduction after just three treatments (insert gasp face emoji here). 
I haven't tried a full area yet, but this is on my weekend to-do list. Watch for more of this journey on Instagram stories.
Wanna try it for yourself? Join me! You can purchase your own device on LumaRX.com and we can do it together! Use promo code "BB75" for $75 off the LumaRX Full Body Device until March 11th 2017 at 12:00 EST.
---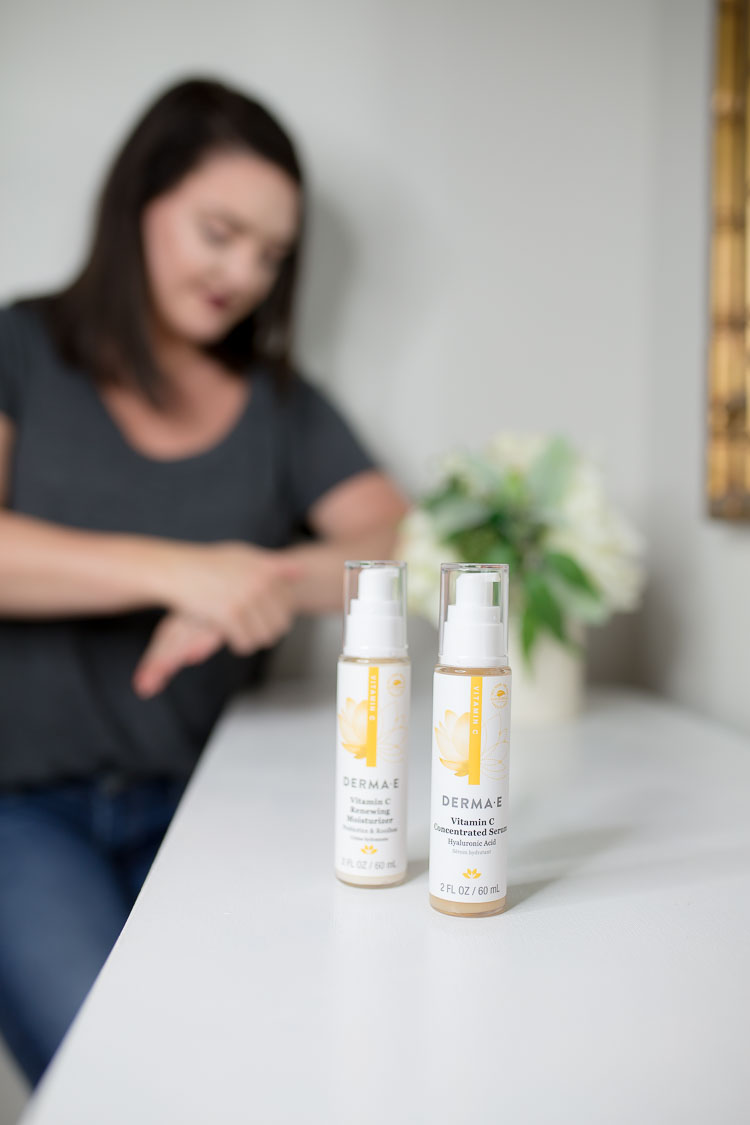 If you come here often or watch my Instagram stories, you know I am no stranger to Derma E. In fact, they have some of my favorite skin care products right now.
2. Derma E Vitamin C Concentrated Serum
The concentrated serum (you saw it first on my Instagram) is an instant favorite of mine. This product can be used day and night on clean skin to boost collagen health and improve the appearance of uneven skin tone. Whenever I use this product, I feel like my skin instantly looks plumper and smoother.  I love that it is super lightweight so it can be used alone or in conjunction with the renewing moisturizer (below). The Vitamin C Concentrated serum defends your skin from environmental aggressors and free radical damage, reducing signs of aging. It also contains Aloe and Vitamin E to moisturize and soothe.
You can find the Vitamin C Serum here.
3. Derma E Vitamin C Renewing Moisturizer
I use the Derma E Vitamin C Renewing Moisturizer after the serum and find that it works very well under makeup. It's perfect for morning or night. In the morning, I use it in conjunction with an SPF moisturizer or a CC cream with SPF. I adore this moisturizer as much of the serum for it's radiance-boosting qualities. It's an excellent lightweight daytime moisturizer that also naturally supports collagen health and protects skin from pollutants and impurities. Similarly to the serum, it feels great on the skin and I feel like my skin looks instantly smoother, firmer, and more radiant.
You can purchase the Vitamin C Moisturizer here.
---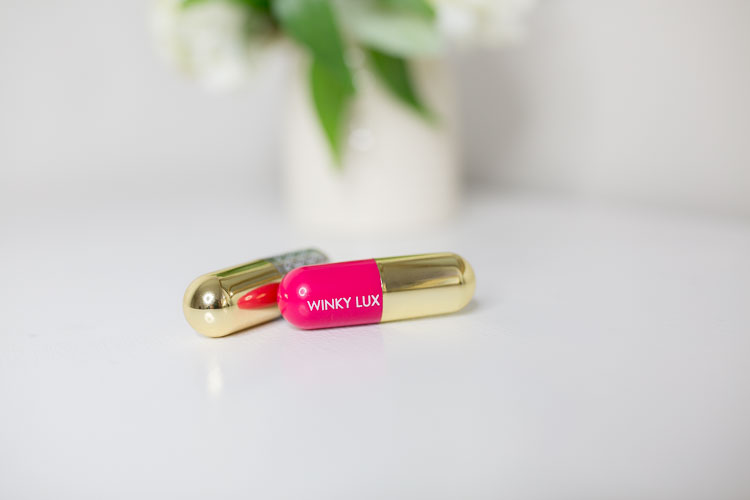 4. Winky Lux Flower Balm
I had absolutely no idea what to expect when I first opened this product. Truly. I read about it but really didn't expect it to be wonderful. I was wrong. First of all, it smells delicious and amazing. But it also goes on clear, then reacts to your skin to give you the perfect pink stain. The color on my lips in the pic below is all from this product. I was shocked when it turned this beautiful pink. The product reacts to the skin's pH levels to give you the perfect pink. So the color won't look the same on everyone. The balm is super moisturizing but very lightweight.
If you look closely two images down, you can see the tiny flower inside the balm. It's an actual chrysanthemum! How cool is that?!
You can grab your own here. 
5. Winky Lux Stella Marina Lipstick
The Stella Marina Lipstick is a beautiful spring burgundy with micro flecks of metallic pink. I love a moody lip soooo much and love that this is a burgundy that I can wear year round. I mean, I'm a proponent of wearing whatever you want any time, but you hear me when I say it's totally "wearable" and "for all seasons," right?
This is intended to be an ultra long-wearing lipstick, though for the sake of honesty, I've never actually tested that. I shot these photos just before bed and have only really worn it for a little bit at a time. But the color is divine – perfect for a date night or, you guessed it, a red carpet evening. It delivers intense pigment with a delectably lightweight and mousse-y texture. It felt so good on my lips and I loved that I could even build it up for more intense color without drying out my lips (like, at all). Plus, it's infused with natural vanilla and smells delicious. You might want to eat it. Don't say I didn't warn ya!
Get yours here. 
---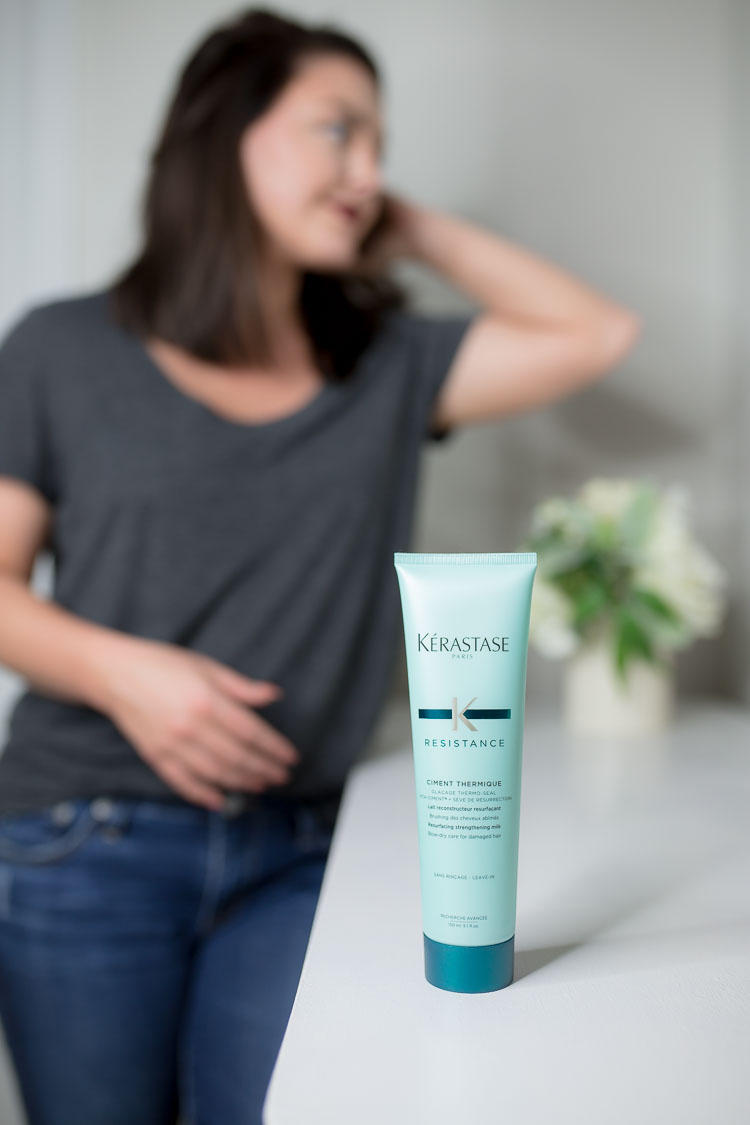 6. Kérastase Ciment Thermique
The Kérestase Ciment Thermique is a leave-in primer that actually strengthens and protects your hair during heat styling. It prevents 85% of breakage and is a great heat protectant, especially designed for damaged hair. If you heat style often, you're going to want to check this out. I don't have particularly damaged hair at all, but I take heat damage seriously and I dig this product. I am in love with the smell of it and I love that it helps me get a salon-worthy blowout at home. Also, you need to know that I am just a general fan of Kérastase all around and find that they consistently provide the most quality and innovative products ever.
You can purchase here. 
---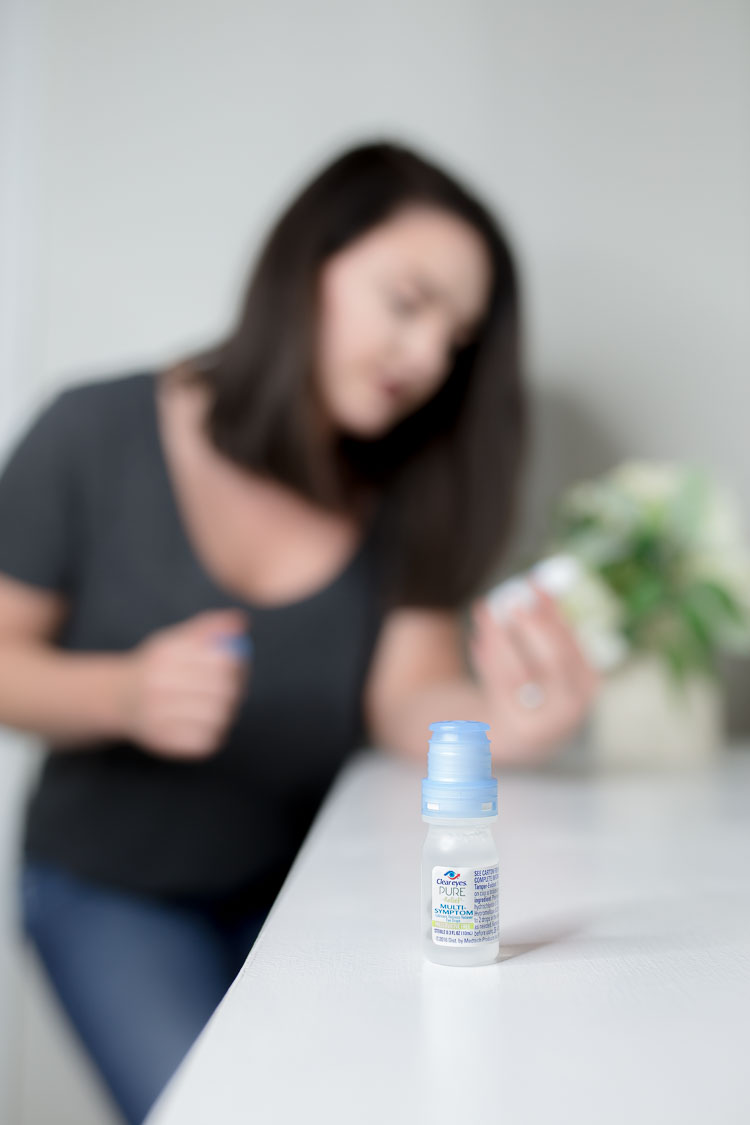 7. Clear Eyes Pure Relief® Multi-Symptom
Oh, eye drops. This is probably one of my number one most forgotten and most needed products of all time. If you're a beauty lover like me, you know that constantly playing with makeup can leave your eyes dry and itchy. From flying particles of eye shadow and setting powder to holding your eyelids open to get the perfect tightline (don't lie, you do it), our daily beauty routines can leave our eyes irritated. It's not only obnoxious, but it's also not a great look. Who among us hasn't spent hours on the perfect cut crease only to have it spoiled by the dreaded red eye? JK, I've never done a cut crease. But I've had other beautiful looks spoilt by red eyes.
Because of this, I started keeping Clear Eyes in my makeup bag. I also keep a bottle with me when I travel (whether by plane, train, or car) because the air conditioning can be oh so irritating. Clear Eyes Pure Relief® are preservative free eye drops and offer 12 hours of soothing comfort. Suffer no more, friends.
You can purchase this for yourself here. Make sure you take advantage of this $4 off coupon from 2/13 to 3/13.
---
Shop the Post*
LumaRX Full Body Device | Derma E Vitamin C Concentrated Serum | Derma E Vitamin C Renewing Moisturizer | Winky Lux Flower Bomb | Winky Lux Stella Marina Lipstick | Kérastase Ciment Thermique (leave-in primer) | Clear Eyes Pure Relief
---
What products would you use to get red carpet ready at home?
Hope you have a fantastic weekend! Thanks for visiting!
xo,
mae
*  All products were provide courtesy of brands. All opinions are my own. Thanks for supporting the brands that keep Mae Amor online.