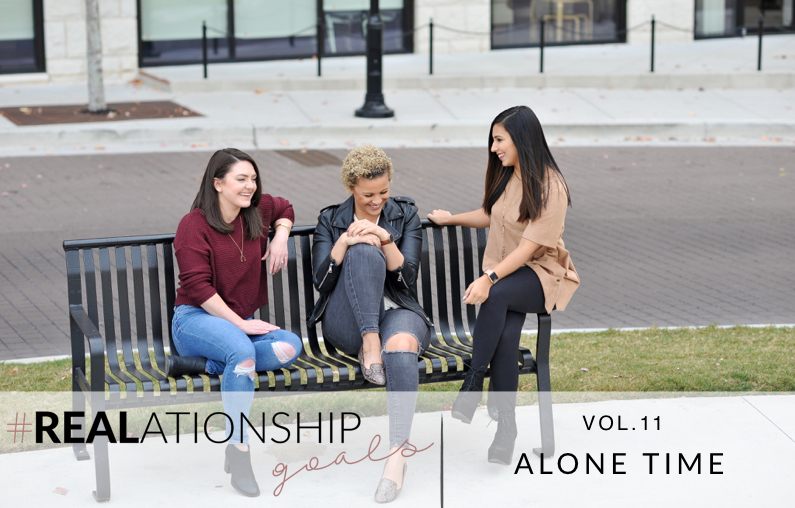 Happy Friday, loves! We're back for another round of #REALationshipGoals and this time we're discussing the ever important alone time and privacy. We got a lot of questions around this topic so we're here to answer your questions. For couples who love spending time together (hopefully all happy couples), the issue of privacy can sometimes be difficult to navigate. Nevertheless, it's a crucial part of a relationship.
#REALationshipGoals: Alone Time and Privacy
Nick and I spend nearly all of our free time together, but we both recognize that we must make time for ourselves, our relationship, and our hobbies. Otherwise, we'd probably be at each other's throats all the time. No bueno.
It seems you all liked the format we used last time, so we are following a similar style. We've broken the post up into three sections: alone time, spending time apart, and even whether or not we look at each other's phones. We're starting here we the latter topic, but quick, before you read our answers, tell us in the comments section below. Do you and bae look at each other's phones or have rules about snooping?
After you answer, come back and read how Sabrina, Lauren, and I handle this issue. And Make sure you head to their blogs to read about private time and spending time apart.
---
Do you look at each other's phones or have any rules about snooping?
I feel like Nick and I have no boundaries at this point and that works for us. We can read each other's text messages, emails, facebook notifications. All of it. I know every one of his passwords and he knows every one of mine (or at least has access to them – he rarely remembers). We never really talked about it or made a decision – it's just been that way for years. We are married, though, so a lot of our accounts are joint and we have mutual interests that we both need to know about. That being said, we don't use this privilege against each other. It's not a big deal if either of us read something sent to the other, but I usually don't read his stuff unless he asks me to read it to him (say, when he's driving or in the other room) and he does the same for me.
Regarding rules for snooping, we don't really have any. We do have an unspoken rule, though, that if we have a question or are worried about something, we just ask. And we both promise to be honest.
Simple answer: NO. I've never snooped or looked at B's phone and I'm pretty sure he hasn't either. I've always been an open book in all aspects of my life so I think I gave B the password to my phone within like two weeks of us dating. And he doesn't use it for playing Sherlock Holmes. He uses it to get on my Netflix, checkout photos we probably just took or hack into my snapchat and send silly videos to my friends. I however haven't asked and currently don't have "access" to his phone. We never really talked about it and I doubt we ever will. I had an extremely unhealthy obsession with going through my exe's phone – mainly because he was cheating on me 100% of our relationship (wayyyyyy longer story) so I've tried to cut that desire out of my life completely. It's just not healthy for me and our relationship. Now, if #FashionablyBae ever starts acting super shady or like he doesn't want me to be in the vicinity of his phone, we'll probably have a conversation. But, right now- no snooping, no rules. Just gotta do what feels normal for us.
I really feel like this is such a relevant issue when it comes to relationships these days. Our phones are our modern day "little black book", "diary", and "answering machine" all rolled into one. Your texts, messages, and emails are representations of all parts of your life. For this reason, Sahir and I have an open door policy. I do check Sahir's phone and I do it in front of him. I'm not looking for anything negative or incriminating – often it's pieces of his life that he hasn't shared with me (yet) and I like knowing what he is talking about, reading, or watching. Usually I see a cool article or picture on his phone and asked about it. Last week, I learned he had an awesome view off the top of his building last week from a photo he took. We're married and have been together for 11 years, this works for us. I would just caution you to always be open about what you are doing. Don't snoop to find something wrong, that will never end well.
---
Thank you so much for visiting! Don't forget to give us your take in the comments section below and ask any questions for future topics.
Xo,
Mae