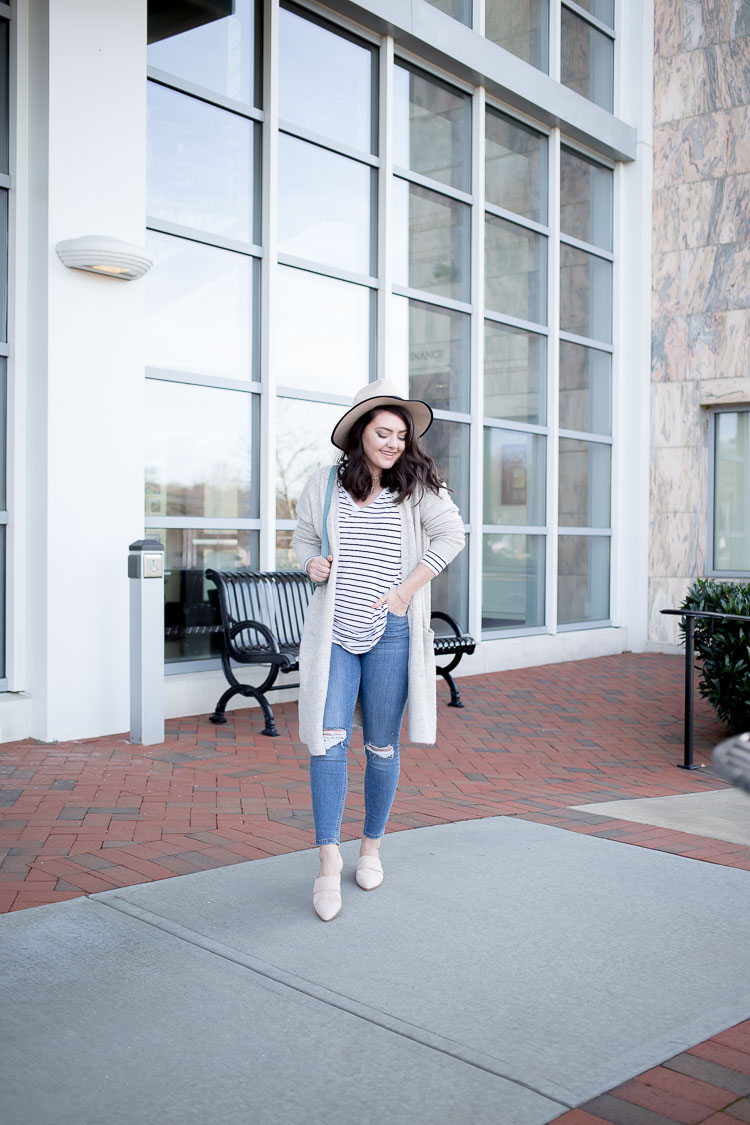 Hey, pals! Happy Monday! If you're one of my Georgia readers, how about this weather?! This past weekend was absolutely beautiful. I wish every day could be that pretty. This look was from a different weekend with similarly great, though slightly cooler, weather. I've said it before: I love winter. But I can definitely get behind this warm February thing if it means more springy outfits. Skinny jeans, long cardigans, flat mules, soft suede, and alllll the stripes is my jam all the way.
Longline Cardigan + Stripes
Whenever the weather starts to get a little warmer, it seems like the first things I grab are longline cardigans. I love cardigans. I love them so much, in fact, that in college I wore one every day. I had a uniform: skinny jeans, cardigan, v-neck tee, and flats. I liked that I felt slightly put together but not necessarily more "dressy" than my counterparts. I love longline cardigans specifically because they are so effortless and comfortable. This one in particular is a recent asos find and I've worn it literally every day for several weeks. Literally. Not an exaggeration. Though, real talk, I usually wear it with a striped tee and leggings. I work from home. Don't judge me.
If I venture out, though, these jeans are a definite must. For all my short gals, these are THE jeans to have in your wardrobe. They are the perfect length without any alterations and they are high-waisted for a flawless fit (I'm 5′ for reference). Oh, and they are under $100. I've got every option for this style that's available in size in my cart at the moment and I've been trying to narrow it down for weeks. It's rough work, guys. I expect to have no money soon.
The other thing I seem to buy in bulk come spring is striped everything. Mostly striped tees. This is a Gap clearance find and I'm obsessed. So comfortable and flattering. Some of my other favorite tees are from H&M. I'm actually wearing a striped H&M tee as I write this and can be found wearing one at least 3 times a week. Get yours here.
If I had to pick one more thing signifies spring for me, it's soft suede. This blue suede backpack gives me life and just screams spring to me. When it's paired with the light pink faux suede mules, I almost can't handle it. The combo is divine.
---
Shop the Post
Striped Long Sleeve Tee | Longline Cardigan | Topshop Jeans | Zara Blue Suede Backpack | Faux Suede Flat Mules (Under $30)
---
What's the first thing you break out when the weather warms up? Tell me in the comments section below.
Thanks for visiting! Here's to a good week!
xo,
Mae