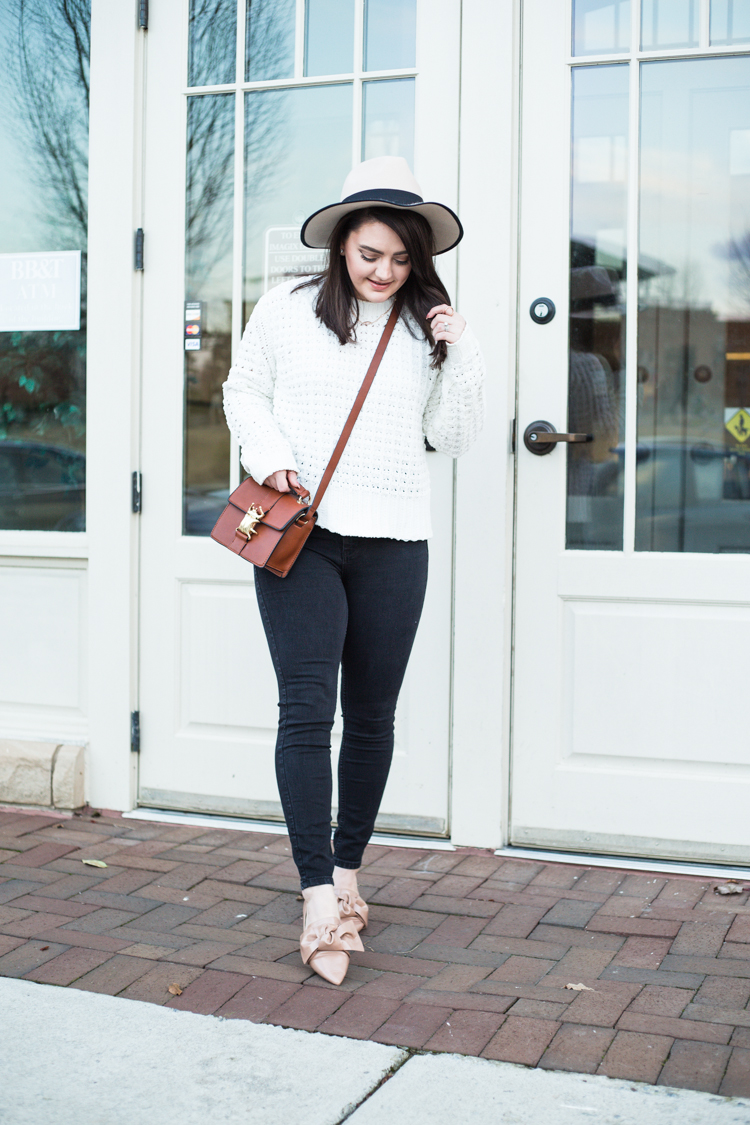 Happy Monday! I'm so excited for the beautiful weather we've had in Georgia lately. I usually find warm weather in the winter to be irritating, but I have found respite in this warm sunny days lately. I was riding the struggle train for a few weeks and the sunshine was certainly welcomed.
This past weekend in Atlanta, we had incredibly pleasant weather and everyone was out enjoying the sunshine. Nick and I ran errands galore (plant shopping, Christmas decoration storage shopping, and a huge grocery haul), ate every meal possible outside, and went for a run on our favorite trail. I was in desperate need of some sunshine, so I could not be happier. Today, I feel like a new lady!
The warmer weather lately means that lighter layers are in order. Ditch the coats (for a minute) and don your favorite sweaters! I've been living in this waffle knit sweater lately. I ordered it to wear during our trip to Colorado last month, but it didn't come in time so I've been wearing it several times a week to make up for it. I love the texture and think it looks perfect when paired with plain black skinnies.
Lately, I've been shopping items in neutrals with subtle details. I still love color, but neutrals allow all sorts of combinations and I'm more likely to get a lot of wear out of them. I recently ordered these stunning bow flats from Zara and they have quickly become my favorite pair of flats. I didn't think I'd be able to wear them this soon, but I'm going to wear them as much as I can! I also ordered this bag with the beetle closure from Zara but it's currently sold out. I've been OBSESSED with Zara lately. They always have to most adorable, designer-inspired pieces that look high-end but are surprisingly affordable. They're having a big sale right now so lots of my favorite items are on sale. Stock up!
Side note: I'm mildly obsessed with beetles [as a symbol, though I find actual beetles very interesting too]. When I was a kid, I studied ancient Egypt for several years and the beetle/scarab had significant meaning, so I'm always drawn to them. I love the idea of showcasing them in fun accessories.
---
Shop the Post
Chunky Waffle Knit Sweater | Black Skinny Jeans | Bow Flats | Crossbody Bag | Necklace
---
Thanks for stopping by!
xo,
Mae