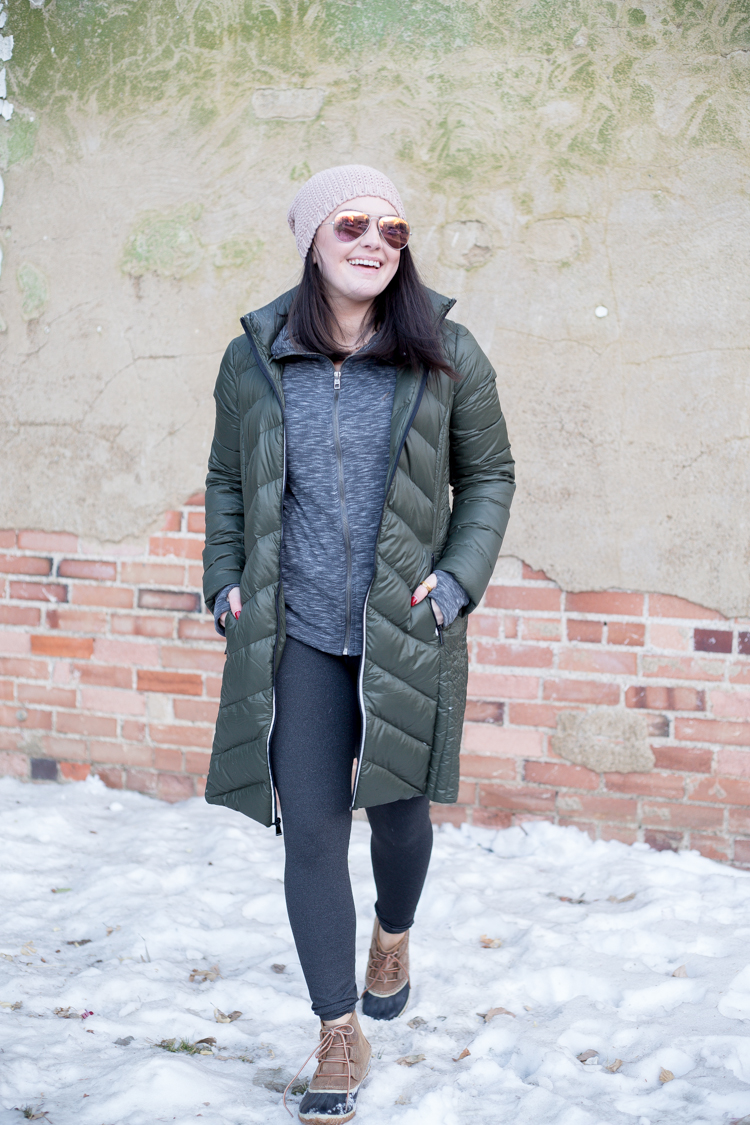 Last month, Nick and I spent a week in Colorado visiting family after Christmas. We ventured to Idaho Springs for lunch (we always eat at Beau Jo's) one day and while there wasn't a LOT of snow. I, of course, found a little to stomp around in and snaps some photos anyway. 
Packable Puffer Coat
Before our trip to Colorado, Nick and I spent Christmas in Arkansas with our families. Since my parents were going to Colorado, too, Nick and I hitched a ride from AR with them and my little sister and her BF. I have to say, traveling with your family as an adult is wayyy more fun. Or, at least, way less dramatic. I remember growing up, long road trips seemed twice as long because of screaming little girls. I am the third-born of four girls and we looovvvved to fight in the car. We wouldn't just bicker. We were a little more sophisticated than that. No, we formed alliances. If Jennifer was annoying Jessica by crunching her food too loudly, Jennifer would agree to share with me on the condition that I would chew as loudly as possible. And I did. Gladly. Looking back, this was kinda cruel. But we all did it and it made for good stories.
As adults, we have conversations or sink into our own worlds of music, movies, and audiobooks and there's no fighting. The long drive also goes by much quicker without having to stop every hour for someone to pee.
The most drama we faced was my mom warning me to pack light before the trip. Ha! Me pack light? Please.
Because I knew we'd be in cramped quarters on the way to CO, I tried to pack the bare minimum. I still packed more than I needed, though, because pretty much all I wore the entire week was some variation of this outfit: lightweight zip up jacket (this one is a TJMaxx find), leggings, Sorel boots, and my lightweight puffer. This packable puffer coat was a life-saver. I had been looking at it for forever and finally ordered it and I'm so glad I did. It's lightweight but still very warm. I love that it covers my bum, which keeps me warmer. The best part though is that I can squeeze all the air out and throw it in my purse if I get too warm. When you're walking around in the mountains, that can be more useful than you'd think. I actually bought this hat at a store next door to Beau Jo's while we waited for our table. It was pink and adorable and I couldn't not. Judging by these photos, I'd say I made the right choice.
---
Shop the Post
Packable  Puffer Coat | Leggings | Pink Mirrored Sunglasses | Sorel Boots | Bucket Bag
---
Happy Monday! Thank you so much for visiting!
xo,
Mae