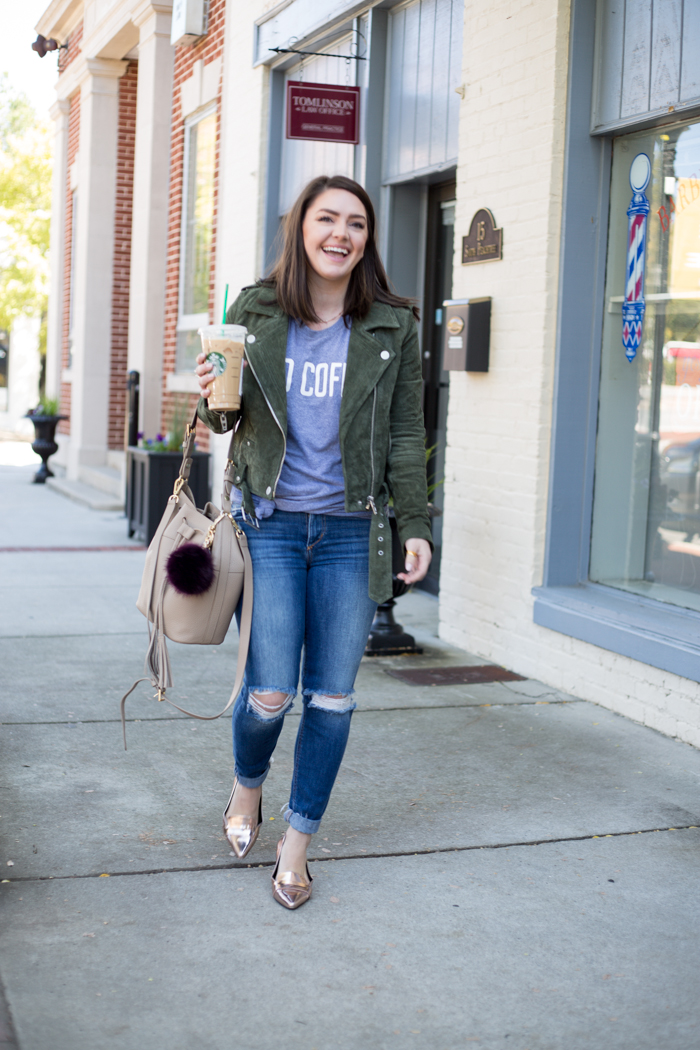 Happy Monday, babes! Hope you had an amazing weekend and got maybe even got a *little* extra rest. I had a slow weekend with N. The temperatures did manage to drop a little here in Georgia (finally), but I still didn't need more of a layer than this suede moto jacket. And a little temperature drop never stopped me from
This past weekend was finally a little cooler but it's still too warm for November. I'm not complaining though. I'm an iced coffee fan and, every year, I order iced lattes until it makes me shiver to think about it. I think those days might be nearing, but I'm gonna ride this iced coffee wave as long as I can.
---
Shop the Post
Iced Coffee Tee | Olive Suede Jacket | Distressed Skinny Jeans | Bucket Bag
My rose gold loafers are old and sold out, but I've rounded up a few of my favorite options.
Rose Gold Loafers: Under $25 | Glittery | Super Metallic | 50% Off
---
We actually shot this look a couple weekends ago, but I've been slow to edit lately. I wouldn't call it lack of inspiration because I've actually been feeling incredibly inspired. I think it's maybe lack of motivation. With the end of the year in sight and Thanksgiving later this month, I've been doing a little bit of reflection lately. 2016 has been incredible. I've had so many wonderful opportunities that I never would have imagined would actually come to fruition. I've made more time for family than ever before. I've gotten closer to a lot of friends and made new ones. I really should not complain. But 2015 and 2016 have also been two of the hardest years for us. While our life together gets better and better, we've also lost people we love, struggled, watched people we love struggle. I think I've cried more the past couple years than, like, all my years combined. Add onto that the election, which has really shaken me and so many others, and it just seems like another problem is always lurking. And that is just not how I see the world. I'm usually wildly positive and encouraging and I'm, as you've probably noticed, always smiling. I don't like to be that guy that's like "oh, the world is so grim!"
What does this have to do with iced coffee, you ask? Well, probably nothing. But lately I've been trying to focus on the little things that bring me joy. You know…things like iced lattes, suede jackets, my husband, my sweet and cuddly pups, my friends. Not in that order…obvi, guys. I've also been trying to do what I can where I can and let go of the things I can do nothing about.
"God grant me the serenity to accept the things I cannot change, the courage to change the things I can, and the wisdom to know the difference."
— Reinhold Niebuhr
How relevant that is right now.
Tomorrow is election day. I voted early last week, but if you haven't voted please take the time to do so. I will never tell someone how to vote. But please do it and exercise your right for which many have fought.
Happy Monday, sweet loves!
xo,
Mae