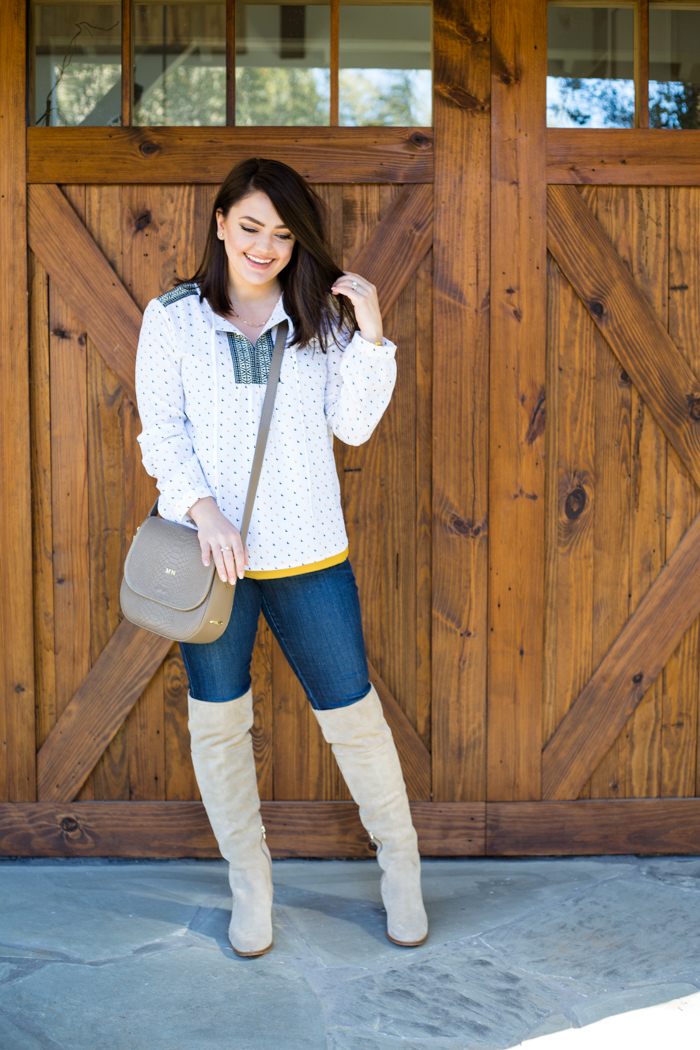 I'm seriously having a hard time coming to terms with the fact that it's already November. I don't understand how it can be 70 degrees at 8pm (total darkness) in NOVEMBER! It's bananas! But I really can't help but break out all the fall things, especially boots. These OTK boots (last seen here) have been on constant repeat.
The other day, N and I did a second round of maternity photos for some friends of ours and this is what I wore while we were shooting. I am in love with this little casual fall blouse and wish I had it in a million prints and colors. This one has little moons on it and I'm obsessed. It's super comfy and the fit makes me feel like a queen. Maybe not a queen but, like, a super confident lady. It's the blouse I've been reaching for pretty much every day lately.
I was not actually intending to shoot this outfit at that time but, when we came across these doors, I had to jump in. We were shooting nearby when a nice lady called us over and asked if we wanted to shoot in front of these doors (on her property). Um, of course we did! I was so thrilled to encounter a friendly person while shooting because, to be honest, we usually encounter meanies and weirdos. You know, security guards who want to tell you that you can't shoot in a public place or awkward citizens who shout things like, "your outfit would look better without the jacket" (yes, this actually happens). Or, my personal favorite, the people who stand there and watch you take pictures like you're putting on a show for them. Or, worse, catcallers. Please just go home. I get it, I chose to do this for a living. But sometimes people are so weird and sometimes it makes me hate taking pictures. So when the nice lady called out to us, I honestly expected her to tell us to go somewhere else. Instead, she said "come on over!" and my heart rejoiced because, guys, these doors.
In other news, our friends had their baby – a healthy and precious little boy. N and I were out of town this past weekend on a camping trip with my family and were so bummed to have missed the baby's first days, but we got plenty of cuddles in this week and will make up for it with so many more cuddles.
And we definitely had an amazing weekend camping in Arkansas! I can't believe it, but this was the first time Nick and I camped together. We both love camping but it had just never happened. We'd plan a trip and it would fall through. Now that we have one trip in the books, though, we plan to make a habit of it.
---
Shop the Post
Moon Blouse c/o THML | Saddle Bag c/o | James Jeans c/o | Over the Knee Boots c/o DSW (very similar OTK Boots)| Necklace c/o
---
I've admittedly been a little slow around here due to all the excitement over weekend plans and baby cuddles, but I've got at least 6 looks in the books that I just need to publish. Thanks for your patience with me as I get them out. I've also got lots of fun holiday content on the schedule, so stay tuned. If there's any specific holiday content (or any other content) you want to see, send suggestions my way!
Thank you so much for visiting! I hope you're having an incredible week so far!
xo,
Mae