This post is sponsored by Designer Shoe Warehouse as a part of a series for Socialstars™. All opinions are my own.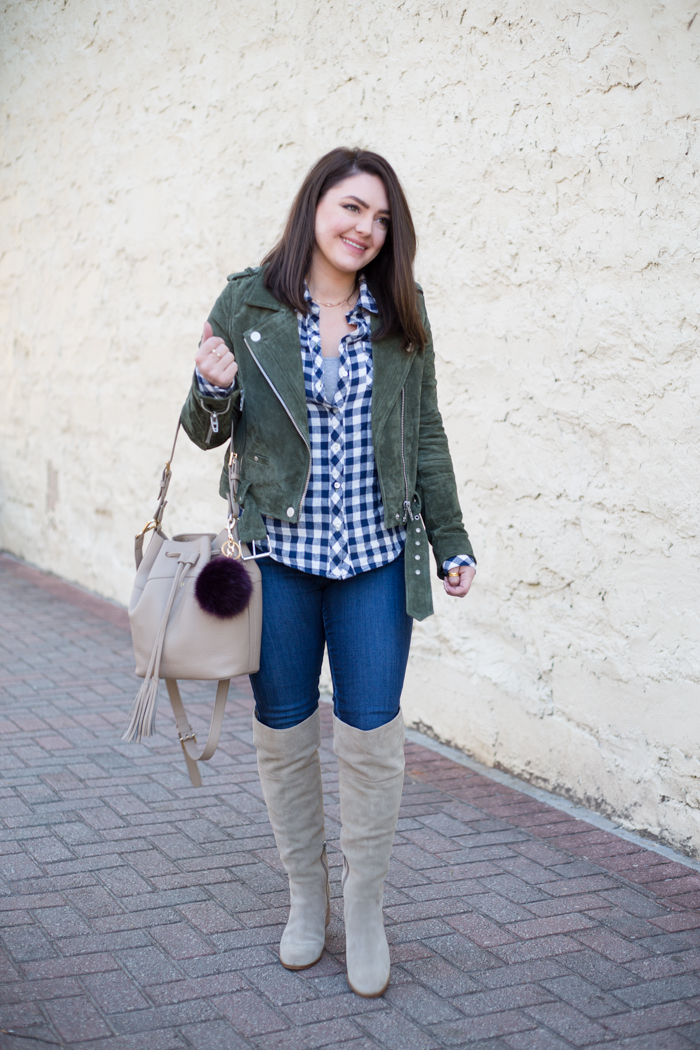 I can hardly believe that October is nearly over and that I'm already making holiday plans and trying to figure out what to wear for Thanksgiving. I barely even have any Halloween decorations out and it's almost time to take them down. But Thanksgiving and (eek) Christmas will be here before you know it, so it's definitely not too soon to start thinking about what to wear.
What to Wear for Thanksgiving
The are are a million and one things you COULD wear for thanksgiving, but I'll probably be wearing something like this. I used to love to get dressed up in something a little more formal for Thanksgiving but since N and I got married, we usually spend the holiday running back and forth to different places trying to divide the time up between our families. Now I usually opt for something a little more casual and comfortable like jeans and over the knee boots. We usually spend a good part of the day outside, too, so I don't want to wear anything fancy.
These OTK boots from DSW are the comfiest and make me feel so cozy all day without having to sacrifice any style at all. I opted for a heel because I'm short and appreciate any height I can get (flat boots are not my friend), but I wanted to keep them comfortable so it's a small heel. I love that I can easily dress these boots up or down. They look right at home with dark skinny jeans and a suede jacket, but I love them equally when paired with a mini bell-sleeve dress and tights. In fact, I'll probably change into a bell sleeve dress in the evening on Thanksgiving but keep these boots. DSW has a great selection of over the knee boots, with heel heights and colors to suit every style. DSW is always my first stop when looking for new boots and I'm so glad I found this pair!
Also, side note: I sized up a whole size in these to allow for the fluffiest of socks AND jeans. They're big in the toe but still incredibly comfy.
If you dress up a little more on Thanksgiving, might I suggest this look for your Black Friday shopping? While I used to go shopping the day after Thanksgiving, these days I usually spend the morning with a giant cup of coffee, my computer, and my sisters if at all possible. But if I venture out, you better believe I'll be wearing these over the knee boots and probably this jacket, too.
---
What I'm Wearing
Over the Knee Boots c/o DSW | All other outfit details
---
What will you be wearing for Thanksgiving? Drop a note in the comments section below.
Happy Monday! Hope you had a great weekend and thank you for visiting
xo,
Mae