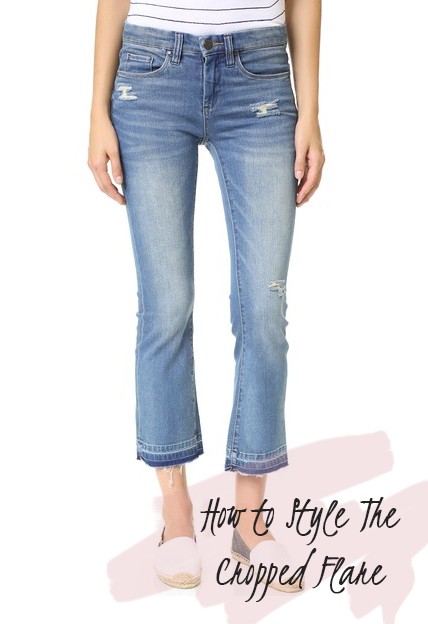 Happy Thursday, pals! I've been doing a huge fall clean in my house all week and am now feeling a bit under the weather now. I've woken up to a sore throat for the past few days (fingers crossed it's just cooler weather and dust), so I'm gonna keep it short and sweet today. 
If you've been perusing the new arrivals of your favorite online retailers lately, you've probably noticed a few new jean styles. This season is all about the raw hem, the let-down hem, and the step hem! The fringier and more distressed the hem, the better. These styles can be flares, skinnies, or boyfriend jeans, but they are pretty much always cropped. The most flattering length for these styles is 2-3 inches above the ankle. A ready-to-wear version is pretty much nonexistent for me because I'm so short, so I've been experimenting with DIYing my own (I'll report back soon).
I did, however, purchase the pair pictured above several weeks ago and it will be coming to the blog soon! It's a little longer on me than I'd like but, because of the gradient at the bottom, it's not something I can just have altered. I'm hoping that with heels it will work out. Knowing that I'd struggle with the length, I didn't want to spend a fortune and these are only $88, plus they're included in the Shopbop Main Event Sale for an extra 25% off.
I personally love these style with a tight ribbed turtleneck or a floral blouse. I think distressed hem flares and cropped flares are the perfect way to mix up your denim wardrobe this season. When styling this look, just make sure that you opt for a pair with minimal distressing of the denim itself. This pair has very minimal distressing but I wouldn't go for much more in order to keep the look chic.
Shop all my favorite denim styles from the sale below and you can see ALL my favorites from the sale (soo many jackets) here.
Shop the pair pictured above: Cropped Flare Jeans