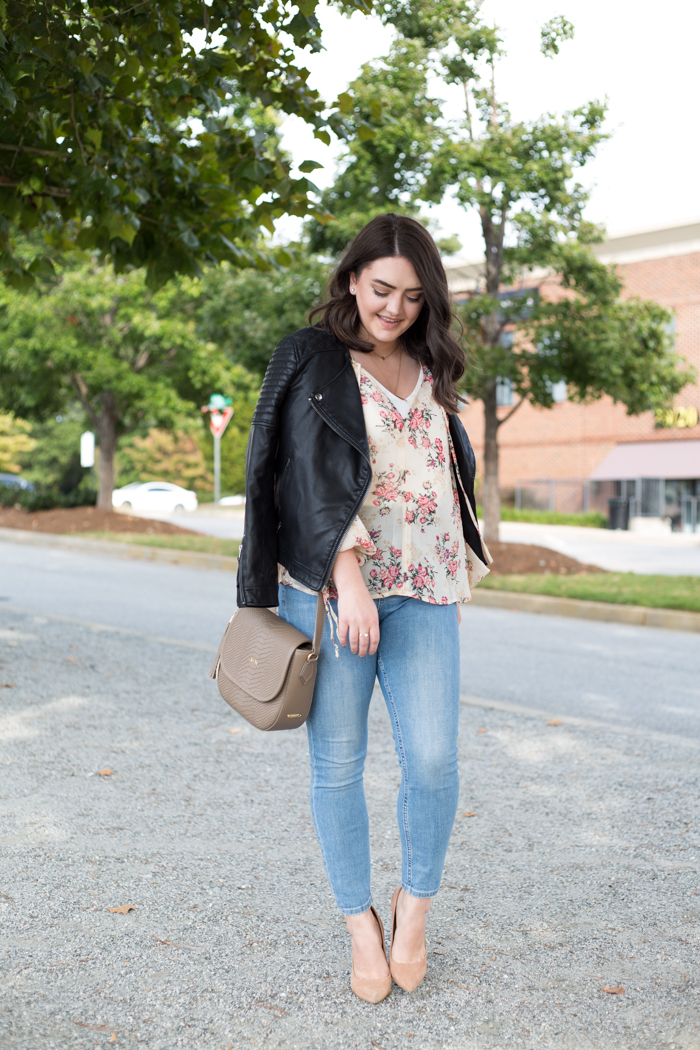 There's always something about a floral blouse that grabs my attention. When the price is right, I can rarely resist. I love florals of all varieties and never give much mind to the season when deciding whether to wear them or not.
You can wear florals however you please. But if you've struggled with how to wear florals for fall, I've got you.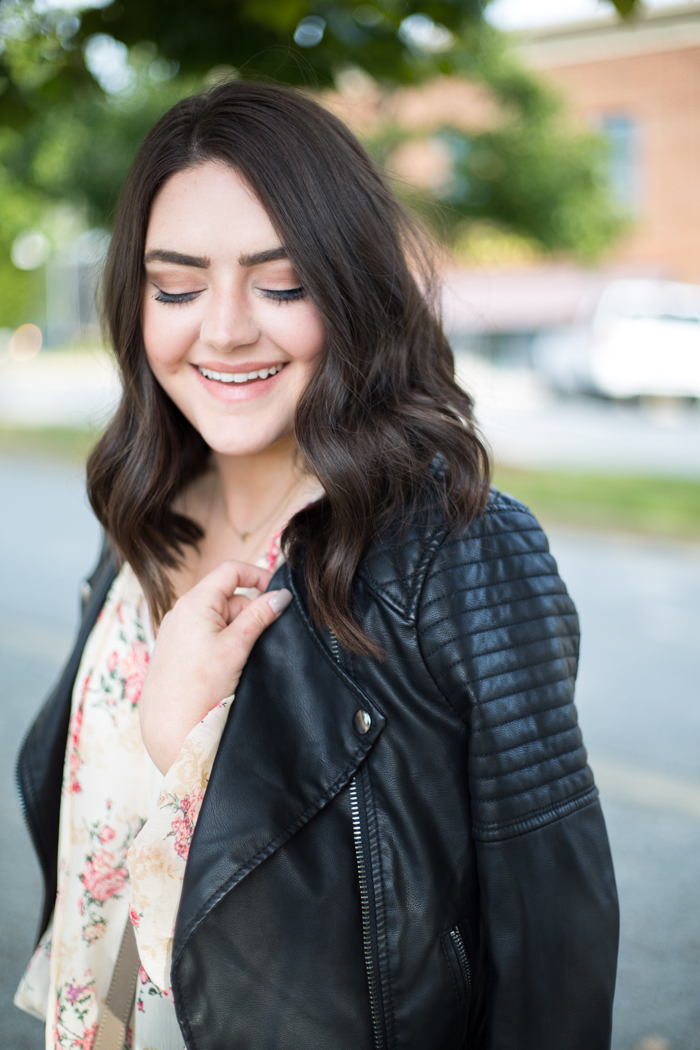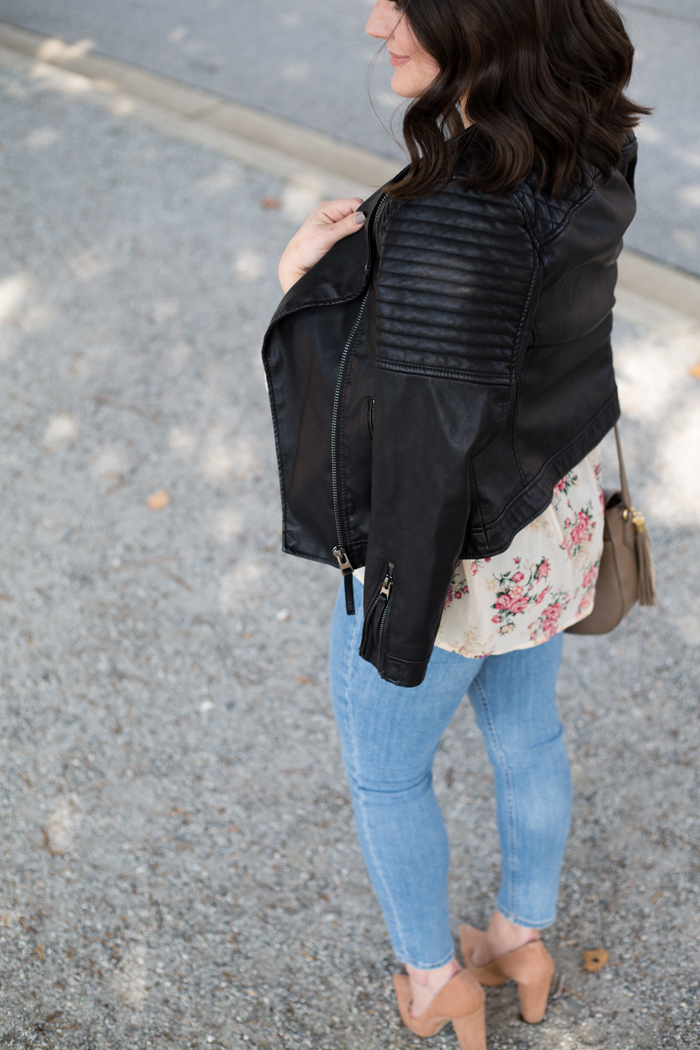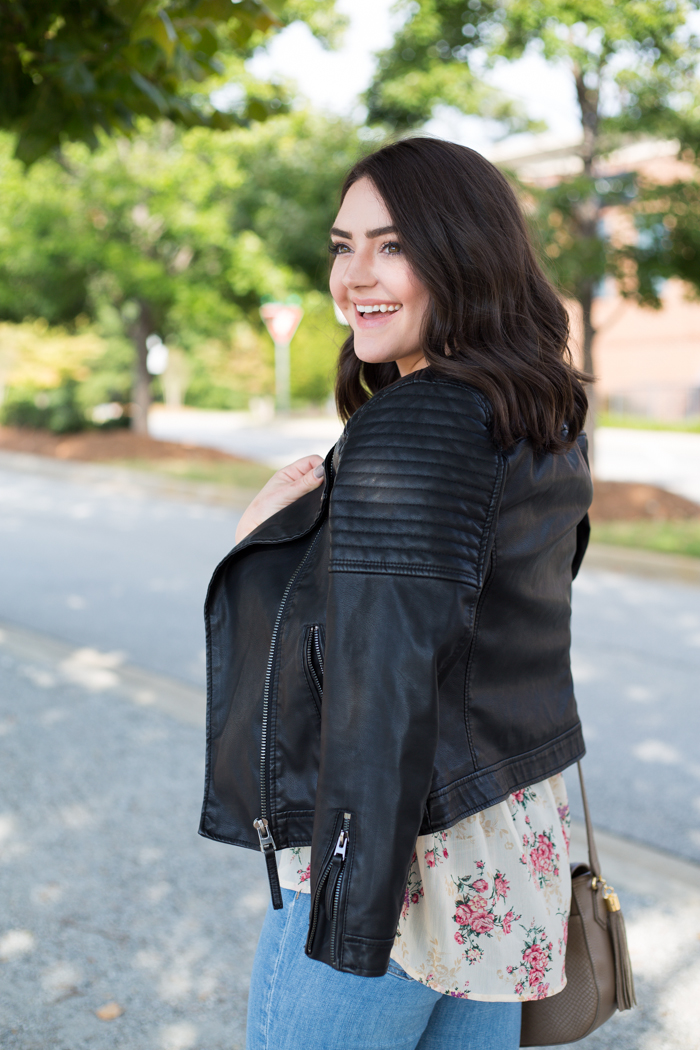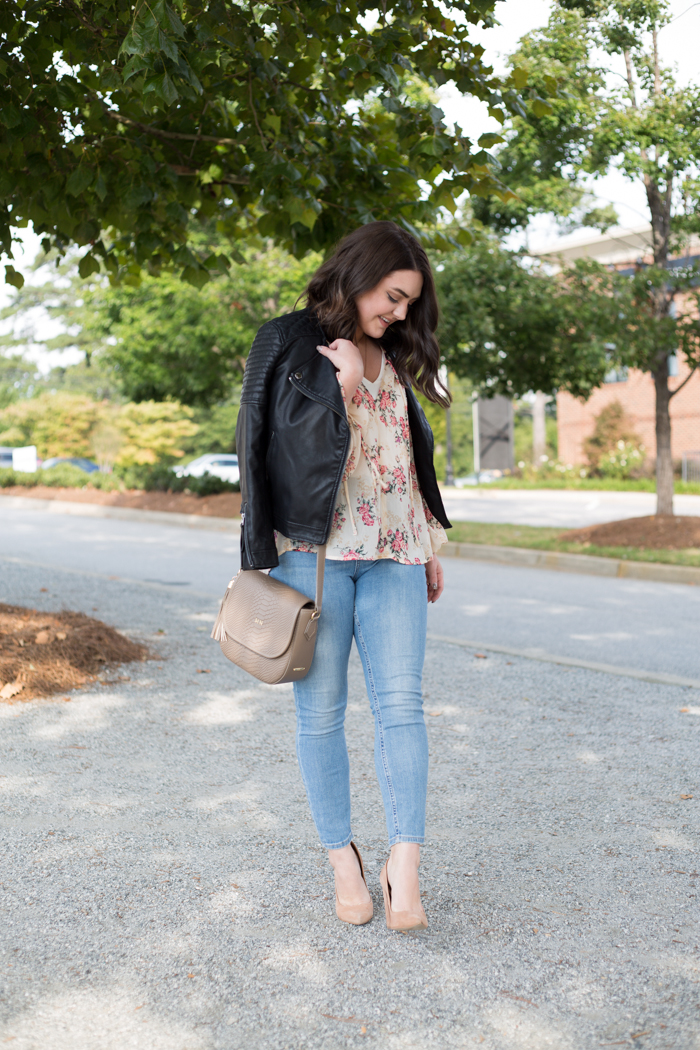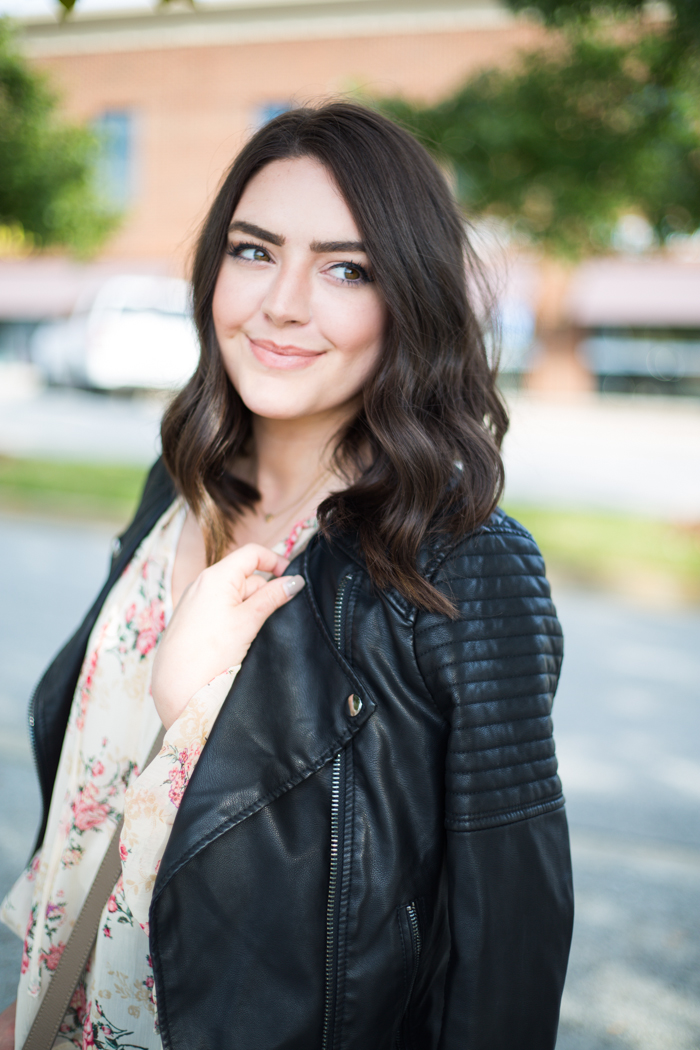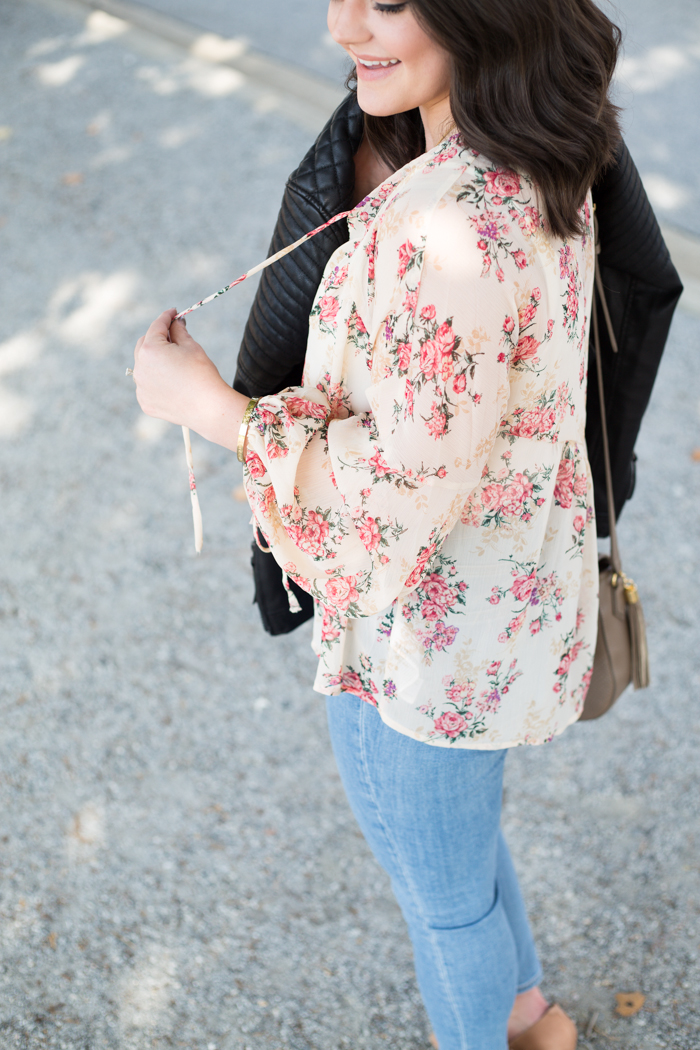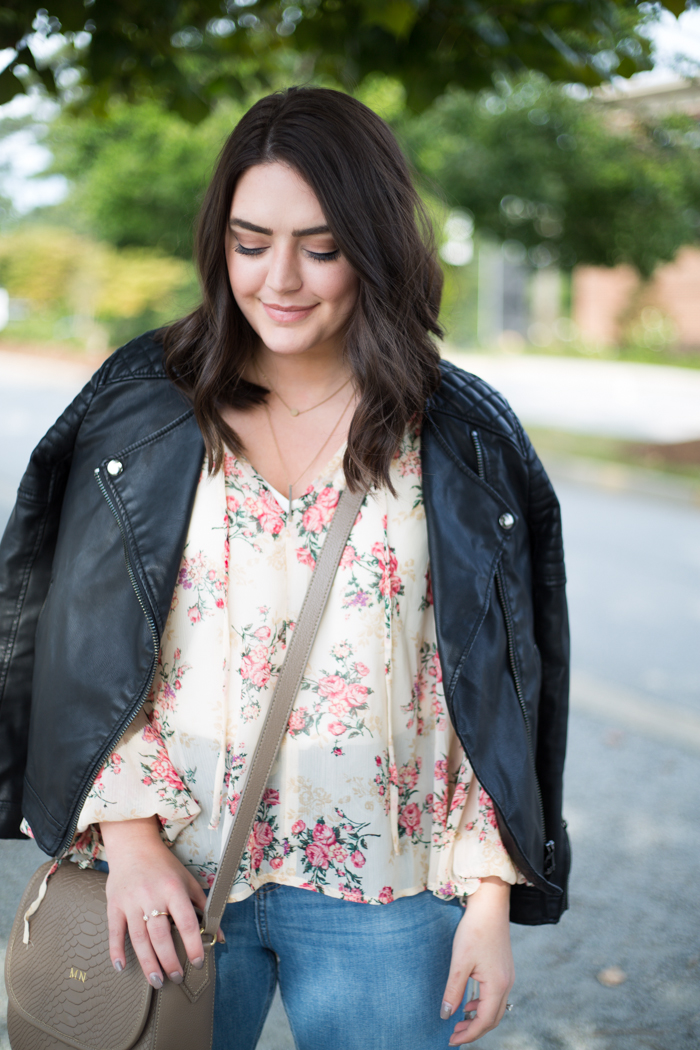 How to Wear Florals for Fall
As I mentioned previously, the answer to this dilemma is simple: wear whatever you like. But to make beautiful florals a little more fall friendly, I have a few suggestions. First of all, I suggest going for florals in fall shades. In this case, the base color of the blouse is an ivory color and the rosey florals have deep colors that suggest fall. Secondly, accessorize with dark neutrals. While I admit that the light colored jeans and nude pumps are pretty springy/summery, I opted for a dark taupe crossbody that has been a favorite this season. To round out the look, I grabbed my black faux leather jacket for a final fall touch. If you have qualms about mixing taupe (or brown hues) and black, opt for a suede jacket in taupe or tan.
We've already established that I'm a firm believer in wearing whatever you like and it's somewhat of a theme here on Mae Amor. As strange as it may seem coming from me, though, I love rules. I love structure. I love knowing what to do and what is expected of me. When it comes to fashion, rules give us a great starting place for knowing what looks good and how to dress for our bodies. That being said, at least when it comes to fashion, I like to break the rules every now and then. After all, what *looks* good is subjective.
---
Shop the Post
Floral Blouse (sold out) | Light Jeans c/o (sold out, love this pair in same fit) | Faux Leather Jacket c/o | Pumps | Crossbody c/o
---
Hope you're having a great week so far! Thanks for spending a moment of your Tuesday here with me.
xo,
Mae