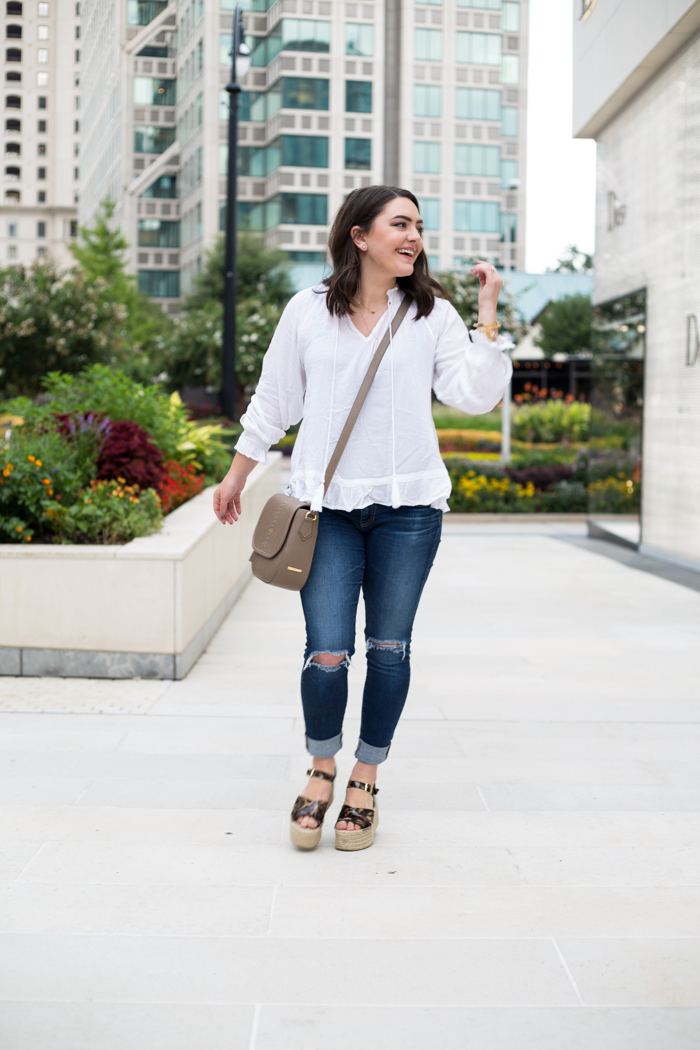 White Ruffle Blouse | Jeans | Saddle Bag | Flatform Espadrilles
Last night, I met up with my favorite gal pals for a quick shoot and didn't mean to get these outfit photos but I got them while N was getting light set and thought I'd share because I'm a little obsessed with this blouse. I've been calling it my pirate blouse because it really just looks like it should come with an eyepatch. No?
Pirate Blouse
If you follow me on Instagram, you might have seen in my instastory that I had a brand new blouse that had a major hole in it. This is the same blouse but this is actually the replacement. It's a steal at under $20 so when I noticed the hole, I immediately ordered a new one and just figured I'd have two as the hole in the first one isn't obvious. I'm not above it, guys.
I actually ordered the blouse originally for my grandma's Oktoberfest birthday party in Arkansas and it was perfect. By the way, did we talk about that party? Because it was the best thing ever. My grandma, Helen Patricia or "HP" as I sometimes refer to her, turned 87 and my dad and his siblings threw her an Oktoberfest party with a band, German beer, all the German food, and dancing. My grandmother was so adorable. She was dancing and singing and said that it brought back memories of dancing in her grandparents' living room when she was a little girl.
[line]
Shop the Post
White Ruffle Blouse | Jeans | Saddle Bag | Flatform Espadrilles
[line]
Thanks for stopping by!
xo,
Mae
Sharing is caring! If you enjoyed this post, please do share with your friends and fam bam. I promise to love you forever! :-*