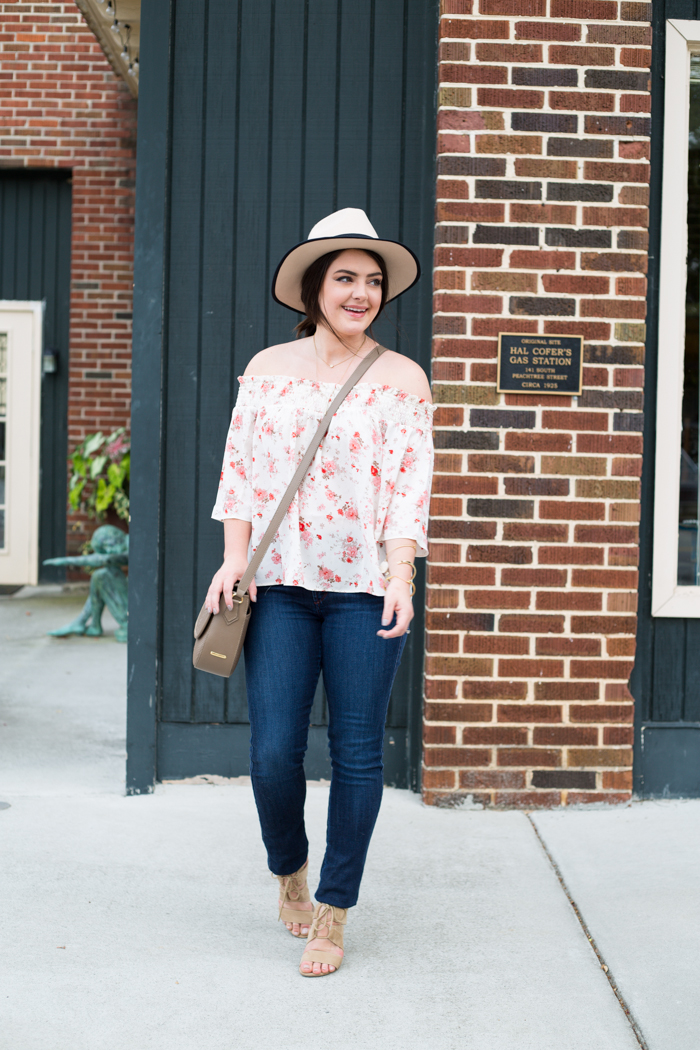 Floral Off the Shoulder Blouse | James Jeans | Hat | Saddle Bag c/o | Lace Up Sandals
Fall, fall, fall. Boots, PSL, scarves. Pumpkin everything.
Guys, I get it. Fall is almost here. I'm with you (except on the PSL front). I love fall, too. Trust. But I'm still holding on to what little sliver of summer we have left. I'm still loving off the shoulder styles and I'm sincerely hoping we can keep rocking this style on into fall. But in the event that that isn't socially acceptable, I'm gonna wear the heck out of my OTS until I can't no more.
I'm patiently desperately waiting for someone (anyone) to make jeans for us true shorties. I'm sorry, but 5'5″ isn't that short. I'm 5'0″ and I have never met a pair of jeans that I didn't have to roll or alter in some way. Well, maybe once or twice but it's VERY rare. Can someone please just make jeans for us? I'm not trying to make a statement over here by wearing my jeans like this. Promise.
Floral Off the Shoulder Blouse
If you follow me on Instagram, you might have seen this weekend that I'm having a thing with florals right now. I absolutely love florals for fall and I don't think they have to just be in fall hues.
Another thing that gets me excited for fall is hats. Yes, I wear a boater all freaking summer long, but it's just not the same as a big felt fedora. I love that I can just blow or air dry hair and pull it into a low pony with a fedora for an effortless look. I've been rocking this nonstop lately (as evidenced by instastories and snap). It only saves me you know, like, 10 hours a day if I don't have to style my hair.
Here's a little peek from Instagram at some prints I have coming up. Soooo many good finds.
Click here for links to products in this photo
[line]
Shop the Post
Floral Off the Shoulder Blouse | James Jeans | Hat | Saddle Bag c/o | Lace Up Sandals
[line]
Hope you had a great weekend! Here's to a great week, too 🙂
xo,
Mae
Sharing is caring! If you enjoyed this post, please spread the love! I promise I'll love you forever ;-P