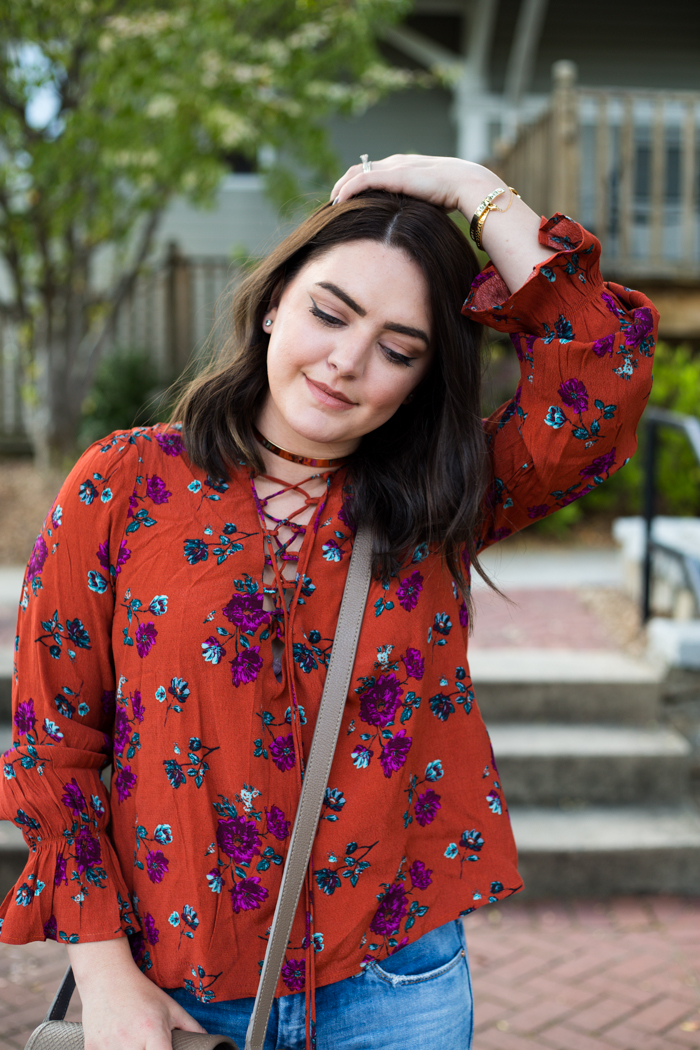 I'm having a thing with florals at the moment and, even though I know my eyes should be on other things for the season, I can't seem to resist a good floral blouse – especially if it has coveted details like bell sleeves and lace-up neckline. I'm like all over that ish right now.
Floral Lace-Up Blouse
I recently put in an order at Forever 21 and stocked up on all things florals, but not even that quelled my love for the blooms. I did, however, love that all the pieces I bought were pretty much all less than $20 each. This top is only $17.90!!! I absolutely love the burnt orange color that makes it the perfect way to chanel florals this fall. I paired it with one of my favorite jeans of the summer, these super distressed skinnies. They were sold out for a while, but they're fully restocked in all sizes (24-31).
I wore this look to grab dinner and coffee with N the other day and, while I love this look, I have to be honest…it was way too hot for it. I thought I was being clever with the lace-up and the distressed denim. I thought, you know, that would be a little more breezy. But no, I was sweating bullets 30 seconds after I got out of the car. Not so bad really if you're just walking from car to restaurant, but pretty dang annoying if you're standing outside taking pictures. So just count this as inspiration, but don't be trying to wear it this weekend when it's still 90 degrees. K?
[line]
Shop the Post
Floral Lace-Up Blouse | Distressed Jeans (fully back in stock) | Flatform Sandals (sold out) | Saddle Bag | Choker
[line]
Happy Thursday! Almost to the weekend, babes!
xo,
Mae