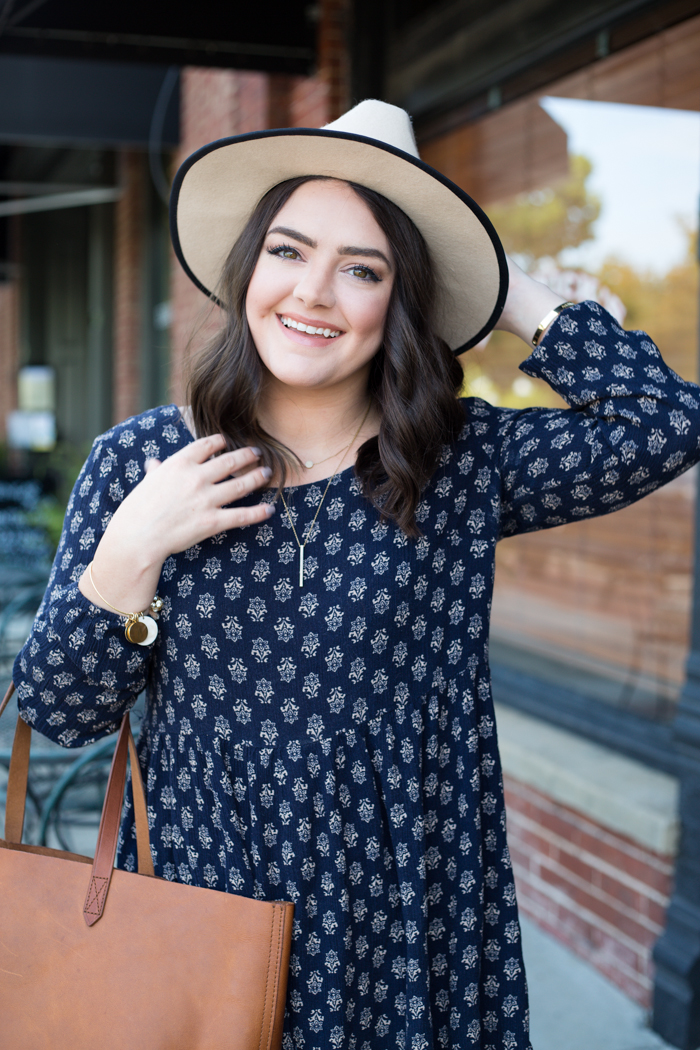 I love shopping. You know this. But sometimes I like to venture into the deep dark corners of my wardrobe and pull out some old gems. Especially when I spend my clothing budget on books (more on that another day) and kind of have to shop my closet. I purchased this precious babydoll tunic last fall and wore it one or two times and put it away in its place in the wayyy back of my closet. I recently rediscovered it and fell in love with the fit and subtle-but-sexy crisscross back detail (read on for pics).
Babydoll Tunic
When searching my closet for an old favorite blouse the other day, I came across this babydoll that I wore a couple times last year and fell in love all over again. I absolutely adore the fit of this little tunic – which, I think was actually supposed to be a dress but I shrank it – and the little crisscross detail in the back gives me life. It's the perfect top for those hotter fall days because, while it's long sleeve, it's made of a gauzy type material that's very breezy. The open back also keeps it a little cooler.
Side note about this cute top. When I put it on the other day, N made a comment about how it would be so cute when I'm pregnant. My natural inclination would normally have been to say, "what are you trying to say?" but I instead responded enthusiastically, "right?!" Because, let's be honest, he's right. This would be a super cute non-maternity maternity top. No pregnancy plans atm, but I thought it was a funny little exchange. 
[line]
Shop the Post
Babydoll Tunic (old, shop similar babydoll tunic) | Topshop Jeans c/o (sold out; love these) | Bag c/o (30% off today) | Hat ($15!) | Flatforms | Charm Bracelet c/o | Lulu's Necklace (sold out) | Gold Cuff c/o
[line]
Happy Friday! Wishing you a great weekend.
xo,
Mae