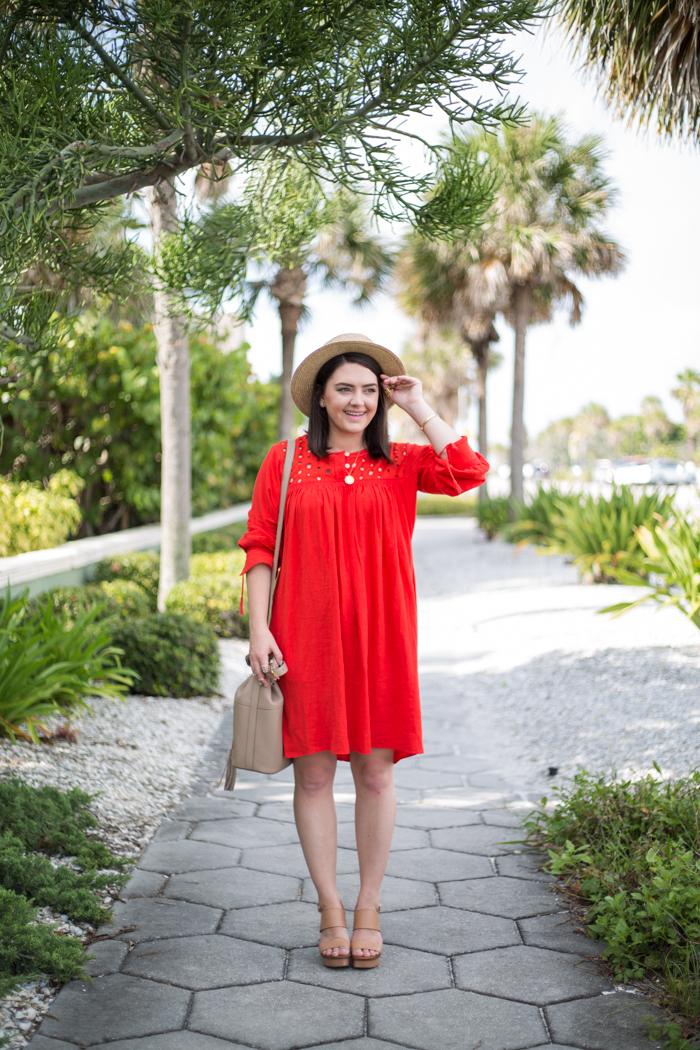 Red Eyelet Dress | Wedges | Boater Hat | Bucket Bag c/o | Strapless Bra c/o
Summer's almost over. I can feel it leaving. Just when I finally started to feel like summer was here, it started to leave. Isn't that how it always works? We wait and wait and wait for summer then it's gone before we know it! At least I have some fun memories to take with me.
Madewell Red Eyelet Dress
I wore this Madewell red eyelet dress a few weeks ago during our quick trip to Pass-a-Grille and it was so darling. I adore the little eyelet detail and this dress has pockets – a feature I wish I had showcased. It's also incredibly comfortable and I think it will carry nicely into fall. I see it paired with a little pair of booties.
This dress was the perfect dress for a morning stroll along the beach. Side note – these wedges are actually my favorite shoes for walking around but obviously you'd want to ditch them if you're gonna walk in the sand. That seems obvious, but I'm not tryna promote ruining your Tory Burch's. K?
I'm so glad N and I were able to get away for a weekend and I can't wait for more fun little trips with him in the near future. While I thoroughly enjoyed our mini getaway, I'm just as happy to be home with him. Sometimes it seems like people are always living for the next thing – the next weekend, the next vacation, the next holiday, the next summer.
I'm guilty of this, too. But it's important to make memories wherever you are and cherish all the moments you get with your loved ones. I'm a somewhat sentimental person but that doesn't mean that I have more sentimental moments than anyone else. I just grab every moment I can and put it in my pocket to remember another day. As summer is making it's exit, just remember that you don't have to be living for next summer (or even next weekend). Do your best to cherish the moments in between just as much.
I mean, fall is just as fun anyway! Lattes, cozy knits, and fires, anyone?
[line]
Shop the Post
 Red Eyelet Dress | Wedges | Boater Hat | Bucket Bag c/o | Strapless Bra c/o
[line]
How has your summer been? What's your favorite thing you did?
xo,