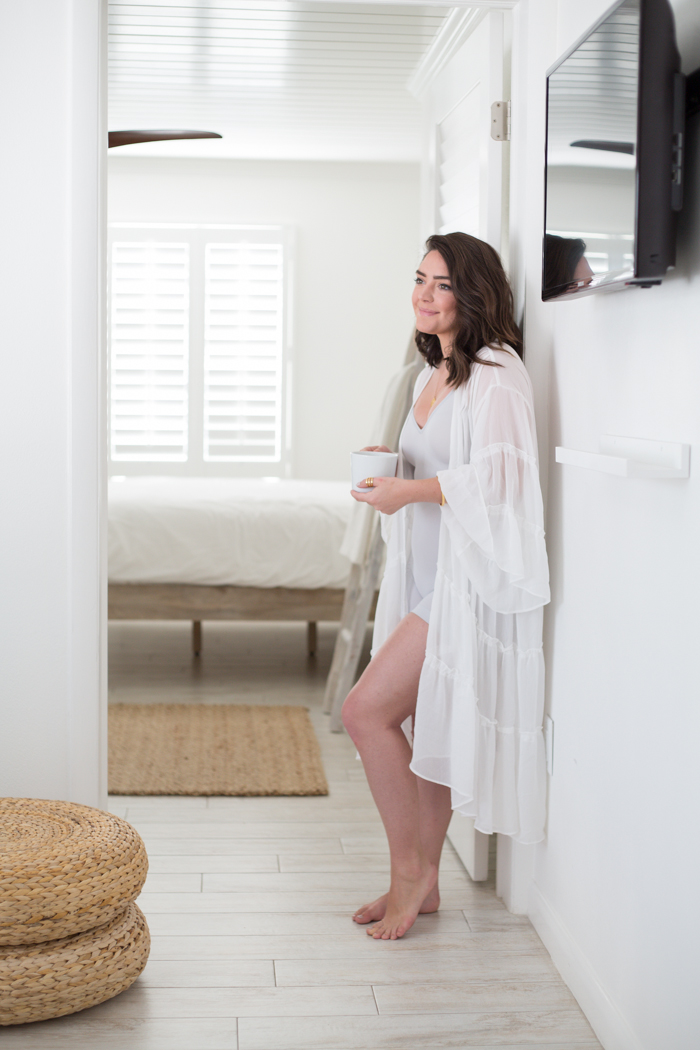 A couple weekends ago, Nick and I had the privilege of getting away for a couple days. Inn on the Beach in Pass-A-Grille, FL was kind enough to accommodate us for two nights of much-needed vacation. N and I both love to travel. It's one of our favorite ways to spend time together. In fact, our love of travel is probably the greatest thing we have in common. We love exploring new places together and this little trip was just the getaway we needed.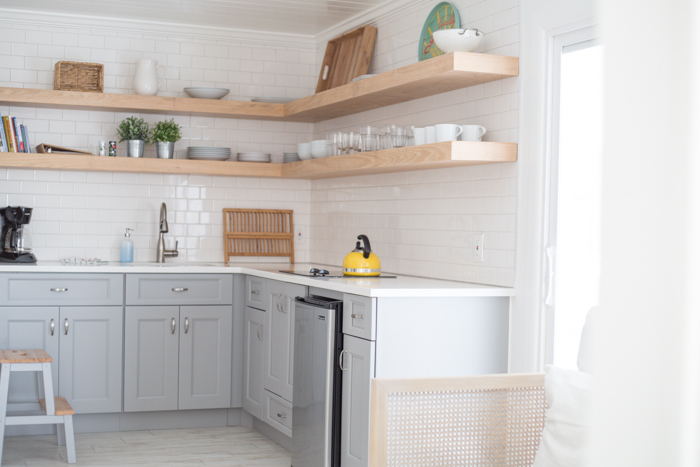 Inn on the Beach is a small, beachy inn with big style. Most of the rooms have recently been thoughtfully renovated and have the aesthetic that bloggers crave. We chose the Sandpiper room for it's bright and airy feel and could not have been more pleased. I'm not even kidding – N was ready to move in. He was immediately inspired to update our home, which I, of course, welcomed.
The kitchen is fully stocked with pretty much anything you need during your stay. There's even a small cooktop in case you want to prep your own meals while there. We did not cook, but we appreciated the idea that we could.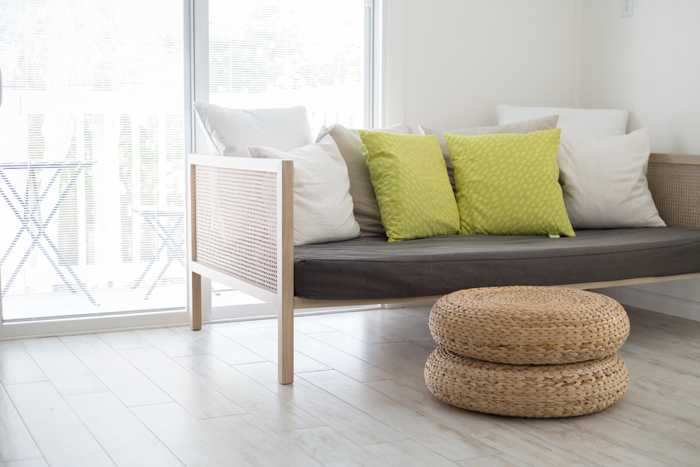 One night after a very long day at the beach, we picked up food and watched soccer on the daybed. This simple experience will, I think, always be one of my favorite memories. When we travel, we always try to leave room to relax. I'm always tempted to do, do, do as much as possible because you never know when you will be somewhere again (if ever), but N reminds me to take it easy sometimes. At Inn on the Beach, they have a little welcome card that says something to the extent of "our rooms are so comfortable you might now even see the beach" and then they have a picture of the beach (just in case you don't see the beach). Ha! Well, when I read this I just laughed because I had already told Nick the same thing! I was like, "I'm not even sure I want to go to the beach. I could just stay here."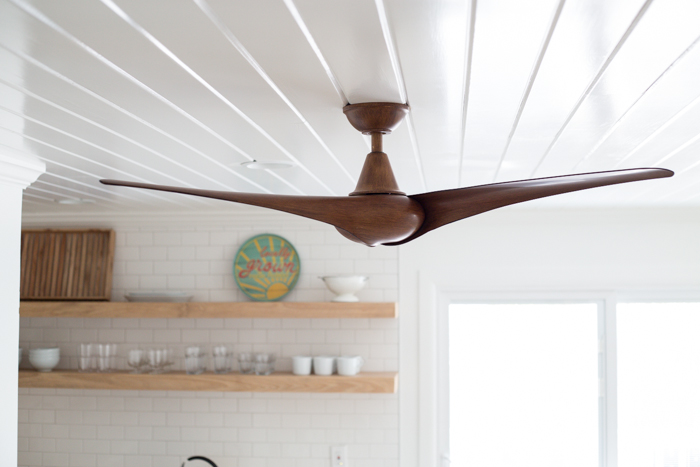 Nick adored this fan and wanted to make sure we captured it so he could remember it.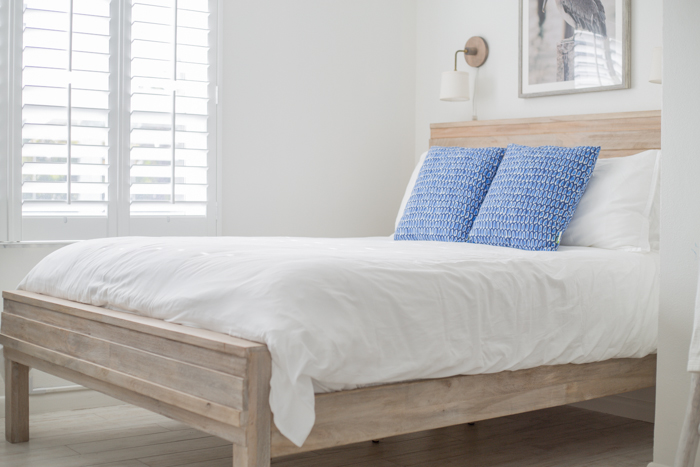 One of my favorite things about the room is the all white bedding and the plantation shutters. Talk about #goals.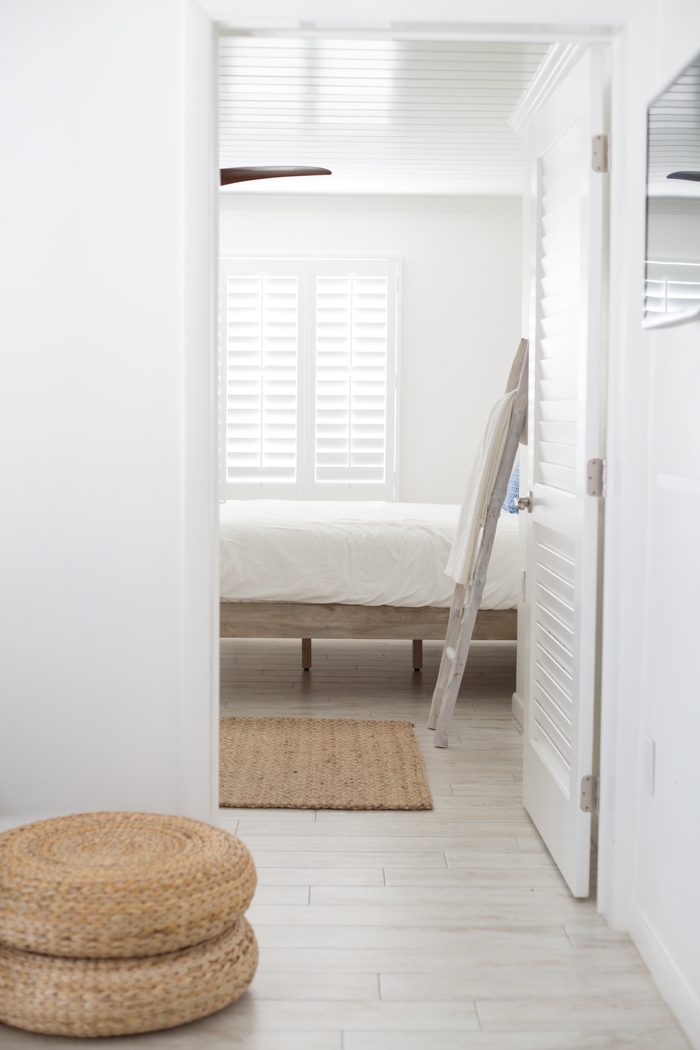 The bedroom is separated from the living area and kitchen, which we thought was a nice touch.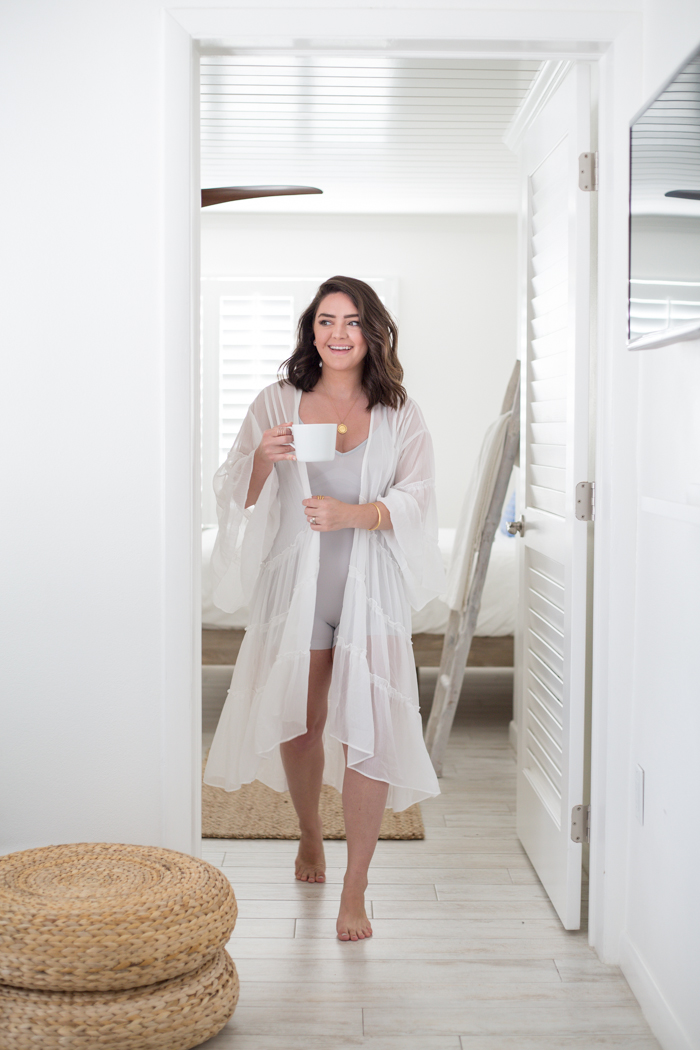 Inn on the Beach
One of the draws of Inn on the Beach for me was that you could really spend as much or as little on your getaway as you want. You could very reasonably stay a few nights here and spend almost no other money. Parking is included, beach chairs and towels are provided, and the beach is literally across the street. A diligent traveler could reasonably bring meals (there's a small fridge in the room as well), park at the Inn, and just go to the beach daily.
On the other hand, someone who wants to spend a little more could book tours and eat at nearby restaurants (within walking distance) every day. I think we fell somewhere in the middle and I'll be sharing more about our actual itinerary for our short trip in the coming week.
We forgot to get photos of the bathroom but I wanted to drop a note here to say that they definitely held to the aesthetic of the rest of the room. Before I book a hotel, I always like to know what the bathrooms look like. At least in the Sandpiper room, I can confirm that they are just as beautiful as the rest of the room.
Thank you to Inn on the Beach for allowing us to stay here! We thoroughly enjoyed our stay and look forward to visiting again.
Let me know if you have any questions about our stay! I'd be more than happy to answer!
Thanks for stopping by!
xo,

[line]
Shop the Post