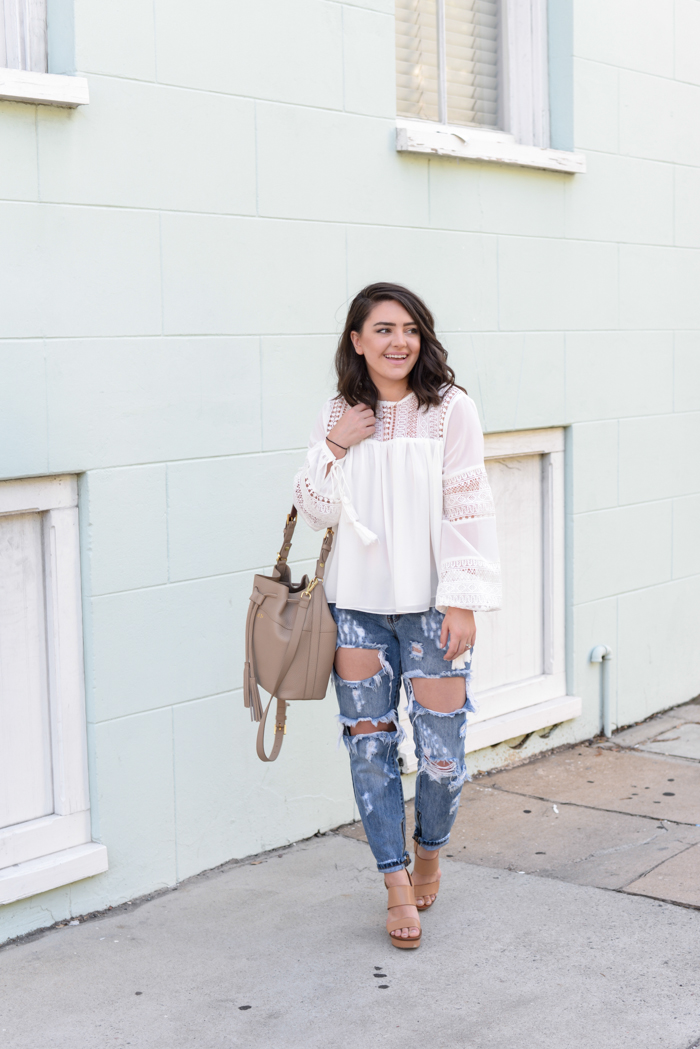 Distressed Jeans | White Tassel Blouse | Wedges | Bucket Bag c/o
I'm still going through pictures from #TBScon and this is the look that I wore for the final day of the conference (workshop day). We took a little stroll through the streets of Charleston the last morning in search of beautiful walls and, trust me, there was no shortage.
Blue Walls + Blue Jeans
This was my second time in Charleston and I already can't wait to go back. Both times I've been, I was there for the conference so I didn't have that much down time. This time, we hoped to see a little more Charleston but we stayed pretty busy between the conference, meals, and photo shoots. I hope to go back in the near future when I don't have as much going on because there is still so much exploring to be done!
For the final day of the conference, I decided to go a little more casual. I can never resist these jeans – they just make me incredibly happy. They're very effortless but somehow still very cool. People either love them or hate them and I totally get it. They have some pretty intense distressing. I get compliments on them absolutely every time I wear them. I get stopped in the street, when I'm shopping, at the grocery store, when I'm getting gas.
But if I wear them around family (hi, Mom. hi, Dad.), I usually become the butt of every joke pretty quickly. "You didn't pay MONEY for those, did you?" and "There are more holes than pants!" and, my personal favorite "Did the dog do that to your jeans?" Like, I get it, guys, you hate my jeans.
But for all you other people who keep asking me about these jeans, here you go. This exact pair is pretty much completely sold out but I see them in stock periodically so keep your eye out! I'll keep an eye out, too!
Photos by Fashionably Lo
[line]
Shop the Post
Distressed Jeans | White Tassel Blouse | Wedges | Bucket Bag c/o
[line]
Hope you've had a great start to your week!
xo,