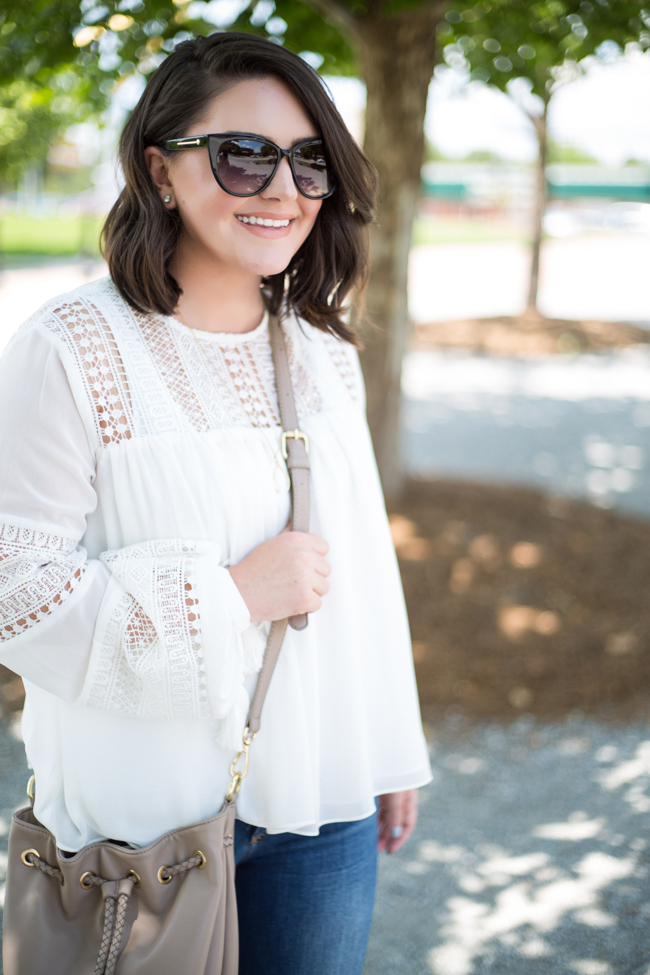 Now that Memorial Day has come and gone, I'm finally breaking out all the whites. I'm a known offender of the "no white before md" rule and I'm okay with that, but there's a certain amount of freedom that comes with knowing people won't judge your decision to wear white (unless it's as a guest at a wedding…don't do that). First up, this flowy white blouse that has a place in every closet.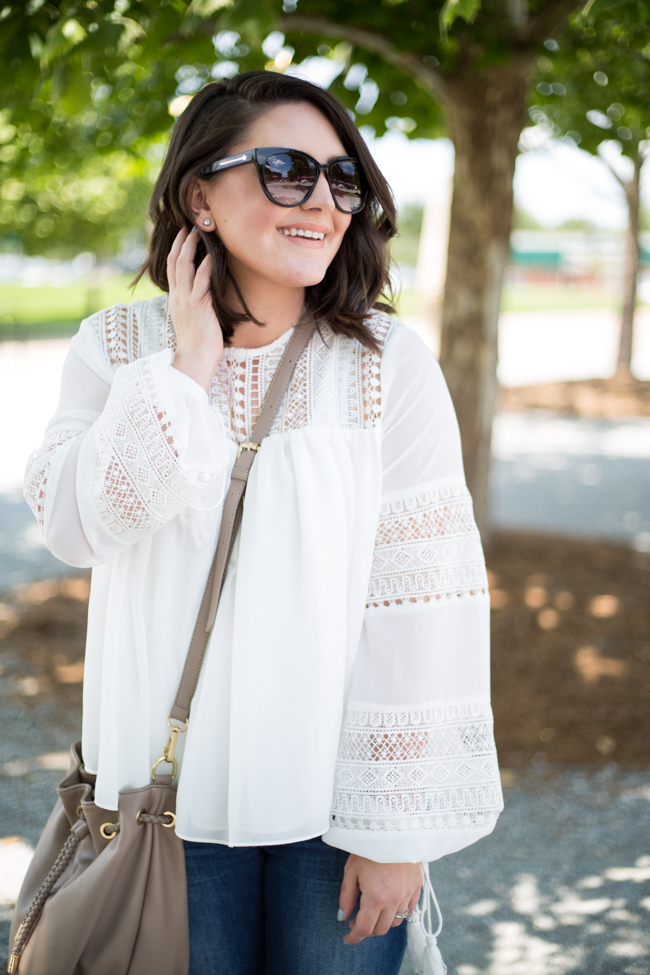 If I had to pick one look to wear all summer, it would probably be this look. It's everything I love in an outfit. I might trade the jeans for shorts on a hot day, but I wore this look the other day when it was about 89 degrees outside and I, surprisingly, felt great in the shade.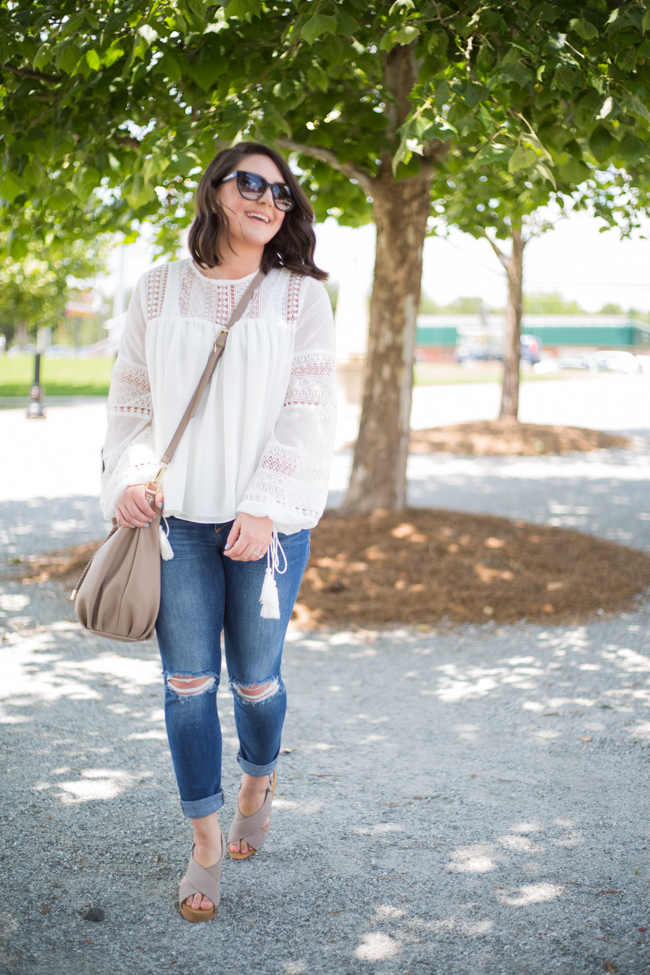 The top is super loose and breezy and costs less than $60 (and JUST sold out. womp.). It wears like a much more expensive piece. I bought it in early April, so I kinda forgot how much it was and honestly thought it was at least a $100 item based on the details and how it wears. Oh, and it has TASSELS on the sleeves. I mean, come on. I think everyone needs a good lace blouse in their closet and this one is just it for me. If I could make a recommendation for you, though, please wear a nude or strapless bra with it instead of an awkward white tank like I did. You live and you learn and you edit pictures and realize you're human.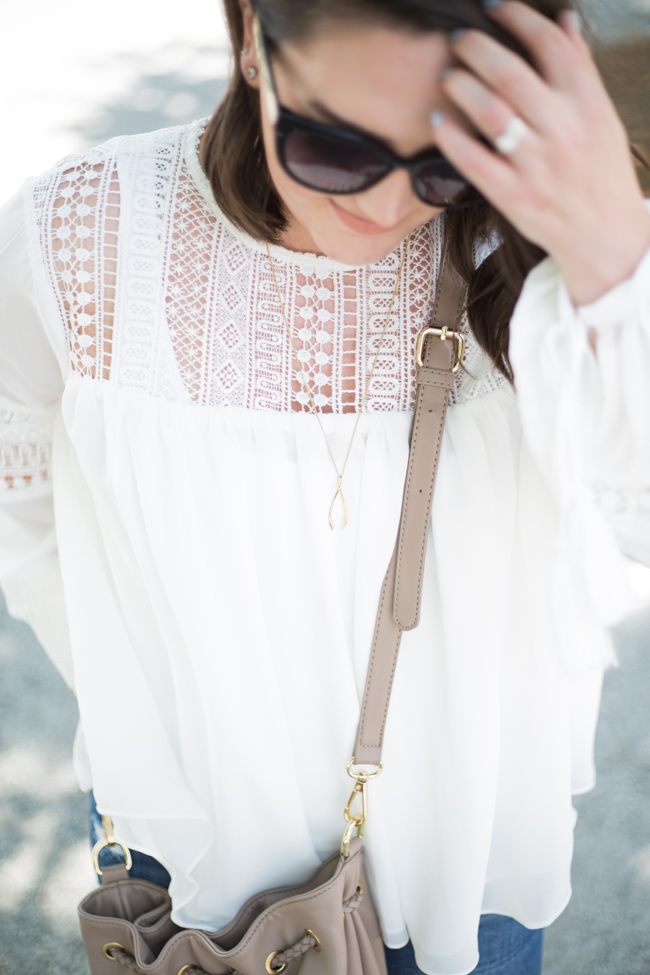 This bag (sold out from a previous season) got lots of use last year, but has been hanging in my closet for MONTHS and I somehow kinda forgot about it. But when I got a noticeable coffee stain on my current fave (the Ash Saddlebag you've been seeing in pretty much every post), I decided it was time to break out a past favorite. Side note: if you know how to get a latte stain out of leather, please help a girl out. Anyway, it's no wonder this adorable bucket bag was a favorite. It's basically perfect. It's small but roomy and has a crossbody strap. And that color?! Again, perfect.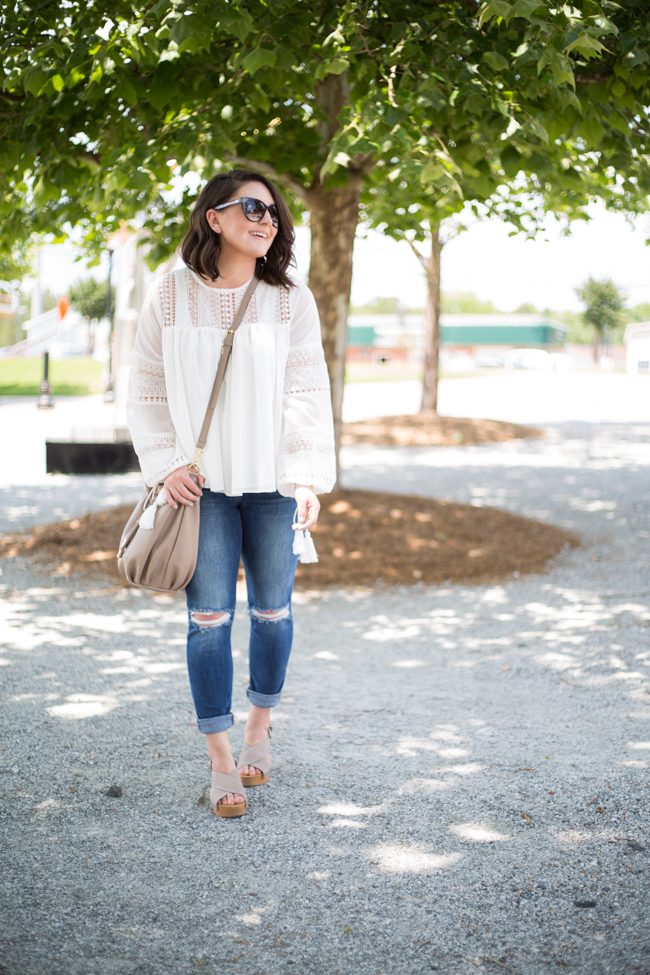 Finally, these platform sandals are bananas adorable. I know some people have very strong feelings about flatform style shoes, but these are slightly more on the platform wedge side than the flatform side. I'll admit, the first time I wore them, they took a second to get used to. I was like, "how on earth am I supposed to walk in these?" However, after a single wear, I had the hang of it. Bend your knees, girl, bend your knees. Don't be trying to walk on stilts. It's just not like that.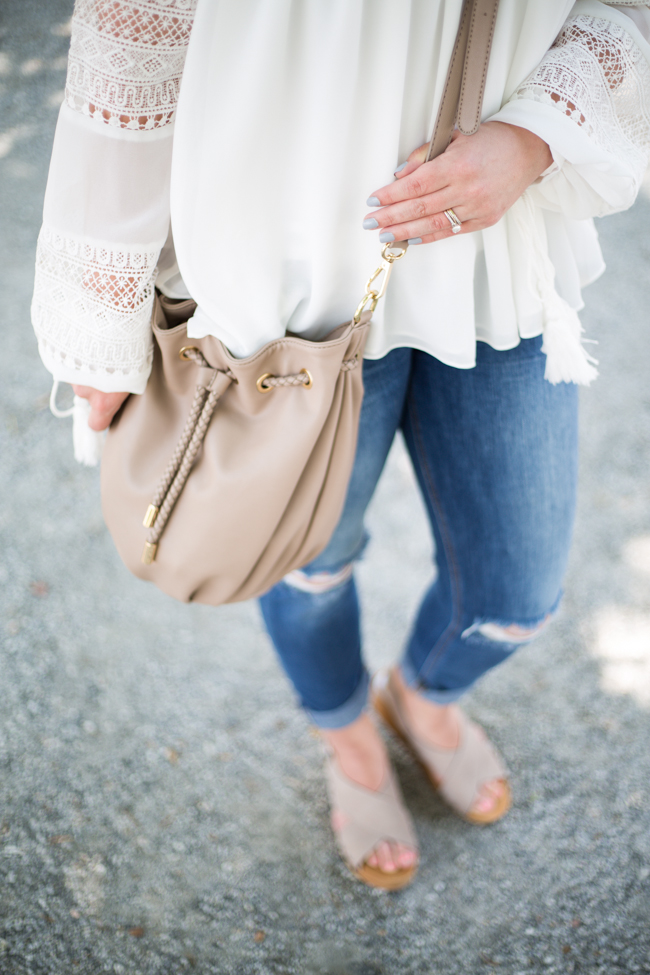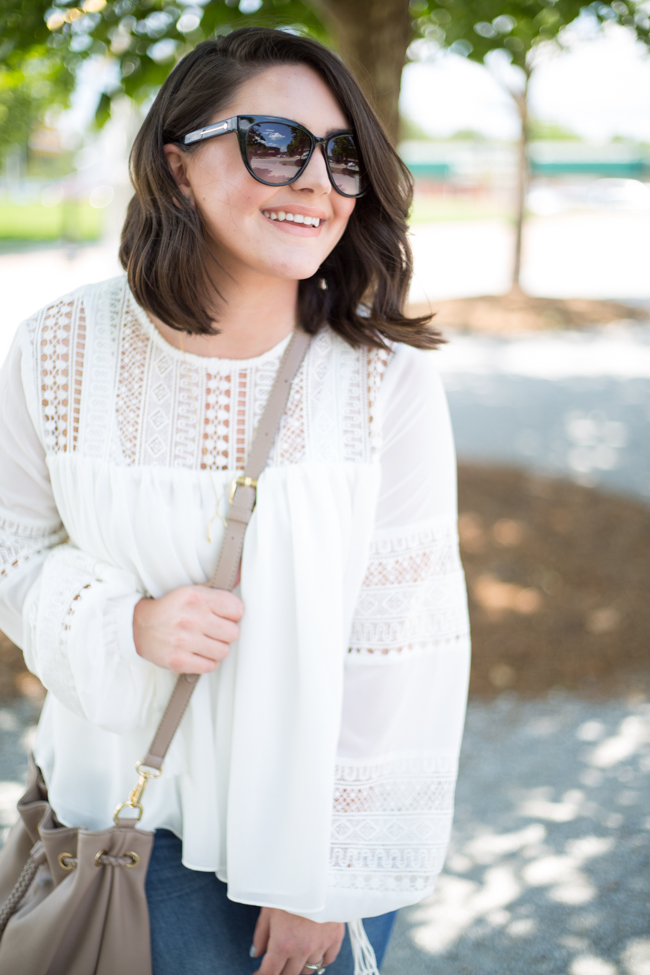 Oh, and these sunglasses. I have a pretty decent sunglasses collection but the only pairs I ever *splurge* on are Raybans, really. I finally decided to give DITTO, a monthly service that lets you essentially rent sunglasses, a try. It's only my first month and I already don't want to send these glasses back. On DITTO's site, you can use the webcam on your computer to pull in a photo/video of all the angles of your face and it will recommend styles that suit your face. I've never felt like I could pick the right styles for my face until now. Definitely recommend giving this service a try and you can use code "MAEAMOR" to get your first month free. So why not?
---
Shop the Post
White Lace Tassel Blouse (JUST sold out)| Joe's Jeans (currently under $70!!) | Sole Society Bucket Bag | Jason Wu Sunglasses via DITTO (use code "MAEAMOR" for first month free | Platform Sandal (on sale!)
---
What's your ultimate summer look? If you had to wear just one type of look all summer, what would it be?
Happy Thursday!
xo,

Also, guys, please please please don't mind my weird blog design. My site has been acting up lately and over the weekend (without logging in or anything), I lost pretty much all of the customization to my site. I've been trying to work it out all week and it looks like I'll be rolling out a new design soon. Thanks for your patience in the meantime!