I've said it time and time again here, but I'm a jeans fan through and through. Jeans are usually my go-to for travel day style, but lately, I've been reaching for dresses when I'm about to embark on a flight. I've always felt a little bit of nostalgia for the time when travel was a real luxury and people dressed up for it. I totally get wanting to be comfortable on a flight, but sometimes I prefer to dress up for the occasion a little. This look is a comfy and casual take on travel day style that's just a little bit more sophisticated than my usual jeans, tee, and flats combo. Read on to see my reasoning behind each of the pieces I chose for this look.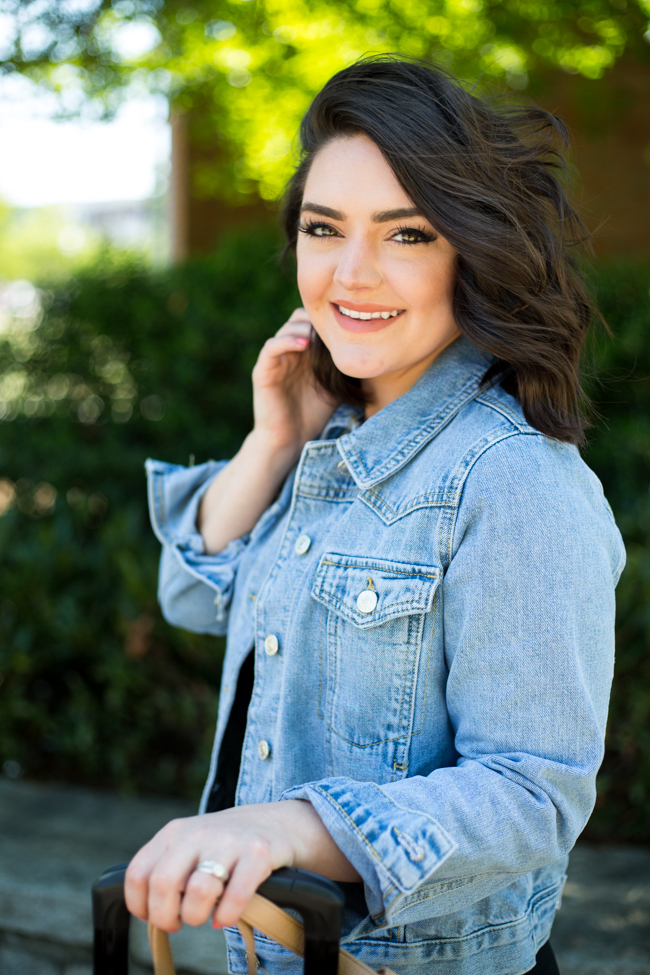 1. The Denim Jacket
I love a denim jacket any time of year and it is one of my definite summer essentials. In the past, I've gone for a darker wash, but I spotted this one at Topshop recently and had to have it. It's slightly oversized, so there's plenty room to move around on a plane. A denim jacket is one of my travel essentials because it's the perfect weight for a little warmth on the plane but it's not too much. Plus, wearing it leaves you space in your luggage. Once you get to your destination, you can probably wear it with just about anything you packed.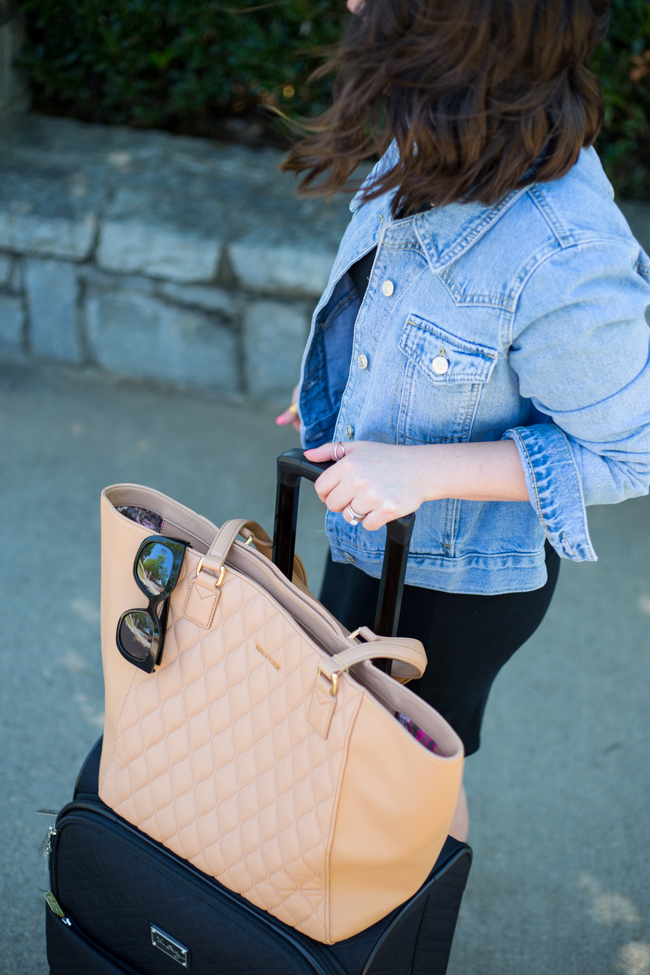 2. The Leather Tote
I absolutely hate packing my carry-on when I travel. I don't usually travel with carry-on luggage because I prefer to just check a bag. I carry a very specific and extensive list of toiletries when I travel, so packing them all into a carry-on and worrying about restrictions just don't work for this girl. I'm really trying to be better about this, but for the time being, I pack all my airplane essentials in a tote. Before I went to Colorado a couple months ago, I found this Vera Bradley tote bag (which came highly recommended) and it was perfect for my needs. I use this laptop sleeve  to protect my computer in the bag. Then I pack a small bag of makeup essentials and my work necessities. Everything fits perfectly.
I get weird about carrying my laptop on my shoulder (years of swimming injuries and just bad shoulders in general make me super cautious), so I was hesitant for a second. However, the bag has plenty of support and I don't complain about my shoulders at all when I use it. There's also a handy hidden pocket that's perfect for a couple essentials you need to be readily available (like, your ID, headphones, chapstick).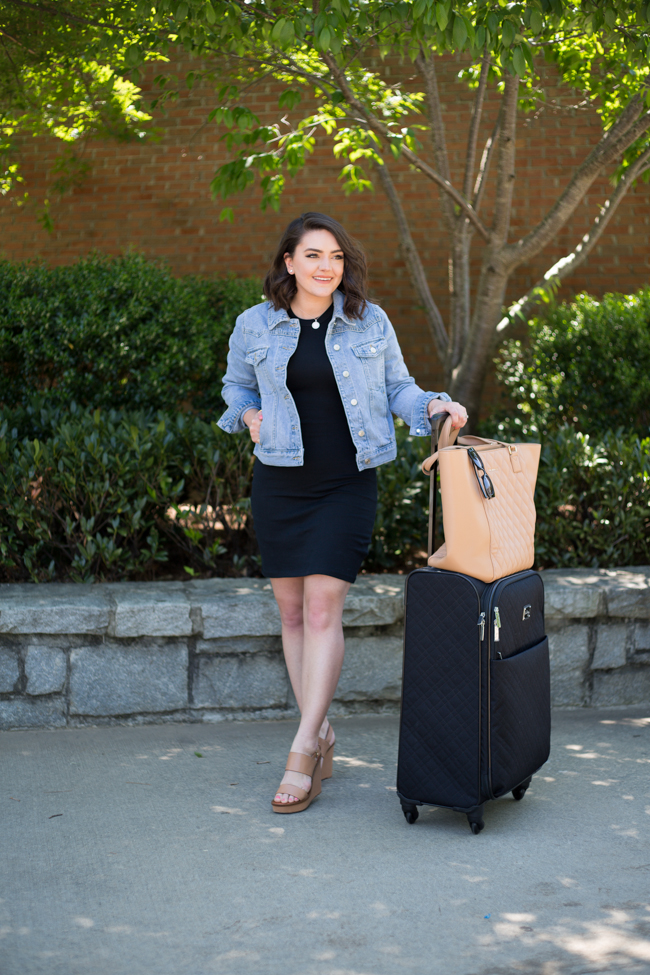 3. The Knit bodycon Dress
It may seem unusual to wear a bodycon dress on a plane, but guys….this dress is amazing. It's, like, super affordable (under $30) and so comfortable. I wear bike shorts underneath it for an added level of comfort. It's easy to move around in and comfy on the plane. Plus, it's a versatile piece that you can wear and re-wear on your trip. The only downside to a dress like this is that your legs are exposed, obviously. I get hot when I'm in the airport (from security to my gate), so I like the shorter length at that time. However, I, like pretty much everyone, get so super cold on the plane.
Thankfully, I found this adorable travel pillow/blanket combo (also from VB) that travels super well and unfolds into a blanket. It has a trolley sleeve, so you can just hang it on your rolling luggage or if you're traveling without rolling luggage, you can slip it into your tote bag or carry it on your arm (that's what I do). Also, I have this thing about blankets. I HAVE to have a soft blanket (VB's are seriously the best) when I sleep. N calls it my face blanket (I actually have several) because I sleep with it by my face. I know, I sound like I'm four. But I just can't sleep well without one. So I love having this blanket when I get to my destination as well.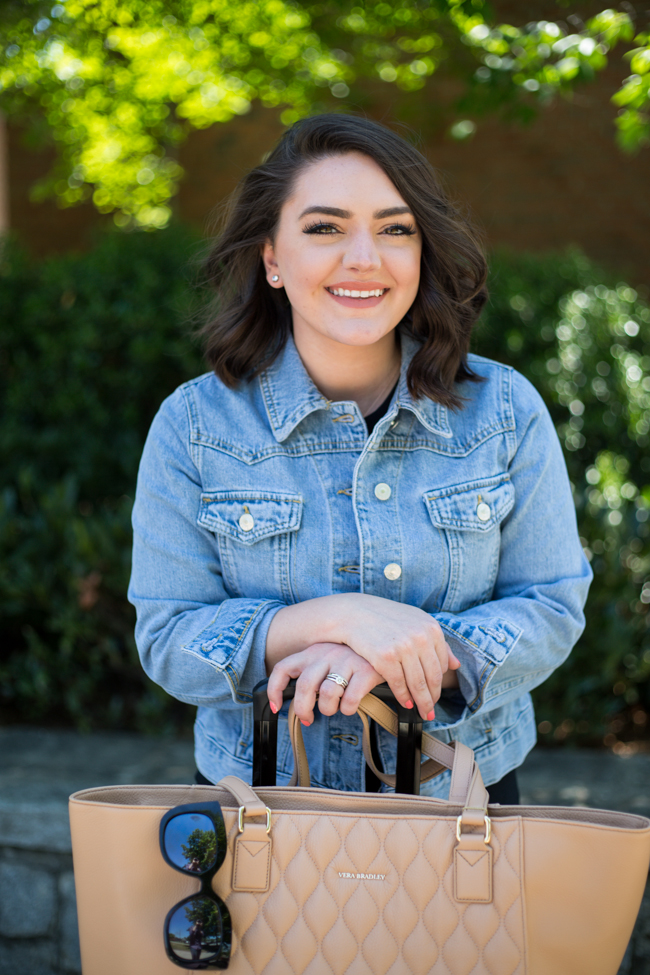 4. The Sunglasses
This one probably doesn't need much of an explanation, but I always carry a pair of sunglasses with me at the airport. Obviously, I don't need to wear them at the airport or even on the airplane (though, if you're gonna sleep, I say go for it). I just like to have them for when I get to my destination. If it's daytime, there's a strong chance you'll want them when you leave the airport and you don't want to have to dig through your luggage to find them. I chose this adorable pair from Quay as my staple pair for the summer, but they're currently sold out. The color and shape are classic and perfect for any summer occasion.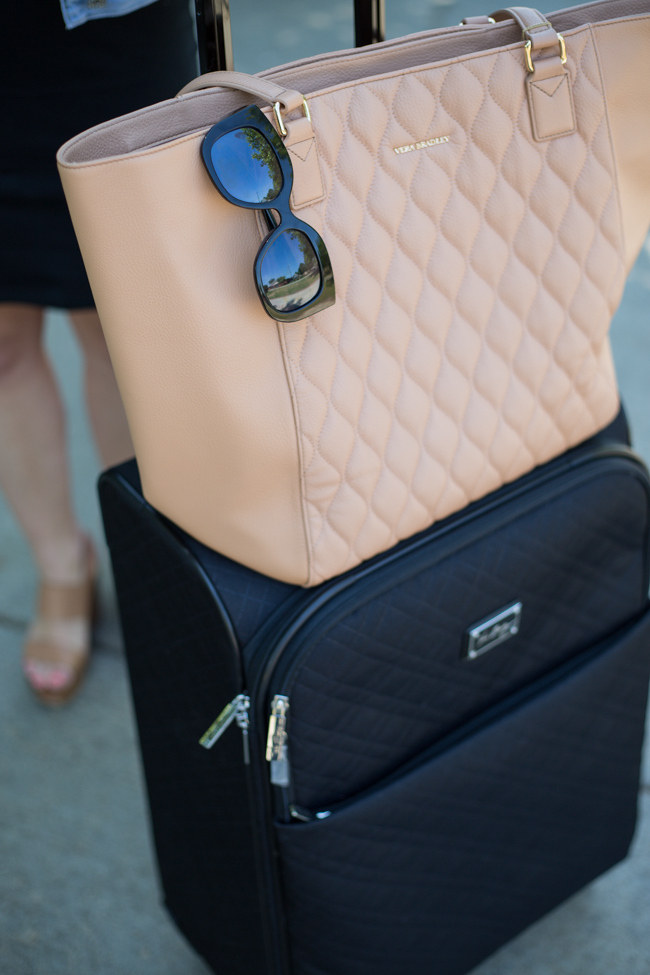 5. The Sturdy + Chic Suitcase
Really need no explanation here either. You've got to travel with luggage of some sort. I personally love a chic black rolling suitcase for all my travels. I've been through many styles over the years and I'm currently in love with this one. It's black so it doesn't stand out too much, but the subtle quilted detail helps me quickly identify it on the carousel. I've traveled with this bag a few times and it is basically perfect. It holds everything I need and holds up really well. I'm as careful as I can be with my luggage, but you can never rely on your luggage being treated with the best care when you check it. Even through all the roughness it likely encountered on my trips, it remained essentially perfect.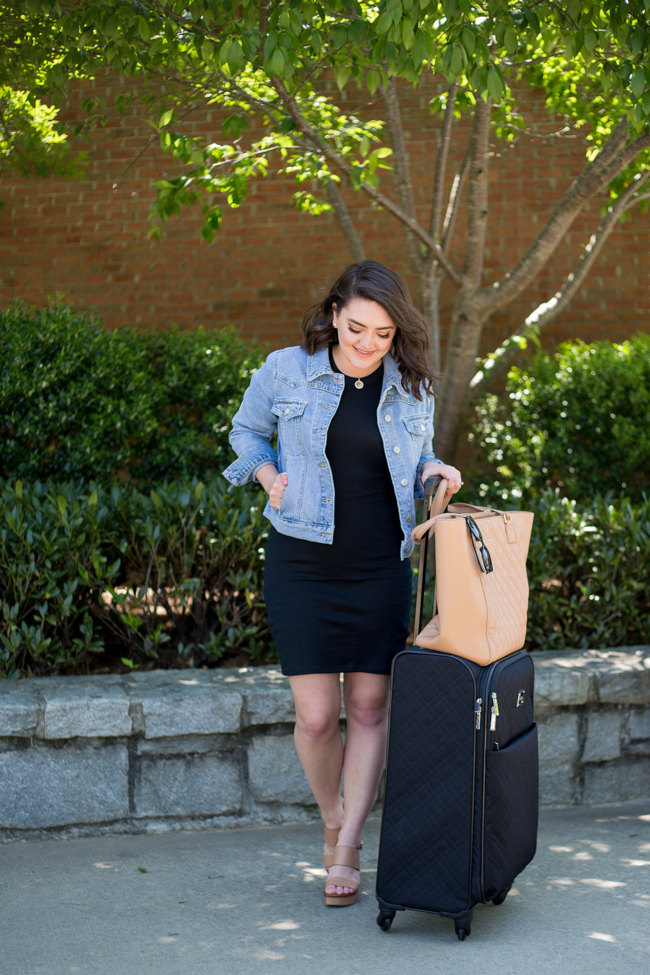 6. The Leather Wedges
This one might seem a little cray to some, but I LOVE wearing wedges when I travel. I specifically love traveling in these Tory Burch wedges. They are the most comfortable shoes I've ever owned and I honestly prefer to wear these over even my comfiest flats (yes, even my Tieks and you know I love them *gasp*). Another reason I ADORE wedges on the plane is that I'm 5′ 0″ and my feet do NOT touch the ground when I sit in my seat on a plane. They just dangle awkwardly if I don't sit crisscross (I'm getting to be too old for that) or rest them on my bag (and sometimes they don't even reach that). With wedges, my feet actually touch the ground and I can just sit comfortably. Hallelujah!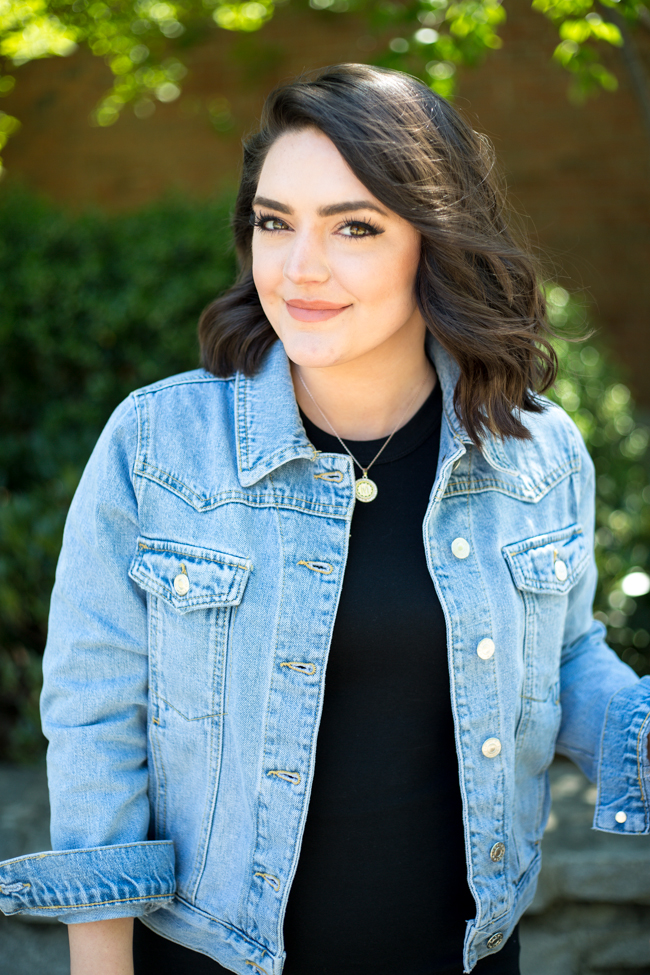 The only other thing my travel day style typically includes is a good hat. I wear hats all the time, so it's inevitable that I travel with them. Sometimes I'm able to pack them in my luggage, but I pretty much always carry one on the plane as well.
What are some of your favorite pieces to wear for your best travel day style? Do you like to dress up a little or do you aim solely for comfort? Or maybe you fall somewhere in between. No matter what your style, I hope you'll give a few of these a try next time you travel.
---
Shop the Post
---
Happy Thursday!!
xo,