This shop has been compensated by Collective Bias, Inc. and its advertiser. All opinions are mine alone. #PawsToSavor #CollectiveBias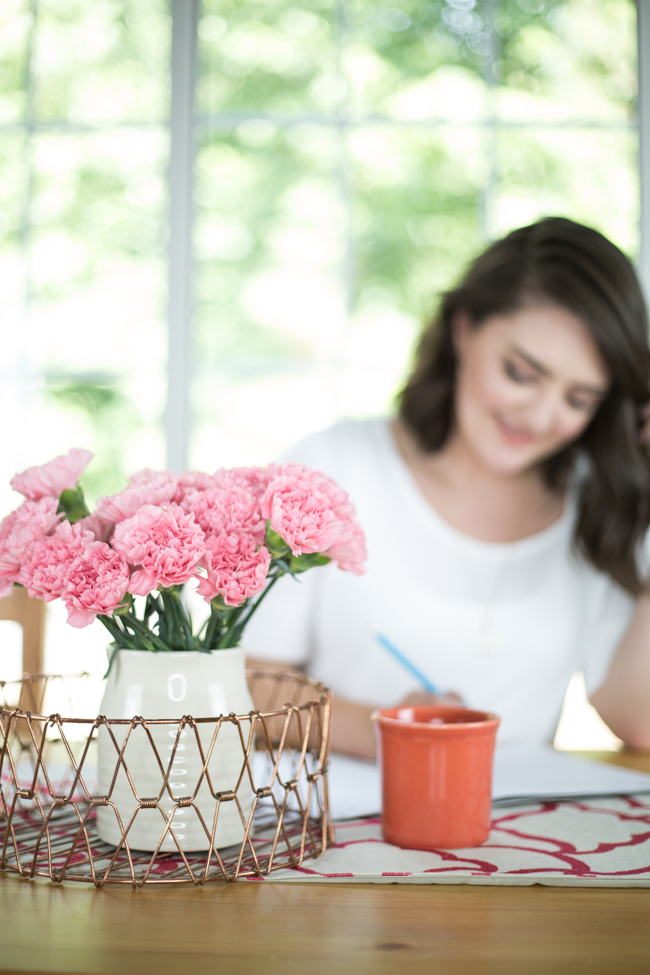 Because I work from home, I am able to spend lots of time with my dogs. I sometimes call them my co-workers because they might be the only "people" I speak to all day. And, yes, I do speak to them. I like to think they understand me. One of my favorite ways to spend time with my dogs is to enjoy my morning cup of coffee while they eat their breakfast. It has become such a ritual for me that I really miss it if I have to switch it up on occasion.
Every morning, I make myself a cup of coffee. While it's brewing, I feed the girls. Then I sit at my kitchen table and plan my day while the girls eat. Once they're done, they come get me and smother me with kisses. Then I move to my office. Sometimes they join me and sometimes they do their own thing. Either way, I cherish our mornings together as a moment to savor.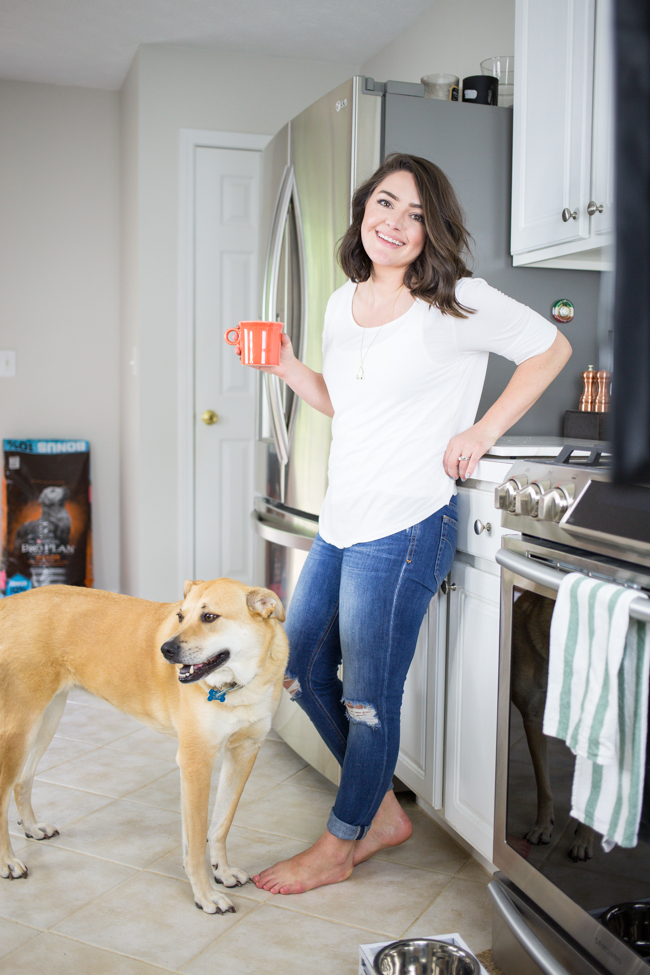 I have two sweet rescue girls: Gwen (the shepherd/lab mix pictured above) and Lily (the camera-shy beagle mix). Both girls are very special to me and, even though I sometimes call them my co-workers, I really think of them more as family. Gwen is very attached to me and usually follows me around the house wherever I go. She's never far from my feet. In the mornings, I love to sit with her while she eats. If I leave her to eat in peace, she'll usually follow me and I'll have to direct her back to her bowl. If I don't direct her back, she might just skip breakfast. As such, I started sitting at the table or standing next to her bowl and watching her eat. She feels free to relax when I'm in the room and she doesn't have to keep tabs on me. This has since become one of my most cherished rituals with her.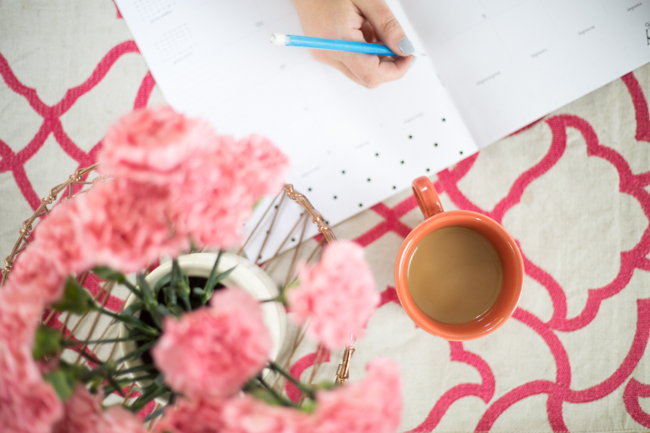 I've been feeding the girls this brand for as long as I've had them and I recently had the opportunity to start making the switch to Purina® Pro Plan® Savor Shredded Blend Dog Food, specifically. They LOVE it. It offers high-quality ingredients, like real meat. My girls are a fan of the dry lamb and rice formula. It contains a combination of crunchy and tender pieces and they seem to love that. I also purchased a couple wet food options for those days when I want to mix it up or I need a way to hide their medication. The formulas are carefully adjusted to help your dog get the nutrition she needs. Give your dogs great nutrition with a taste they love – a win-win for both of you! Purina® Pro Plan® is dedicated to helping owners discover their dog's full potential through high-quality, great-tasting nutrition and expert resources – giving your dogs the chance to be – and feel – exceptional. Gwen might not follow me out of this kitchen if this is what's in her bowl!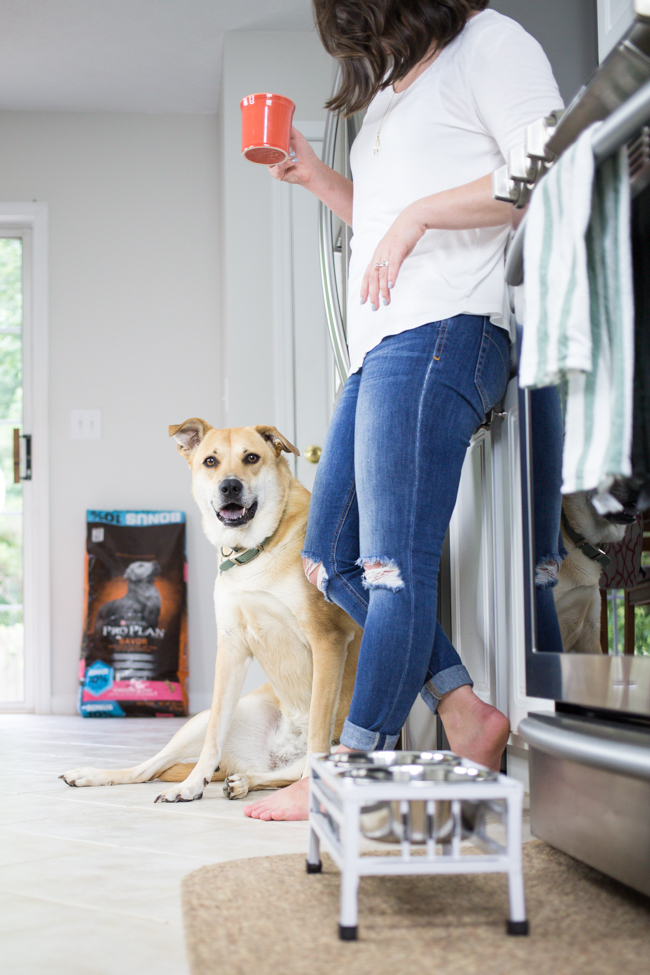 With summer just around the corner, Purina® Pro Plan® invites pet owners everywhere to enjoy mealtime as a moment worth savoring. Purina® Pro Plan® Savor Blends help your pet enjoy mealtime, so you both of you can savor the moments of Summer.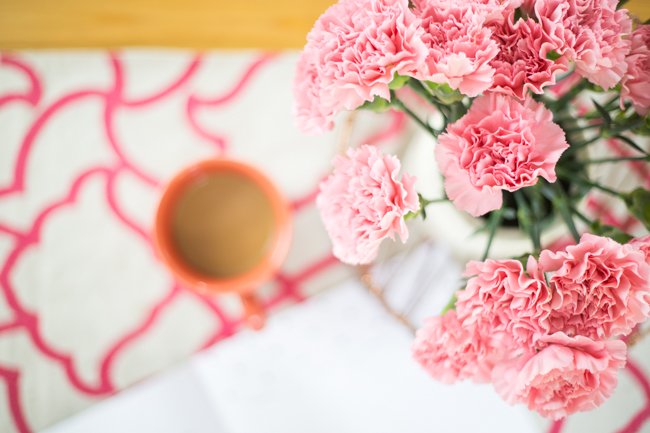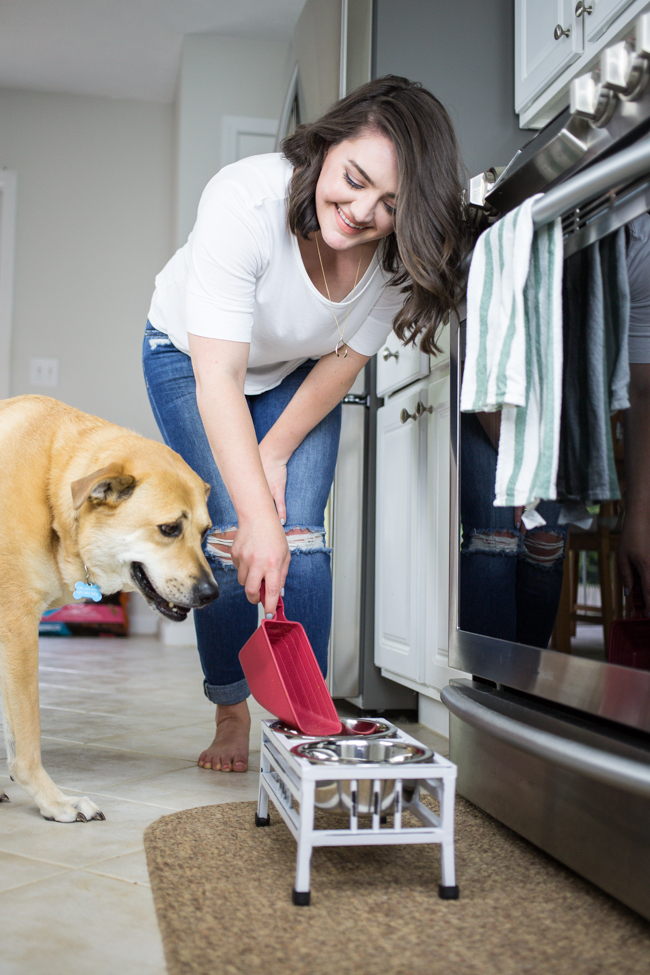 I recognize that not everyone has the opportunity to spend so much time with their pets, so I've compiled a list of my favorite ways to spend time with my dogs after or before I clock out. I hope you'll join me in savoring these moments with your dogs this summer.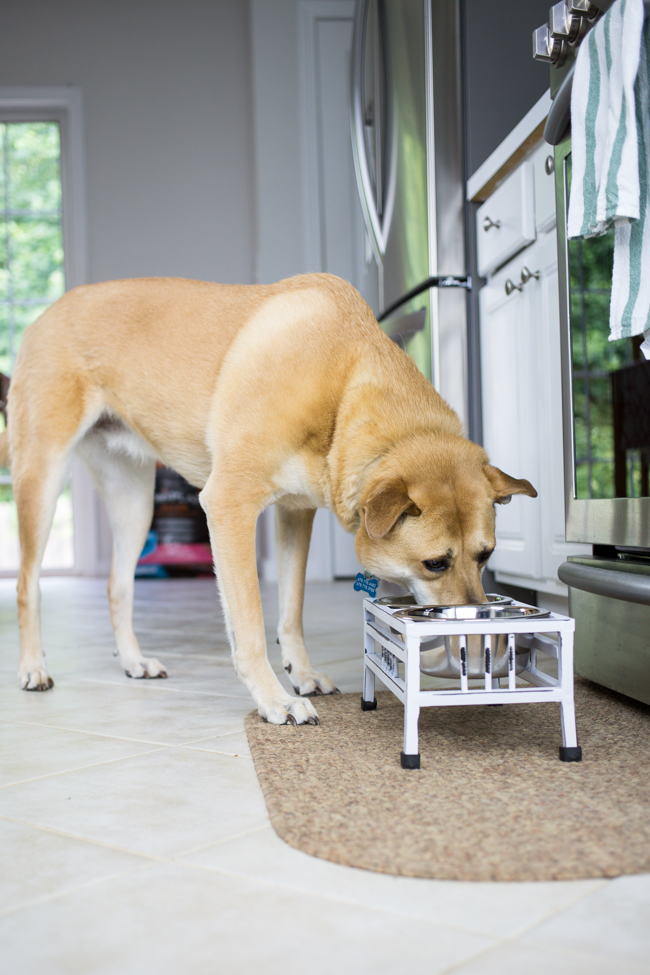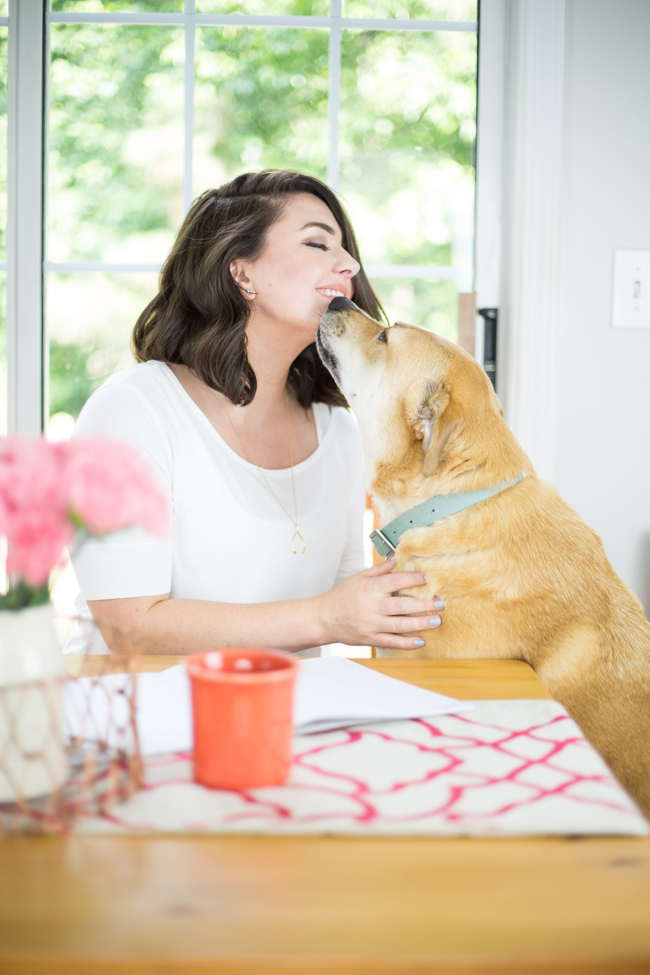 5 Ways to Spend Time With Your Pet This Summer
1. Enjoy a cup of coffee while she eats breakfast
You already read that this is my favorite. It's a nice way to experience a beautiful morning together.
2. Go for a walk and switch up your route
My dogs have a yard where they can run and play, but sometimes I like to take them for a walk just to give them something different and to practice our leash walking. When we visit my parents out of state, we have to walk the girls a few times a day because there is no yard where we stay. We always take the same route on our walk, but if they are behaving really well, I'll treat them to a little extra walk time down a different route. For instance, after we've walked our route, I might take them to walk on some nearby docks and watch the ducks and boats. They always enjoy it and I do, too!
3. Let her exercise with you
I love doing yoga outside in the mornings. I always invite the dogs to come lay by me or play while I practice. They usually end up running around or rolling over trying to get me to pet them, but it doesn't keep me from getting a workout. If you're going for a run, you can grab your dog and take him with you for that as well. My dogs really enjoy going for runs with us in the evenings!
4. Take a drive together
My dogs are traveling pros and LOVE a road trip. We started them very young. Both of them had to take a 10+ hour trip pretty soon after we got them for one reason or another and now they get excited when they see us packing our bags. Even when we aren't embarking on a road trip, sometimes I like to let them get in the car when I just have to drive through somewhere (say, the bank, to grab Starbucks). Just make sure you plan your trip in such a way that you won't need to leave your pet in the car. It's NEVER a good idea to leave your pet in the car. Some places are very pet-friendy and this summer you might be able to find events, stores, outdoor dining, and trails in your area where you can bring your pup. My area has movie nights on the green and everyone brings their dogs. We even have some pet-centric events just for the dogs! If you've just got to run out to get dog food, you can head to PetSmart and bring your dog in with you!
5. Take her on a vacation
All of the other options are things you can easily do on the regular, but you might be planning a vacation this summer. If so, puppy might want to come, too! There are lots of places where you can travel with your pet. There are pet-friendly hotels and home rentals, restaurants, trails, and more. One of my favorite memories with Lily is when we took her to the beach when she was still a young dog. She had the time of her life running in the sand, digging, swimming, and cooling off under a tent. She had never experienced sand, so when we brought her back to our apartment, she started trying to dig in the sand-colored carpet. We just watched her and laughed for the longest time. I'll always hold this as one of my favorite memories with her. This summer, try to make some memories with your pet! They are such a big part of our lives, and they deserve some fun. Live some stories you can tell for years to come.
What's your favorite way to spend time with your pet? Do you have any plans for your dog this summer?
Thanks so much for stopping by! Wishing you and your pets an amazing week!
xo,

Purina® Pro Plan® Savor Shredded Blend pet food is sold at PetSmart locations nationwide. If you spend $15 on any Purina® Pro Plan® product at PetSmart from 5/31 to 7/5, you can save $15 on your next purchase of 10.5 lbs. or largerPurina® Pro Plan® pet food by 7/31.
I located it easily in the dog food section and encountered several friendly staff who were ready to help me if I needed it. I always like to call out great service, and I was very impressed with the staff at my location.