This post was sponsored by Scrubbing Bubbles®, but all opinions are my own. Thank you for supporting the brands I love and that keep Mae Amor online.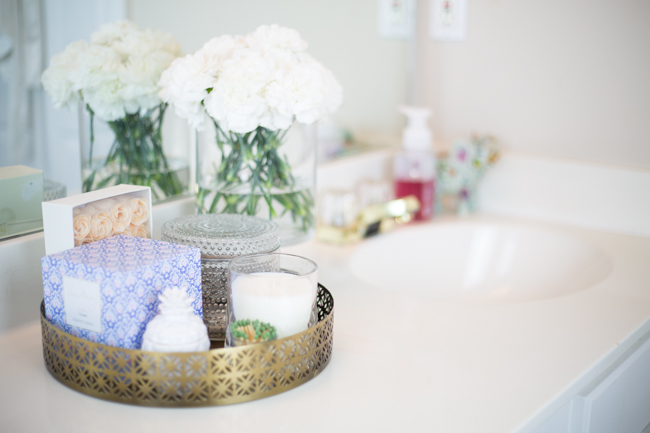 I spend a lot of time in my master bathroom testing out makeup products and getting ready for photo shoots. Unfortunately, both of these activities can mean a huge mess and it can be challenging to keep that mess under control.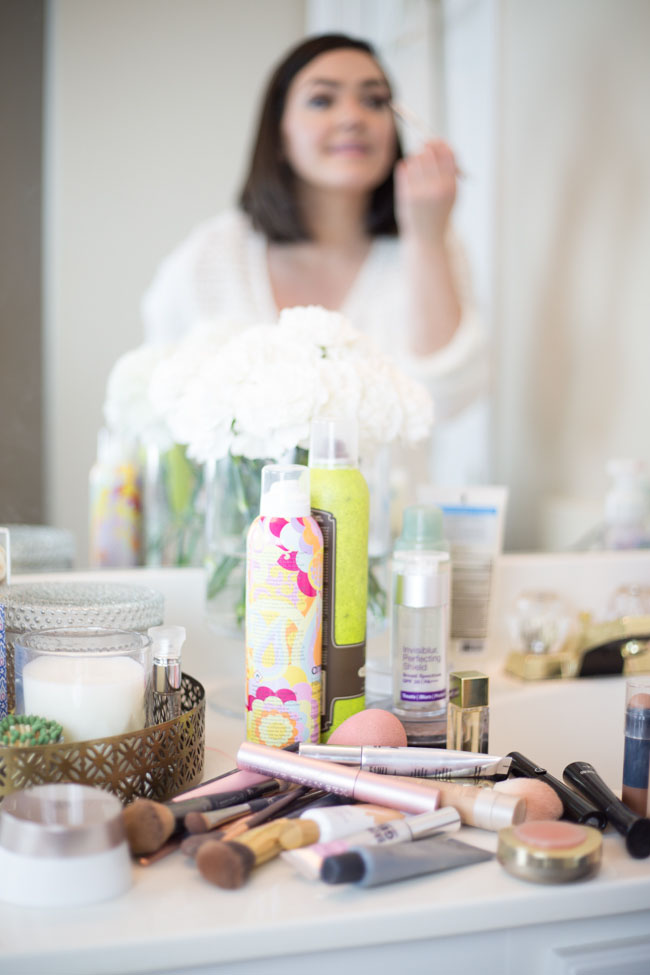 I've loved all things hair and makeup since I started getting into makeup in college. But because of Mae Amor, I'm constantly testing out new makeup and hair products. If I'm not playing with makeup or putting outfits together, there's a good chance I'm getting ready for a shoot, which can honestly lead to just as much of a mess.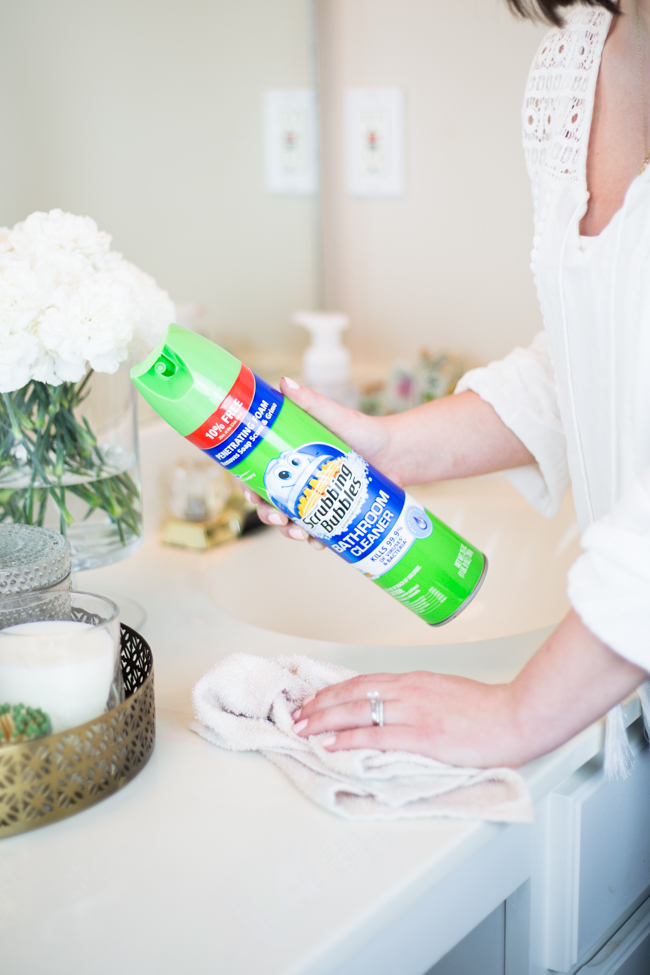 While I'd love to say that I always keep my master sparkling clean, that's simply not the case. I usually do a decent job of keeping things picked up, but my countertops can get pretty out of control with spilled makeup and misdirected hair product. That's just not a good look for any room, but especially not for my bathroom. We've lived in our house for almost four years, but I don't think much has been changed in our bathroom in its entire lifespan (nearly 20 years). The tile has been upgraded and the walls have been painted, but I'm pretty sure all other fixtures are original to the house. Unless you can afford major upgrades, I think the best way to instantly refresh your bathroom is to give it a good clean. Some cute candles, trays, and flowers don't hurt either.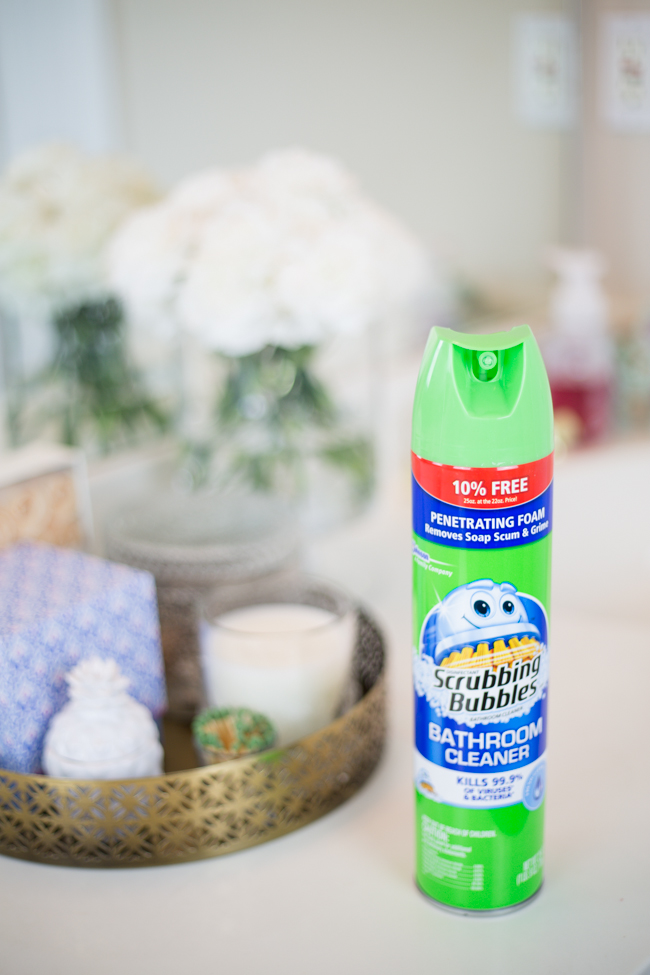 Fortunately for me, I have Disinfectant Scrubbing Bubbles® Bathroom Cleaner on my side to make even my old bathroom look refreshed. It helps my dull bathroom look sparkling clean. I love that I just spray it on and let it sit for a moment, then wipe it off. I hadn't used Disinfectant Scrubbing Bubbles® Bathroom Cleaner much in the past, but I was seriously happy with how easy it was to use and how well it works. It may seem strange but I can really get into cleaning sometimes – especially this time of year – and it was extremely satisfying to watch all of the makeup and buildup on my countertops disappear when I used this bathroom cleaner.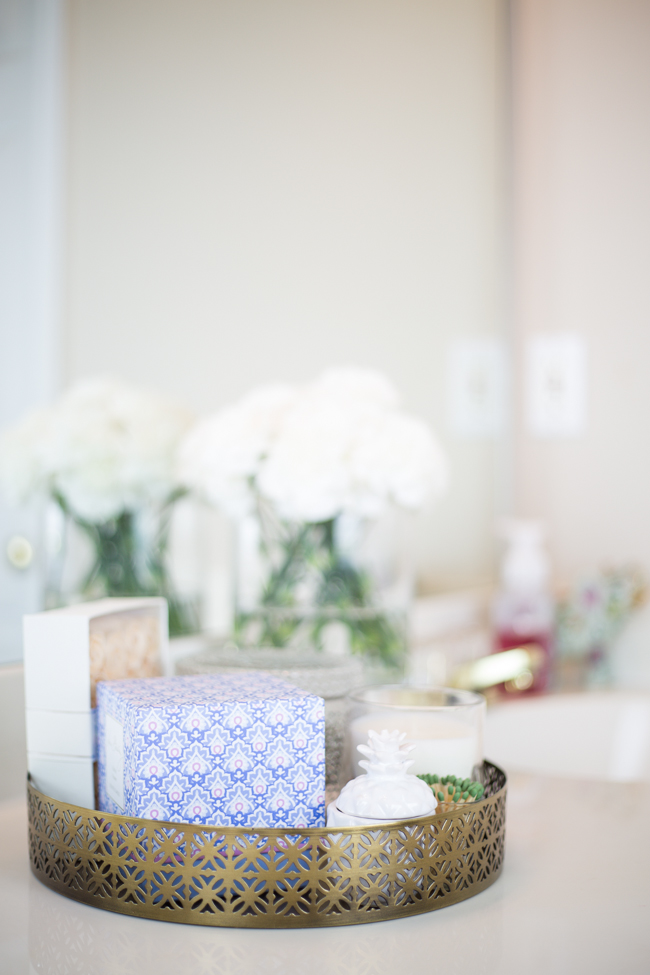 If you're like me and enjoy cleaning or if you just recognize that you're an adult and have to clean your bathroom (raise your hand if you've been there), I hope you'll try Disinfectant Scrubbing Bubbles® Bathroom Cleaner. I found it very quickly and easily in the Home Cleaning section at Walmart and was very impressed by it. This is my go-to bathroom cleaner now.
Your master bathroom should be your personal oasis. So even if you don't have the latest bathroom with crispity white everything and fresh marble countertops (read: my dream bathroom – see my 'Beautiful Bathrooms' board on Pinterest for some serious bathroom envy), you can do yourself a favor and give it a deep clean. By simply cleaning your bathroom, you can see it go from an unkempt, oversized, storage closet for your toiletries to a relaxing room where you actually enjoy getting ready.
---
Shop the Post
---
What's your favorite way to give your bathroom a refresh?
Thanks so much for stopping by!
xo,