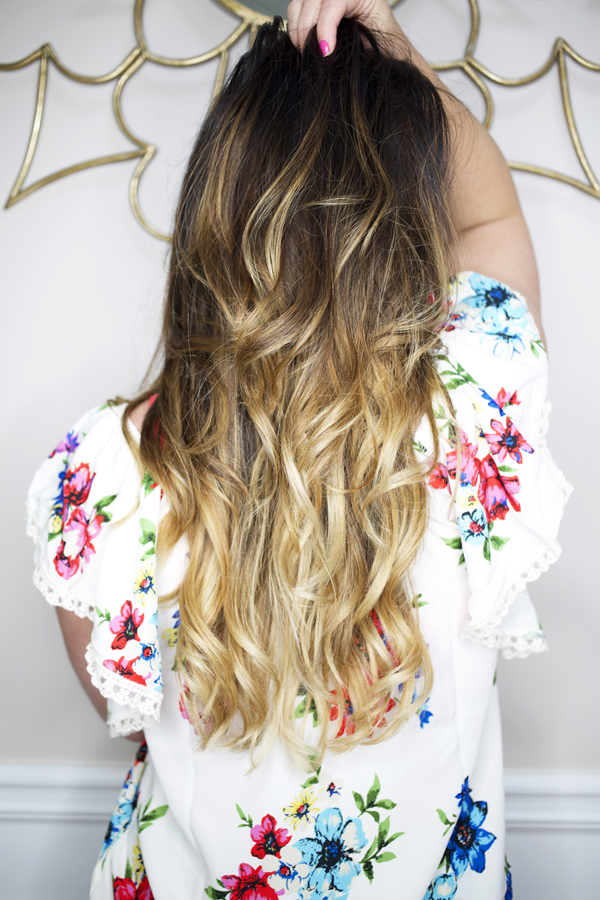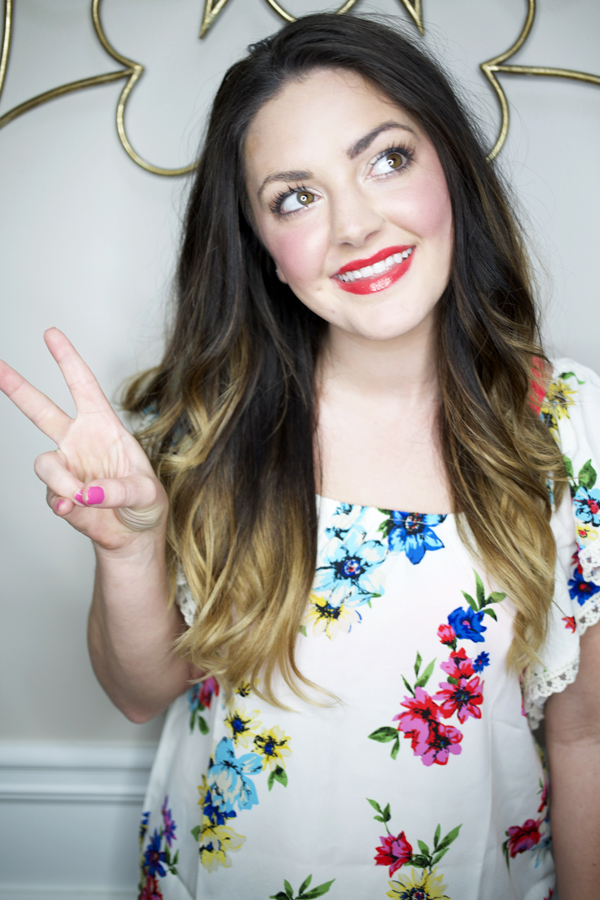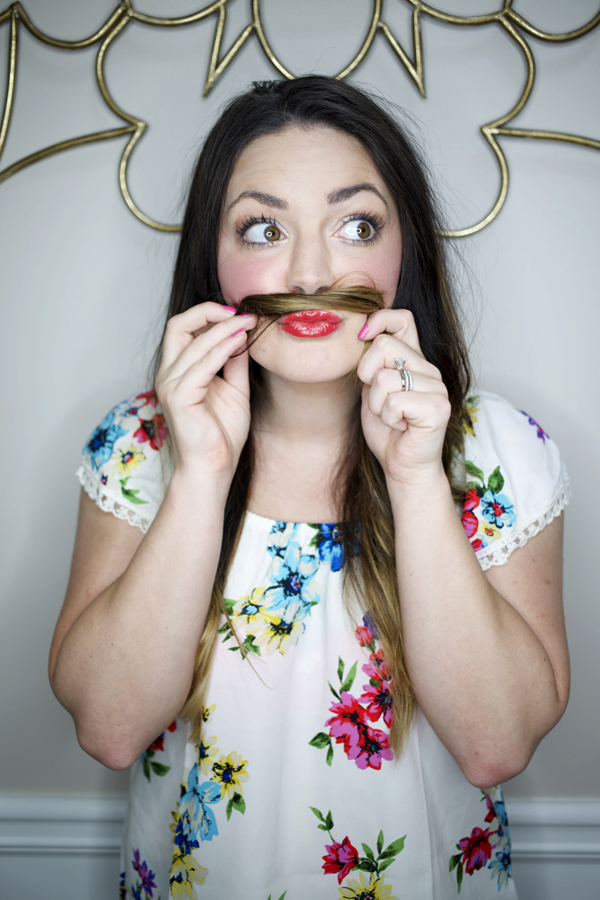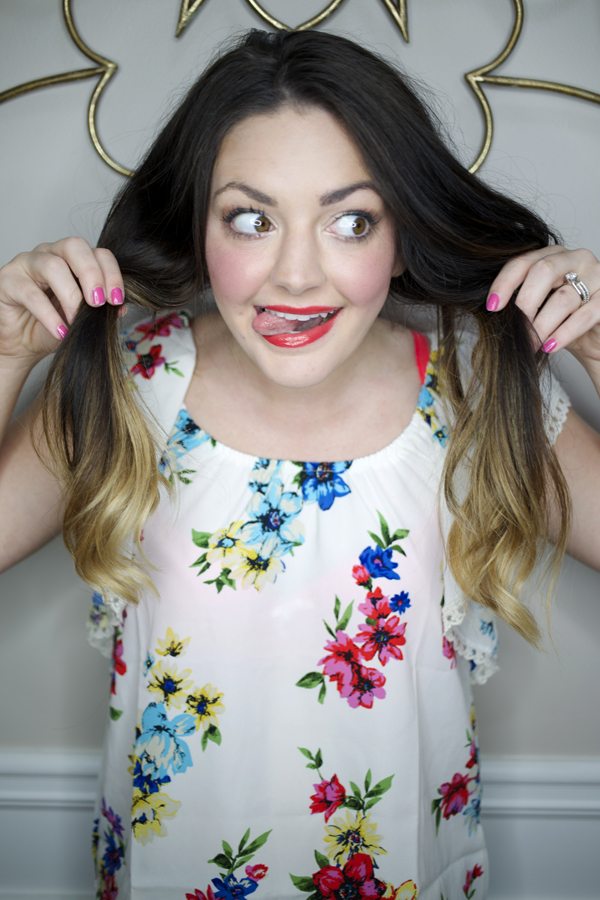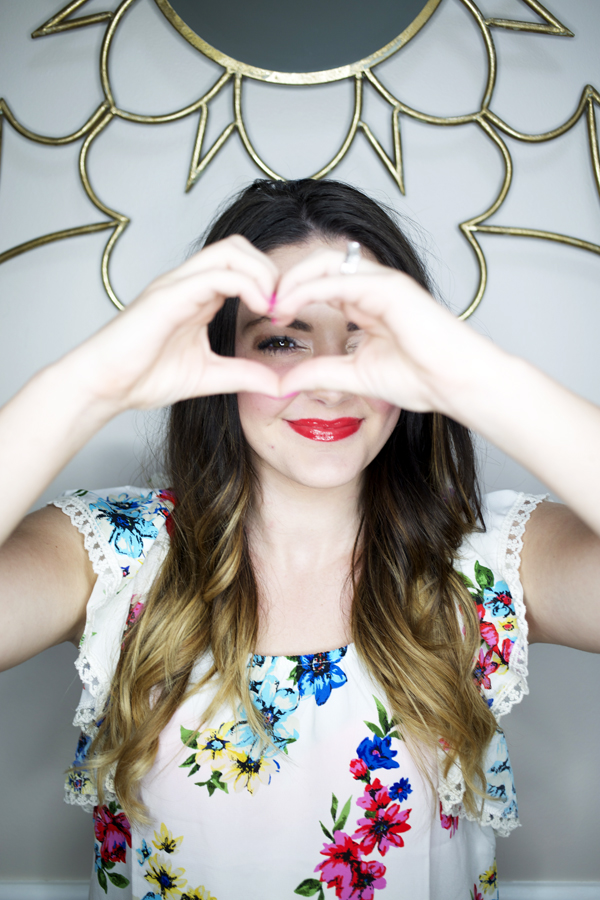 Top: Kelly Fields
Lip: Revlon Just Bitten Kissable Balm Stain in romantic and NYX Butter Gloss in peach cobbler
How to Care for Ombre Hair
Today we are going to talk about hay-errrr (hair). While everyone and their mom has sported this look (even our favorite celebs), it remains a coveted look that seems to still be on the rise.  It supposedly got its start after the recession when $200+ salon visits become less practical for more and more women.  Nevertheless, ladies are now dishing out the big bucks for the perfect ombre.  One of the biggest selling points of ombre hair is that it is low maintenance.  And while it's true that you can get it done once and let it go for months without worrying about touching up your roots, the process is rough on your hair.   It often involves heavy teasing of the hair and it certainly involves bleach.  This, like any sort of hair service, can be detrimental to the health of your hair if you don't take care of it.
I obviously have ombre hair and I started noticing that my hair felt thinner (maybe not such a bad thing for my thick locks).  So I recently sat down with my girl Kimberly when she was doing my husband's hair and asked her everything I could think of to make sure I'm doing the right things for my hair.  She said I was doing mostly right but gave me some additional tips.  If you live in North Georgia and are looking for a hair stylist, get in touch with me and I'll refer you.
1. Purple shampoo is your friend
We all learned about the color wheel when we were kids.  Purple is on the opposite side of the color wheel from yellow.  So the purple should counteract brassiness, right?  Well, I actually sort of thought that purple shampoo was a gimmick until I tried it.  The idea is that the purple counteracts the yellow brassy tones and helps to give you more of that white blonde look.  We don't like brassy hair and purple shampoo is not a gimmick.  It works.  I used a cheaper version than the recommended salon brands and even it worked.  I used Clairol Shimmer Lights and after one use I saw a difference.  Kimberly recommends Matrix Sterling Silver also.  Though I'm not sure this is a purple shampoo, it does help eliminate brassiness in grey/white (and white blonde) hair.
If you're going to use a purple shampoo though, there are a couple things you should know.  First of all, use it carefully. The purple can stain things like your shower curtain or your towel or even your hair.  Yes, your hair.  Use the shampoo to lift the brassiness and once you achieve the color you want, stop.  Otherwise you will end up with purple hair.  Kimberly recommends leaving it on for 2 minutes at a time as needed to achieved the look you want.  This is not an every day shampoo.  If  you do end up with purple hair, use a clarifying shampoo.  The second thing to remember is that purple shampoo and conditioner are not particularly moisturizing and actually do not work well on moisturized hair.  It's okay to use another conditioner after using purple conditioner but the reverse would likely not work so well.
This leads to the second tip…
2.  Moisturize, moisturize, moisturize
As we've already established, ombre hair goes through some things that make it more dry and brittle.  So naturally we must moisturize to keep our hair from falling apart or, even worse, falling out.  Here are some things you can do:
– Use conditioner (focusing on ends of hair) each time you shower
– Use a moisturizing oil daily (I use Morroccan Oil and Josie Maran Argan Oil Hair Serum)
– Do a protein mask once a week
– Use coconut oil as an alternative moisturizing treatment
– Use a heat protectant on both wet and dry hair any time hot tools will be used
3. Take care of your hair as usual
We've all heard that we shouldn't wash our hair every day and that we should minimize the use of hot tools.  Well, this is even more true for ombre hair or any color-treated (especially bleached) hair.  Think before you wash or use hot tools.  Your hair needs all the care it can get so give your hair some days off from time to time.  Also don't brush your hair when it is wet and do get regular trims.
Bonus tip: let your hair air dry more often and leave your hair down when you can.  I cannot stress enough how important it is to moisturize your hair and using a blow dryer can dry your hair out.  So just let it dry naturally.  There are plenty ways to fake a blowout so opt for these methods when you can.  Also, leave your hair down as much as possible.  Ombre hair looks killer in a high pony but pony tails and buns can cause stress on your hair and cause breakage.  It's just not worth it.
Caveat: I am not an expert on hair AT ALL.  I'm just sharing what I think I know.
If you have any other tips or questions, share them in the comments section below.
Much love,
Mae